The demand for oil and gas products remains steady and keeps following at an upward pace. A key component in this increasing demand is the transition of emerging economies towards a capitalistic system. The transition from communism to capitalism, as well as the accelerating worldwide population growth rate, has a direct impact on the increase in energy consumption. By 2020, offshore oil production is expected to account for 34% of the global output as opposed to 25 percent in 1990. Higher demand naturally translates into higher daily rates for the drilling companies. Higher rates also result in increased earnings for drillers, which in turn encourage investment spending on new up-to-date equipment.
In addition, successful exploration endeavors encourage further development of drilling units and services. In 2011, at least 23 new exploration discoveries took place in 12 countries across the world. Furthermore, increasing oil prices have attributed to a boom in the construction of drilling rigs. As a result, there has been a related technological revolution and a wide range of innovations, all of which helped to boost the yields by 4 to 7 times. Industry analysts expect that the deep water's share-to-global oil output will account for 13 percent by 2020. It is clear that this industry consists of a constantly renewable source of income, resulting in a profitable investment portfolio.
Why SeaDrill?
Based in Bermuda, SeaDrill Limited (SDRL) stands at the forefront of the drilling industry. Since its establishment in 1972, the company has gathered extensive knowledge in drilling and well services. This long-term experience in the field provides a strong comparative advantage. Through its subsidiaries, SeaDrill has already expanded its operations into 15 countries around the globe, and continues to grow every day. SeaDrill acquired a 28.5 percent ownership stake in Sevan Drilling ASA, while also purchasing a 33.75 percent share of Asia Offshore Drilling and 74 percent of North Atlantic Drilling Ltd.
Seadrill holds a versatile fleet of units, including semisubmersibles, deepwater drillships, jack-ups, semi-tender rigs and tender rigs. SeaDrill consistently maintains a loyal clientele of oil corporations, independent oil and gas producers, and government-owned companies. In addition, it aims to provide all services in the most safe and cost-effective manner by abiding with the company's core values. The company's values of accountability, loyalty, inspiration and safety-consciousness act as the driving force behind all strategic plans.
Financials
Taking a closer look at SeaDrill's financial ratios, we instantly observe the company's unique position. SeaDrill's key statistics present an image of successful individual performance while, at the same time, they outperform the competitors in a number of different ways. SeaDrill has a market cap of about $18 billion, which is larger than its direct competitors, such as Ensco Plc (ENS), Noble (NE), and Transocean (RIG). Enterprise value approximately amounts to $28 billion, much more than the values held by many of its peers. For example, Ensco only has an enterprise value of $16.53 billion. Revenue accounts for $4.04 billion and net income for $957 million, setting SeaDrill at the top of the list with other industry leaders. EBITDA approaches $2.34 billion, and gross margin stands at 60 percent. SeaDrill's gross profit margin far exceeds that of its competitors and that of the industry as a whole, which stands at 42.7 percent. Meanwhile, the operating margin stands at 44 percent. Again, it is notable that this figure stands higher than Ensco's 30 percent, Noble's 23 percent, Transocean's 17 percent, and the industry's overall average of 13 percent.
Furthermore, return on assets accounts for five percent, which is really close to the industry's average of 5.1 percent. Similarly, return on investments stands at 6.2 percent while the industry average ranks at seven percent. The five-year average return on equity shows a positive stream of 20.88 percent, with a maximum level of 27.43 percent that was achieved in September 2011.
Asset utilization is relatively high at 22%, which stands far above that of others in its peer group. In general, these trends indicate the potential for SeaDrill's sustainable profitability to stand as a leader in the industry. Moreover, data suggests that management is highly efficient in generating even more earnings. When combined with the outstanding dividend yield, it is obvious that SeaDrill rewards investors. Historical data shows a five-year average dividend yield of 7.5 percent. I do expect the high dividend yield to continue for at least the near future. While the payout ratio based on earnings is relatively high, the cash flow from operations is sufficient to cover the dividends.
What about the stock?
Since the last quarter of 2011, SeaDrill stock has gained about 40 percent in value, which is better than the S&P 500's gain of 30 percent. Interestingly, the company's direct peers have posted considerably lower gains during the same period. The stock currently trades about $40 with a 52-week range of $25 - $42. SeaDrill also has a Beta of 2, which indicates some volatility when compared to the industry's average of 1.3.
Price-to-earnings ratio reached its peak in July 2012 at a rate of 19.4. This ascent was mainly achieved in the first quarter of 2012, which points to an increased demand for the stock. It is thereby evident that the market anticipates SeaDrill to display an upward future earnings growth rate. Moreover, appreciation prospects for SeaDrill are strong, as the stock value based on the dividend growth model has surpassed the 52-week high level and is approaching $44. (I calculated this number based on a three-year average dividend growth rate of 27 percent and a required rate of return of 30 percent.)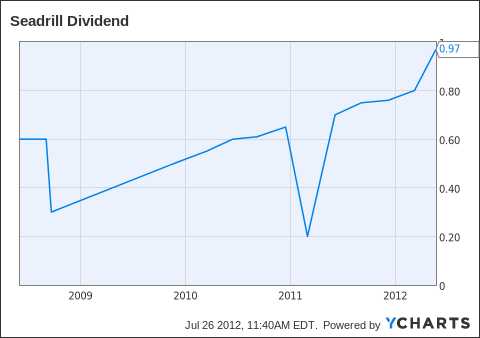 SDRL Dividend data by YCharts
In addition, SeaDrill shows a five-year average earnings yield of 10 percent. The same variable for key opponent Transocean stands at only 3.3 percent. Currently, SeaDrill has an earnings yield of 5.2 percent, which is one of the best in industry. Ultimately, it must be concluded that SeaDrill stock constitutes a good buy. Overall, it offers an adequate return per level of risk, especially when compared to the industry alternatives.
Summary
Despite this company's overwhelming promise, what may keep investors from diversifying their portfolios towards SeaDrill is the company's long-term debt, which stands at approximately $10 billion. However, many of SeaDrill's peers also are experiencing this level of debt. Most face a long-term debt that accounts for around 50 percent of their market capitalization. In fact, though SeaDrill's debt is close to 56 percent of its market cap, Transocean's actually approaches 83 percent.
What distinguishes SeaDrill is that most of its rigs are occupied with long-term contracts. Thus, I do not expect short-term oil price fluctuations to affect the company's long term valuation. Furthermore, high daily rent rates for the company offer a valuable source of income and a competitive advantage against its peers. In the Q1 2012 results report, SeaDrill claims new contracts, which offer potential revenue of $870 million. Amongst its contracts, the company recently announced the possibility of a five-year contract extension for West Polaris drillship. If the final agreement is certified in July 2012 as expected, total potential revenue will be $1.16 billion. In addition, North Atlantic Drilling - of which SeaDrill owns 74 percent - has received a proposal from Exxon Mobil (XOM) for the assignment of the West Alpha drilling unit. The contract is secured until the third quarter of 2016, and estimated revenue value is $410 million. Increasing revenue from the company's current and future operations contributes to the expansion of its backlog.
I also expect future cash flows to provide a healthier financial position. The investments on new harsh environment drilling rigs indicate that SeaDrill will live up to future growth expectations and competition requirements. The overall industry outlook, the current and estimated demand for SeaDrill's services, and its operating performance all suggest SeaDrill will keep outperforming the markets. I will be waiting eagerly to add this stock to my portfolio on market pull backs.
Disclosure: I have no positions in any stocks mentioned, but may initiate a long position in SDRL over the next 72 hours.