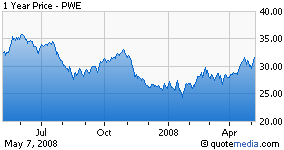 Penn West (NYSE:PWE) is North America's largest oil and gas royalty trust, and belongs in a group of Canadian companies ("Canroys") that pay a large percentage of their cash flow in the form of dividends to their "shareholders" (who are actually called unitholders). Although various Canroys are active in different businesses, PWE is an upstream oil and gas company with just a little bit more oil operations than gas.I believe that PWE offers compelling value that is largely UNappreciated by investors.
This opinion is primarily based on my belief that 2-digit oil prices (ie, oil under $100) and single-digit natural gas prices (ie, nat gas under $10/MCF) are largely behind us (I do not mean that oil and gas cannot temporarily go below those thresholds; what I mean is that in my opinion, it is unlikely that going forward, on a quarterly basis, oil will average under $100 or nat gas will average under $10/MCF).
If you do not agree with the above opinion — i.e., if you believe oil is very likely to go substantially under $100 and stay there, or nat gas substantially under $10 and stay there — then PWE may be an OK investment but not much more.
Because the first thing that people notice is the yield, I would like to address it first. The yield is mind-blowing at about 13%. What is even better is that (a) it is paid monthly (a bit over 1% per month), and (b) to the best of my understanding, it qualifies for 15% tax-advantaged treatment (consult with your tax advisor; also note that your broker will deduct 15% from each dividend payment which you should be able to claim as a credit on your US taxes; finally, if Democrats win the White House this year, this tax advantage may disappear).
A question that must ALWAYS be asked about a company's dividend—especially when the yield is 13%--is whether it is likely to be sustainable because the cutting of a Canroy's dividend usually kills the stock price. PWE announced Q1 earnings yesterday, and the news was very good. "Funds flow," which is the source of money from which dividends are paid,was $632 million, or $1.76 per unit. Since PWE pays 34 cents in dividend per month (and has done so for about 2 years), $1.02 of the $1.76 was paid as dividends. A simple math calculation shows that the payout ratio is 58%. In the Canroy business, a payout ratio of less than 70% is considered good, and anything under 60% is excellent. At 58%, the payout ratio is quite low, which is very good.
But as soon as one calculates the current quarter's payout ratio, one must also determine whether the payout ratio will remain low, or whether decreased future funds flow might push the payout ratio up and cause a cutting of the dividend. The news here is also very good. The company stated that assuming oil at $107 and nat gas at $8.50 (while nat gas is at around $11 right now), funds flow in 2008 should be between $2.7 to $2.9 billion — in other words, funds flow in the rest of 2008 should be higher than in the first quarter, and I calculate that by the end of the year, assuming oil at $107 and gas at $8.50 (and I think gas will average at least $10/MCF in 2008), payout ratio should be under 50%.
So if oil and gas prices hold up at the thresholds above, the dividend is extremely secure. Since distributions will eat up about $1.3 billion, and the capex program will eat up under a billion of the funds flow, there should be several hundred million dollars left over this year and the company (correctly) plans to use that money to retire debt.
If you believe that oil and gas prices will hold up, you have here a company that will pay you a monthly dividend at an annual rate of 13% with an extremely low chance of missing the dividend. A 13% dividend yield while money market funds are paying 2-3% in this low-interest-rate environment is nothing to sneeze at—especially as many companies in other industries are cutting or eliminating dividends entirely. Also, since the dividend is pretty secure, downside on the stock price is pretty limited.
But what about upside? The upside is quite good too because as PWE's hedges come off in 2008, PWE's funds flow will increase substantially (I would estimate by at least half a billion) in 2009—EVEN IF OIL AND GAS PRICES DO NOT GO UP from where they are today. Of course, if oil and gas prices DO go up, then funds flow will increase exponentially (because much of the extra money received for the oil and gas goes to the bottom line).
In addition, I think PWE's assumption of nat gas at $8.50 is pretty conservative. If nat gas averages closer to $10/MCF this year (as I think it will), I would guess that would add several hundred million dollars to funds flow this year — causing funds flow in 2008 to approach, if not breach, $3 billion.
What are the risks?
First and foremost, oil and gas prices.

If they go down substantially, that would hurt the stock price.
Second, just as is true in the US, the Canadian government can always roll out new tax initiatives that would hurt all oil and gas producers.

In fact, such adverse tax legislation has been passed in Canada but is well known and baked into the stock price, though new initiatives obviously would hurt the stock.
Third, this company has a fair bit of debt, so credit issues could conceivably hurt it, although with high oil and gas prices, PWE's ability to service (and retire) its debt is growing by leaps and bounds.
In conclusion, as investors discover this underappreciated asset, and realize that the 13% dividend (at today's stock price of around $31) is extremely secure, I would expect that the stock price will increase to bring the yield closer to 10%, if not less. This would yield a total return of approximately 40% this year, with steady monthly income and minimal downside risk. There are very few companies offering this sort of yield with minimal downside risk and a reasonably likely total return of 30-40% this year and probably more next year.
Disclosure: As you may have guessed, I am long PWE.