American International Group (AIG) is set to report earnings on August 2nd, 2012. The company is reemerging from the U.S. government bailout they received in 2008. The government has sold two chunks of stock so far this year, and the only major ownership in AIG that the government has left is 1.06B shares of common stock, worth $30 billion. Investors looking to buy AIG for the first time, or to add to existing positions, should wait a week as the next secondary could be announce as early as Friday evening (August 3rd).
I wrote an article on April 2nd, 2012, hailing AIG as a great long-term buy but warning investors to wait until the government further liquidated their holdings. Since then, the government has completed another secondary offering of $5B on May 6th, 2012. The government now owns roughly 1.06B shares of AIG, leaving what seems to be another 5 or 6 secondary offerings until they are entirely out of AIG. If the government continued selling every 90 days, they could be out of AIG entirely by August 2013.
AIG's selling shareholder (the U.S. Government) agreed to a 90 day lock-up in SEC filings after the May 6th secondary offering. This 90 day lockup expires this upcoming weekend, which means the U.S. Government could decide to announce another secondary as early as Friday (August 3rd) after the market close, and they could price the secondary on Monday, August 6th.
AIG should report another solid quarter on Thursday, as they have handily beaten the prior 2 quarters. Chubb (CB), a competitor in the insurance industry, announced solid results on Thursday and raised full year guidance. Most likely AIG will have under-promised and over-delivered when they report earnings this week. This strategy is rewarding and will likely increase institutional demand for the U.S. Governments upcoming secondary.
Investors who chase AIG higher during the week and post-earnings will likely find themselves over paying for shares once the secondary is priced. Late next week, shareholders should sell weekly upside calls to collect premium, while traders might want to consider a well-timed short position after AIG reports their quarterly earnings.
Long-term I still love the prospects of AIG. Trading well below book value, the company continues to buy back stock on each government secondary offering. This should again be the case because the company will likely announce intentions to buy another $2B as a share buyback from the government. Within 2-3 years, AIG could see its shares trading well above $50/share as the government exits its position. However, short-term, with the government continuing to sell shares, it makes sense to remain nimble and trade around major events in AIG.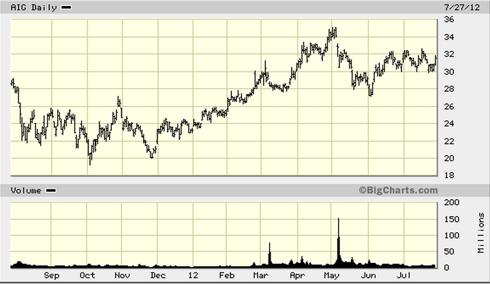 Click to enlarge
Disclaimer: This article is intended for informational and entertainment use only and should not be construed as professional investment advice, but rather my opinions as a writer only. Trading stocks are risky--always be sure to know and understand your risk tolerance as in any given trade/investment you can incur substantial financial loss. By reading this article, you agree and understand that I am not giving recommendations on stocks to trade. Any trade you make-- wins, losses, or break even--are entirely your decision and responsibility. You also agree and understand that I have no material insider information--just opinions. Always do you own complete due diligence before buying and selling any stock, and/or consult with a licensed qualified broker dealer and/or certified financial adviser.
Disclosure: I have no positions in any stocks mentioned, and no plans to initiate any positions within the next 72 hours.