General Growth Properties (GGP) reported its first-quarter earnings at the end of April, and as I anticipated...
The lease termination income thing is really, really peculiar and interesting. This goes through a bunch of stuff on the Q, but the biggest thing appears to be the lease termination element. It doesn't bode well. The change in occupancy is also amazingly steadily declining - so while it is also interesting that we are finally showing y/y drops in occupancy, the very linear trend (plus the really high lease termination income) implies that future might not be too bright either. Also, a calculation below fairly convincingly shows that GGP burned $30M of cash on a normalized basis in this Q. If you do a reasonable normalization for the lease termination income, GGP missed guidance by a healthy margin. Finally, it is notable that both Taubman (TCO) and Simon (SPG) reported lower lease termination income in Q1 2008 - GGP was the only to report higher, and boy was it way higher.
A UBS analyst said the results were solid - they go into no depth, and basically infer strength off of the FFO figure, and rationalize it by saying this means the redevelopment activity from 2006 and 2007 must have been very helpful. Needless to say, it seems very clear to me that it was actually due to lease termination income.
From our standpoint,
Change in occupancy is trending downwards,
People are breaking their leases at an incredible rate which doesn't bode well for future income (less occupancy, no fee income from lease breakage),
No mention of financing news implies nothing has happened on that front,
No mention of co-participator in equity offering or the Citigroup situation supports notion that our askance view of this is justified
On the flip side, normalized NOI and normalized Core FFO were still up 2% and 9% respectively, implying the core operations still seem to be improving somehow. I assume it is due to rental rates improving, but that information is not yet available.
On balance, I think this is negative for GGP. Core operations by a couple metrics appear to be truly deteriorating for the first time, and the financing situation must not have improved at all. If occupancy continues to trend down and the termination income trends work themselves out, while the lending market remains tight, GGP will have a liquidity crunch.
Lease Termination Income - Extremely high absolutely, relative to past and relative to comps - needs to be normalized for!
As was mentioned previously, lease termination was something to keep an eye on because it skyrocketed in Q3 and Q4 2007. It appears to be accelerating, and is also way larger than what we're seeing at SPG.
Below is GGP's historical data on this (click charts to enlarge):

These figures are extremely large and growing at an accelerating pace but were not really mentioned at all, just as they weren't in the last call. To put this in comparison we can compare this to SPG (who accounts for this as 'lease settlement income'):

TCO also reported a decline in lease termination income in Q1 2008, which makes GGP even more peculiar given its large size. Also, note just how much larger lease termination income is as a percentage of revenues for GGP relative to SPG. It is way, way larger.
See my site for the full Q1 analysis with supporting charts and graphs.
Update: GGP Can't Afford Its Dividend
As a continuation of my analysis on GGP's recent Q1 results, GGP overall financial position and the retail CRE sector in general, I bring an explicit illustration depicting GGP's inability to support its current dividend payout from operating cash flows. This is quite significant, and I urge those who have an economic interest in this company to explore my findings.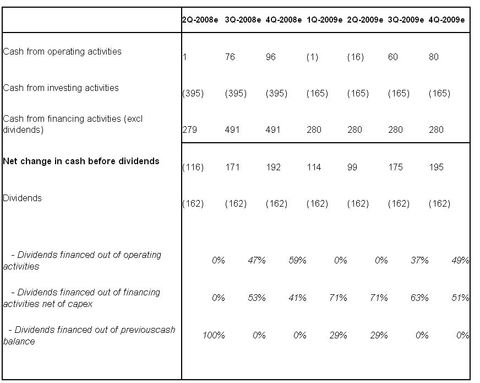 According to our estimates, GGP's core operating income is insufficient in regards to meeting its dividends obligations (assuming constant dividend declaration at $0.50 per share) in the coming quarters through operating cash flows. The company would have to draw down its existing cash reserves or finance its dividends through additional re-financing (note that we have increased dividend by $10 mn per quarter to include the impact of additional shares issued by the company - without such an increase the dividend payout will drop by default due to the dilutive effect of management's financing efforts). Such actions are unsustainable, thus it is fair to say that the current dividend is at short term risk unless financed through means other than company operations, and is at long term peril regardless of the company's actions. The table above depicts the 2Q2008 in which GGP would have to finance all of its dividend payment through cash reserves (which stand at a healthy $256 mn at the end of 1Q2008 due to issuance of equity stock of $88 mn and an unsustainable increase in NOI partly due to higher lease termination fee). In 3Q2008 and 4Q2008, company's operating activities would be able to finance only 47% and 59% of its dividend with the balance coming from financing activities. Supplementary and sensitivity analysis are available here.