We recommended our readers to buy Sprint Nextel Corp (S), on July 3rd. Since then, the stock has traded up more than 30%. Its latest earnings release has made us more confident regarding its turnaround possibility. Last Friday, Jim Cramer also recommended the stock, and said he believes it can trade up to $5.
Sprint is a provider of wireline and wireless services, announced its quarterly results on July 26, 2012. The company reported a loss of $1.37 billion with earnings of $-0.46 per share. Analysts were expecting Sprint to post a loss per share of $0.40. Comparing the results with the second quarter of the previous year, losses piled up by almost 60% in the quarter recently ended. However, this loss was caused largely due to the implementation of its network vision, as well as the cessation of its Nextel operations. The company recognized accelerated depreciation of almost $800 million with regards to its network vision, which translates into a loss of $0.26 per share. Through its 'network vision', the company is aiming for a consolidated network to further widen its coverage, as well as improve its ability to support multiple spectrums. Of course, the company is expecting significant financial benefits in the range of $10 billion-$11 billion over a period of seven years after incurring costs of around $5 billion. The Nextel platform continues to weigh on the company's profitability, however, a recent announcement confirmed that the company will shut down the platform completely by June next year. In the second quarter, Sprint generated almost $8.8 billion in revenues, up 6% from the second quarter of last year. Revenues also improved sequentially, led largely by an increase in revenues from its wireless services.
Revenues from its retail services increased by over 7% versus 2Q2011, led by the higher postpaid average revenue per user, as well as an improvement in the end of period prepaid subscribers. Wireless postpaid average revenue per customer grew by 7% in the second quarter, which is also the largest increase in the company's history. Postpaid ARPU for the quarter was $60.88, up from the previous $56.66. This increase was helped by the recurrent nature of its postpaid revenues. Prepaid ARPU, however, declined to $26.59 compared to the previous year quarter's $27.53. The company paid more in subsidies in the second quarter ($1.5 billion), largely due to its Apple (AAPL) iPhone sales, which have a higher subsidy than other phones. The company's postpaid churn for its Sprint platform is continuously improving, and in the quarter recently ended, the churn rate dropped to 1.69% from 2Q2011's 1.72%. This is also an improvement from the previous quarter, when the churn was as high as 2%. Despite its Nextel platform performing poorly, the platform saw its prepaid churn drop to 7.18%, an improvement from both the previous quarter as well as the year ago quarter. Overall, the second quarter was fruitful for Sprint in terms of subscriber additions, despite Nextel losing more postpaid customers, as it had over 4 million more customers compared to 2Q2011. Moreover, the company was able to capture over 50% of users that left its ill-performing Nextel division, which was an improvement from previous quarters.
Wireline revenues declined slightly from the previous year's quarter due to the lower rates charged for various services provided to the company's wireless segment.
Sprint attracted a lot of iPhone customers in the second quarter, adding almost 1.5 million subscribers. Despite relatively lower data speeds on offer by sprint, the company's unlimited service is particularly popular among iPhone users.
The company has raised its full year guidance, now expecting an adjusted OIBDA to be between $4.5 billion and $4.6 billion. Previously, the management had anticipated the figure to be around $4 billion.
Overall, the company has enough financial strength to cover its capital expenditures that totaled almost $1.7 billion in the quarter ended June, 2012. In the same quarter, Sprint generated operating cash flows of $2.2 billion, ending the quarter with almost $6 billion in cash. The company is on track with its network vision program and with Nextel soon to be shut, it can focus on its Sprint platform, which has performed relatively well. The company has launched its 4G services in five markets so far. However, it faces stiff challenge from Verizon (VZ) that has a presence in almost 340 markets.
Despite incurring losses, we are bullish on Sprint as it has concentrated on its network vision program, which is well on track. With Nextel gone, the company, through its Sprint platform, can return to profitability through its unlimited plans, prepaid services and the resultant high smartphone sales. With AT&T (T) and Verizon slightly increasing prices on their various plans and more customers hesitating to sign long term contracts, Sprint's prepaid business through Virgin Mobile stands to benefit from its offers of cheaper prepaid plans. Virgin Mobile has already started catering to the prepaid iPhone market. The company's liquidity position has improved, as reflected in its cash position and operating cash flows, which will be sufficient to cover its debt payments, as well as capital expenditures going forward. S has P/S of 0.37x compared to 1.13x for Verizon and 1.69X for AT&T. Moreover, S is trading at an EV/EBITDA of 5.59x versus T's 7.83x. The stock has performed well since the start of the year, gaining almost 85%, and we believe it has some more appreciation potential.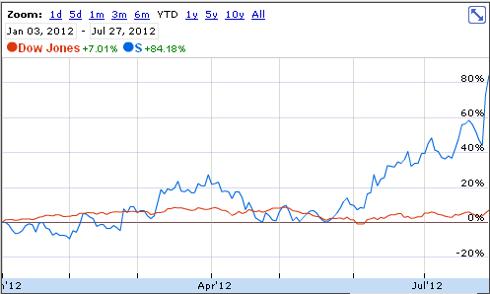 Click to enlarge
(Click to enlarge)
Disclosure: I have no positions in any stocks mentioned, and no plans to initiate any positions within the next 72 hours.