Edited by Kate Boehme
Petrobras (PBR) is the largest Brazilian national oil company. It is also the most valued brand in Latin America. Petrobras's core activities include producing, refining, transporting and distributing, as well as the marketing of oil and gas. América Economia, Latin America's leading domestic business magazine, has ranked Petrobras number one among the top 500 largest companies in Latin America for the last three years. The ranking is based on the magazine's analysis of stock exchanges, official financial performance, and published data.
In Brazil, due to its excellent reputation, Petrobras has won a number of high-profile awards, including a place among the "Ten Most Admired Companies Regardless of Industry", "Ten Most Admired Leaders", and "Fuel or Oil Product Distributors." More recently, in 2012, Fortune Magazine ranked Petrobras 23rd in their annual list of the 500 largest companies in the world. Petrobras was the only Latin American company that was listed among the top 100 most respected global corporations.
Brazil has vast amount of resources that are yet to be explored. Petrobras is at the forefront of this exploration. The company is growing fast, and increasing its production year after year. In 2011 Petrobras was honored with a Platts Global Energy Award in the category, "Energy Company and Energy Producer of the Year." Afterwards, PBR was ranked 34th among the 500 largest corporations in Fortune's Global 500 list, rising a full 20 positions.
Mixed Financial Results
In 2011, natural gas generation in association with oil production reached a record 89.2 percent , becoming the company's best percentage since 2004. This achievement has allowed Petrobras to expand its operations into the southern and southeastern regions of Brazil, thereby increasing quantities of gas delivered for thermal power in northern Latin America. Last year, Petrobras also generated revenues of $146 billion and received top ranking as the largest company in Latin America.
In 2011 the company's net income growth reached 4.9 percent, against revenue growth of 21.5 percent. Yet, over the full five-year period, Petrobras has overall improved its operating activities, resulting in a 30 percent revenue increase. Nevertheless, it must be acknowledged that both net and operating income growth showed poor results as the figures below demonstrate. In 2011, profit and operating margins achieved the lowest levels of the last five years.
Moreover, the diluted EPS dropped from $4.06 to $3.07 and reached its lowest level in a three-year period. As a result, Petrobras's dividends per share fell to $0.53, also the lowest in three years. That is a decrease of 24 percent when compared to 2010. Evidently, Petrobras has been experiencing a long-term financial slowdown since 2010.
Stock and Dividend Profile
Petrobras's top competitors are Exxon Mobil (XOM), Royal Dutch Shell (RDS.A), Chevron (CVX), and BP (BP). Unlike its competitors, Petrobras is a majority state owned oil and gas company. Therefore, the institutional ownership stands much lower than its peers.
The figure below clearly shows that Petrobras's stock price quote remains below major stock indices, such as the S&P 500 Index and Dow Jones Industrial Average.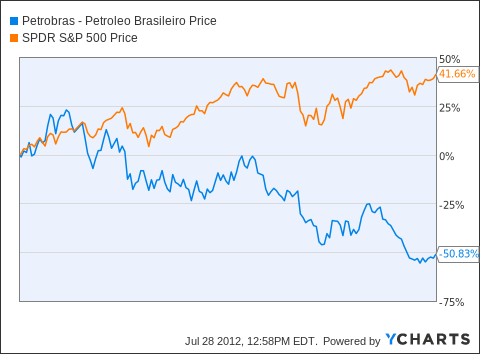 Looking at the above figure, analysis reveals the company's stock kept sliding over almost the entire last three years, and alerts investors to the weakening of Petrobras's position in the global stock market.
Furthermore, the figure below shows that, in its peer group, Petrobras has a comparatively downscale stock profile. In relation to its peers and competitors, the company holds a fairly weak position in the stock market, making it difficult to attract new investors.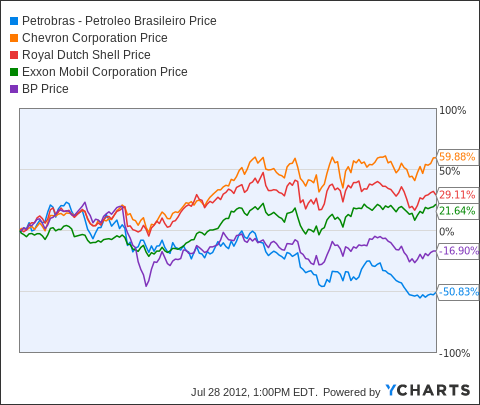 In 2011, the earnings-per-share dropped to $2.96, a decrease of 27 percent compared to 2010. As a result, the rate of per-share earnings returned to their 2006 levels.
Currently, Petrobras is trading around the $18 to $20 level and exhibiting a price-to-earnings ratio of 6.50, which is slightly below the sector average of 7. The 52-week price range varies between a low of $17.27 and a high of $35.10. A beta of 1.45 reveals that Petrobras is currently 45 percent more volatile than the general market, which makes it quite a risky buy for investors. With these numbers in mind, the second quarter of 2012 has shown most analysts recommending Petrobras stock as a "Hold."
Present Economic Outlook
For Petrobras, 2011 was marked as a year of accomplishments, due to discoveries of new oil and natural gas reserves, engagements in new projects resulting in record investments, consolidation of Pre-Salt production in the Santos and Campos basins, and recognition through both national and international awards. The company has also made new discoveries in the pre-salt area, starting up five new refineries and eleven offshore drilling rigs.
Petrobras is still expanding its activities, increasing in scale to become one of the top five integrated oil companies in the world by 2020. Even now, Petrobras produces more than 2.5 million barrels of oil and natural gas daily. After all, the company manages 25 percent of the world's oil operations in deep-water zones.
Moreover, Petrobras has developed the largest investment budget of any company in the world throughout history ($225 billion for the 2011-2015 period). 57 percent of this budget will be invested in exploration and production activities. Ultimately, despite past troubles, these factors show that Petrobras has great potential to become a leading exporter of oil and oil products in the coming years.
Summary
The challenges faced by Petrobras, as well as their economic slowdown over the past few years, were both mainly caused by the fiscal crisis in several European countries as well as the slow recovery of the U.S. economy. Additionally, the company`s shares were significantly impacted by global volatility and economic uncertainty. Despite the appearance of a financial downturn within Petrobras, there is evidence to suggest a financial upswing in the coming years. The record of achievement in core activities exhibited by this company reveals the presence of a strong and ambitious leadership team, as well as impressive management and an effective economic strategy. Such key business components have recently brought Petrobras esteem and world-wide recognition.
The above-mentioned facts make it reasonable to assume that Petrobras's outlook promises investors big profits in the future. Shareholders who have been holding onto shares for a while will benefit a great deal from improvements over the coming years. While I think Brazilian real is expensive, Petrobras looks like a cheap deal. The Brazil's Central Bank just reduced the benchmark interest rate to 8 percent. I expect the lower interest rate to have a negative effect on the value of real. Therefore, I think, a pair trade, where one is short Brazilian real, but long Petrobras sounds like a feasible option.
Disclosure: I have no positions in any stocks mentioned, and no plans to initiate any positions within the next 72 hours.