I've found that stocks trading at exceptionally low valuations are either misunderstood or accurately reflect poor prospects.
When valuations have been falling and earnings and cash flows have been accelerating rapidly, I get interested in prospective investments. At some point, either something terrible will happen to the company (throwing its earnings into a downward spiral) or the stock price will have to catch up to the business results.
Since the beginning of 2008, when Aflac (AFL) was worth about $65 per share, the stock has fallen to $43.50, a 33% drop. Cash flows from operations on the other hand have risen from about $5 billion to an estimated $12 billion in 2012 (based on quarterly cash flow of over $3 billion). Cash flows have risen 140% over this time.
As for EPS, the story is the same. Having earned $2.62 in 2008, Aflac is estimated to earn $6.53 this year - nearly 150% growth.
Stocks with steady and rapid growth like this (estimated 40% year-on-year operating cash flow) deserve to be trading at a premium to the broader market multiple (currently 16 on a TTM basis, or about 22.3 on a 10-year annualized, average basis).
Instead, Aflac trades at a mere 7.9 times TTM earnings. The total yield (earnings yield plus dividend yield) is 15.8%, compared to 8.25% for the S&P 500 (the inverse of the P/E - 16, plus the dividend yield of 2%). Logically, this means the market expects growth to slow markedly. Given the fact that Aflac is a financial company operating in the highly complex field of insurance, I suspect that the market is worried about "blowout risk" in the form of a black-swan.
For example, AFL tends to greatly outperform the broader market when the European crisis deepens, likely in response to worries about its investment portfolio.
Therein lies most of the confusion - the investment portfolio. Since Aflac has to match the duration of its Yen-denominated policy liabilities with its investment holdings, and Japan doesn't have a long-dated bond market, AFL utilizes the Euroyen market by purchasing yen-denominated assets of European institutions and sovereigns. This European exposure is apparently very worrisome to the market.
Investment Portfolio Breakdown
Let's take a look at the actual portfolio (figures are sourced from AFL's 2011 10-K):
80% of holdings are rated AA
Only .6% of holdings are rated BB or lower
The US portfolio earned a yield of 6.41%
Roughly half of US investments are A or AA rated corporate bonds, 8% are highly rated (A and above) municipals, 20% are highly rated financial institution holdings
The Japanese portfolio, which accounts for about 90% of Aflac's overall investments, primarily holds Japanese government bonds (JGBS). JGBs are 30% of AFL's total investments.
Total gross exposure to Ireland, Italy, Spain, and Portugal is being carried at an amortized value of about $6 billion; extremely manageable
AFL took another large, voluntary write-down of about $272 million in Spanish holdings in Q2. This is part of a decelerating trend to derisk
Aflac plans on moving some cash from yen-denominated, lower-yielding debt to A and above rated corporates in the US (where new money yields have been above 6%). The currency risk will be hedged
Other Worrisome Positions
BNP Paribas - at .6% of total investments, it is a meaningful holding. Though it is rated at AA-, its EU exposure is overwhelming and I have a poor long-term view of France
Bank of America/Merril Lynch - investment grade debt holdings, but the worries are obvious here. Granted, Aflac's investment strategy in financial institutions is as follows: invest in firms that are essential to their domestic economies, and would therefore not be allowed to fail
Investment Portfolio Wrap-Up
$17 billion in peripheral and European financial institution exposure - much of this is tied up in institutions or sovereigns AFL has deemed too big to fail, and in the unlikely event that 50% of the holdings are impaired, an $8.5 billion loss is more than manageable over time. AFL is rapidly voluntarily impairing peripheral holdings and selling others. The main worry is the following: if institutions are nationalized, do the bondholders get wiped out along with the equity? The market seems to think so, but total risk is exaggerated. Annual operating cash flows are more than 80% of total peripheral exposure - and growing.
30% of portfolio is tied up in JGBs - Japan has a printing press that it's more than willing to use, and domestic ownership of sovereign bonds is unlike anywhere else. These are essentially riskless assets.
With huge annual cash flows in excess of $10 billion, the portfolio's assets are growing rapidly. When the derisking (impairment) stage is complete, net investment income is going to be a much larger contributor to bottom line earnings.
In a doomsday scenario requiring an obscene $10 billion equity offering, shareholders would be diluted by about 50%. This would theoretically double AFL's valuation (since it would halve earnings) to 16; in-line with its 5-year average. Given AFL's exceptional cash flow and earnings growth, an impending massive dilution is the only logical explanation for such a cheap valuation.
Business Breakdown: Exceptional sales growth
Aflac's niche is supplemental insurance, which is typically used in conjunction with primary insurance. Some specific offerings include Lump-sum cancer, dental, and accident coverage.
The business model is low-cost in nature, is unique, and generates excellent returns on equity; over the past five years, ROE has averaged 18%.
Sales from premiums, which the company notes are primarily from supplemental health insurance, grew 12% in 2011. These revenues have averaged 11% growth since 2007.
US premium income has been growing at around a 3.5% clip for the past several years.
Japan, however, is where Aflac has an entrenched business with loyal customers (95% retention rate). Premium income grew 15% last year, and AFL had annualized sales growth of 47% in 2Q 2012 - an exceptional figure to say the least.
Aflac appears to have "share of mind" in Japan, where policyholders overwhelmingly stick with the coverage and the products are increasingly marketed through the workplace.
Dividend
AFL currently yields 3.20%, and this rate has grown 10% annual over the past 5 years. The payout ratio based on earnings is a mere 24%.
An initial yield over 3% growing at 10%, in conjunction with an earnings yield of over 12% is an exceptional opportunity for dividend growth investors.
Conclusions
Aflac is a rapidly growing, efficient dividend grower operating in a niche market with relatively little competition and unparalleled retention levels of 95%.
Given the divergence of AFL's earnings and cash flow growth and the stock price, barring a major investment loss (in the order of over $5 billion), the stock has a lot of catching up to do.
Chuck Carnevale's F.A.S.T graph indicates AFL's substantial undervaluation: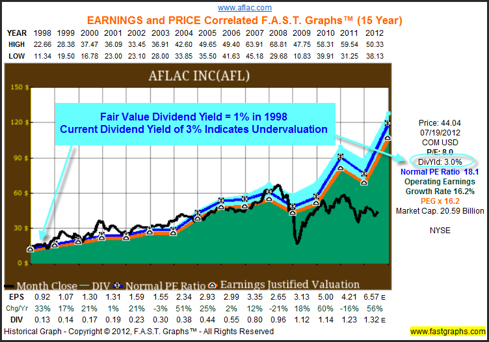 As you can see, earnings growth has outstripped stock appreciation by a wide margin, leading to severe undervaluation.
We know that total peripheral risk is about $17 billion (though some of this isn't peripheral -- the figure includes total European financial institution exposure). This crisis is moving in slow-motion; Aflac and most other institutions have been, and will continue to unwind risky positions as central banks continue to pump liquidity into the system. At this pace, AFL is writing off about $1 billion per year in anticipation of deterioration in credit.
Assuming a market multiple of 16, investors are assuming either a massive capital loss or a dilution in the order of 50%. All the while, Aflac is achieving 50% premium sales growth thanks to new products like WAYS, resulting in soaring investment assets and operating cash flows.
Perhaps the market is worried about AFL's large JGB position, and its low yields. New money yields in Japan don't even average 3%, but AFL is investing a bit more in its US portfolio in highly rated corporates that result in new money flows closer to 6%.
There is nothing unexpected here: the market has priced in massive investment losses or shareholder dilution. Buying AFL shares today at a total yield of almost 16% is an excellent opportunity if you don't think the world is about to fall apart; simple as that.
*All data sourced from AFL's 10-K and 10-Q SEC filings unless otherwise noted.
Disclosure: I have no positions in any stocks mentioned, and no plans to initiate any positions within the next 72 hours.
Additional disclosure: Aflac is likely to be a major holding in my long-term portfolio by the end of 2012.