Wal-Mart Stores, Inc. (WMT) operates discount stores, supercenters, and neighborhood markets. The company's discount stores and supercenters offer merchandise such as apparel, housewares, small appliances, electronics, and hardware. Wal-Mart's markets offer a full-line supermarket and a limited assortment of general merchandise. The company operates nationally and internationally.
Last Friday, shares of super retailer Wal-Mart hit an all-time record high of $74.80. Wal-Mart is now up 23% year-to-date and 37% for last 12 months. Since going public on August 25, 1972, the retail giant has returned a staggering 145,900%. Currently, the entire discount retailer sector is undergoing a strong uptrend led by Wal-Mart.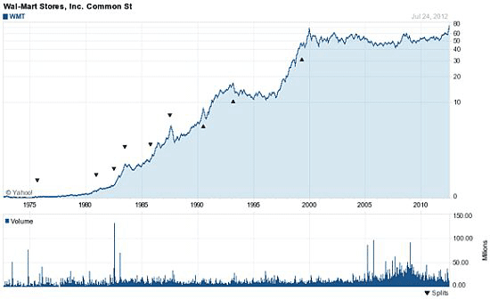 Click to enlarge
Discount Retailer Sector: Expanding on Strong Fundamentals
According to a recent Associated Press survey, poverty in America is on track to reach its highest level since the 1960s.
The Associated Press surveyed more than a dozen economists, think tanks and academics, both nonpartisan and those with known liberal or conservative leanings, and found a broad consensus: The official poverty rate will rise from 15.1 percent in 2010, climbing as high as 15.7 percent. Several predicted a more modest gain, but even a 0.1 percentage point increase would put poverty at the highest since 1965.

Poverty is spreading at record levels across many groups, from underemployed workers and suburban families to the poorest poor. More discouraged workers are giving up on the job market, leaving them vulnerable as unemployment aid begins to run out. Suburbs are seeing increases in poverty, including in such political battlegrounds as Colorado, Florida and Nevada, where voters are coping with a new norm of living hand to mouth.
You can read the full story here.
Wal-Mart's business will continue to boom as consumers look for low cost providers. Other discount retailers like Dollar Tree (DLTR), Dollar General (DG) and Family Dollar (FDO) are also near all-time highs. All of these discount retailers are rapidly expanding on solid fundamentals.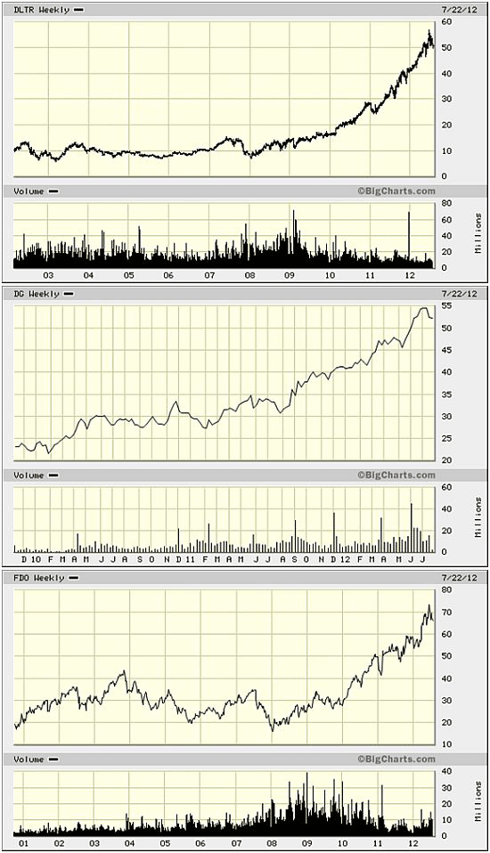 Click to enlarge
Wal-Mart's Strong Fundamentals
Wal-Mart serves customers and members more than 200 million times per week. The company serves them in the ways they want to be served - in retail outlets, online, and on mobile devices. Wal-Mart operates under 69 different banners in 27 countries. With fiscal year 2012 sales of approximately $444 billion, Wal-Mart employs 2.2 million associates worldwide. This non-linear approach gives the company an advantage over its competitors like Cabela's Inc. (CAB), and Target Corporation (TGT). (Source: walmartstores.com)
Recent Developments
Wal-Mart and TruConnect launched "Internet on the Go", which is exclusively sold at Walmart, is powered by the award-winning MiFi 2200 Intelligent Mobile Hotspot and a service plan from TruConnect with no monthly fee and where the data balance never expires (if used once a year). This is different from other low-cost prepaid monthly services where unused megabytes are wasted at the end of the month - potentially driving up the cost.
Wal-Mart: Short Term Outlook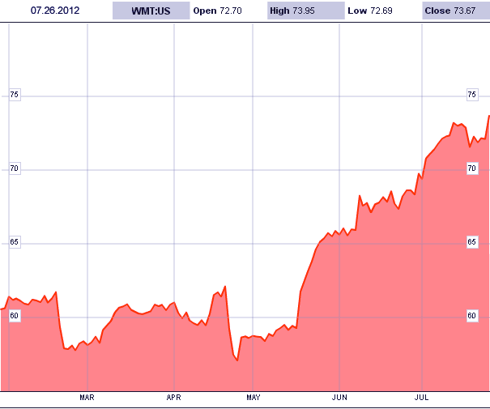 Click to enlarge
Wal-Mart is currently trading in the uncharted territory. We expect the stock to touch $78 and then $85 within a few months. Short term investors can buy the stock in any dip near $72.
Wal-Mart: Medium to Long Term Outlook
Medium to longer term outlook for the stock and the discount retailer sector is bullish. In 2008, the company's annual revenue was $379 billion. In 2010, it was $408 billion and in 2012 it's $444 billion. The share price enjoys a PE multiple of 16 and with an expected EPS expansion of 15% year-over-year for the next five years, the share price looks reasonably cheap.
Based on our DCF valuation model, we have calculated the intrinsic value of the share. Earnings are expected to grow at a rate of 15% annually for the next 5 years. Terminal growth rate has been assumed to be 5% - recognizing the value of options Wal-Mart is generating. Applying a WACC of 11%, we arrive at an intrinsic value of $122.76 per share of Wal-Mart and that's nearly a 60% upside from current level.
Wal-Mart has been one of the greatest income plays in history. It has raised its dividend for 37 consecutive years, and it raised it again this year. Buy Wal-Mart and continue to hold it for the rest of your life.
Disclosure: I am long WMT.