Owens Corning (NYSE:OC) reported results yesterday and they were better than expected, primarily because of the company's intentional move to a more international model. (See Transcript) Owens posted a net loss of $15 million, or 12 cents a share, compared with a profit of $1 million, or 1 cent a share, a year earlier. Sales rose 20 percent to $1.35 billion, ahead of estimates for $1.22 billion. Adjusted earnings from continuing operations were 7 cents per share, which was 4 cents ahead of forecasts.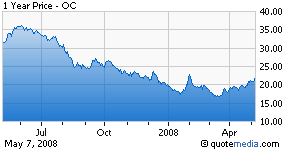 In the first quarter of 2008, Composite Solutions, Insulating Systems, Roofing and Asphalt and Other Building Materials and Services represented 48%, 26%, 22% and 4% of our total reportable segment net sales, respectively.

Net sales by end market in the first quarter were 18% U.S. and Canada new residential construction, 23% U.S. and Canada residential repair and remodeling, 20% U.S. and Canada commercial and industrial and 39% international. This marks the lowest level of reliance in US housing for the company.

In the first quarter, Composite Solutions represented 107% of Owens Corning's total reportable segment earnings (loss) from continuing operations before interest and taxes. Sources of revenue for Composite Solutions in the first quarter were 6% U.S. and Canada residential construction, 20% U.S. and Canada commercial and industrial and 74% international. The worldwide composite market is expected to grow 1.5 to 2 times the rate of global GDP.

Sales outside the United States represented 43% of total sales for the first quarter of 2008 compared to 27% for 2007. The increase is due to incremental sales outside the United States related to the acquisition of the Saint-Gobain Group's reinforcements and composite fabrics businesses and increases related to favorable foreign exchange rates combined with lower sales of building materials products in the United States in 2008.

On February 21, 2007, the Board of Directors had approved a share buy-back program under which Owens is authorized to repurchase up to 5% of outstanding common stock. During the three months ended March 31, 2008, there were no repurchases of stock under the share repurchase program.

Owens is struggling principally because of US housing. The good news is that due to the earnings diversification to more international business, that pain is muted. It also means that when housing stops the decline and begins its turn, earnings will jump. Let's also not forget we have had two years plus now of zero hurricanes. The number one repair from even a moderate storm? Roofing. With production across the industry low, a rapid increase in demand due to a storm will cause rapid price increases and expanding margins.

While I do not wish for a severe storm, we do have to look at reality when it comes to this stuff.

Disclosure : Long OC.