Definition
A stock split is a change in the number of shares outstanding (in circulation). The number of shares is adjusted by the split ratio, e.g. 3 to 1. In this case, 100 shares splits to 300 shares, however the share price is cut in third. Thus, the cost and current value of the investment remains the same, however the number of shares owned increases, while the price per share decreases. This facilitates retail investors to own shares in round lots in that they can buy more shares for less money.
Is a stock split an asset or a liability?
There are those who feel that a stock split will automatically result in a share price increase. Research seems to disprove this theory. However, a split will oftentimes occur after a significant run-up in price, and a continuation of this trend is likely. I give credence to a stock split that occurs after such a price increase, and look at the company's chart to evaluate the momentum associated with this appreciation. When the technicals confirm the split as legitimate, I consider the event as another plus in that stock's column of assets. On the other hand, if the chart paints an ugly picture and a split is announced, it is likely that the Board of Directors is desperate and looking to garner interest in a deteriorating asset. In this instance, the split should be viewed as a liability.
A real-life example: SHOO
Early in 2010, SHOO announced a 3-for-2 stock split. This means that for every 2 shares owned, 1 additional share would be distributed. The value of the shares will be worth 2/3 of the current value at the time of distribution so the capitalization (price x number of shares) remains the same. Let's look at the chart to evaluate whether this split represents an asset or a liability: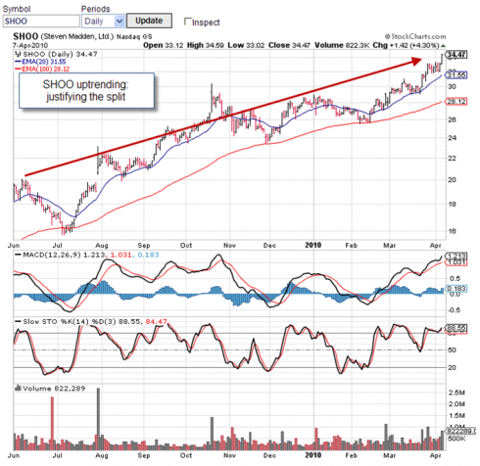 Click to enlarge
SHOO as of 4-17-10
This is a beautiful chart, uptrending with confirming indicators, describes an authentic split and is an asset in the column of parameters for this equity.
Next, let's view the current options chain. Assume we purchase 200 shares (that rounds off nicely!) and sell the May $55 calls as the stock is trading at $53 per share: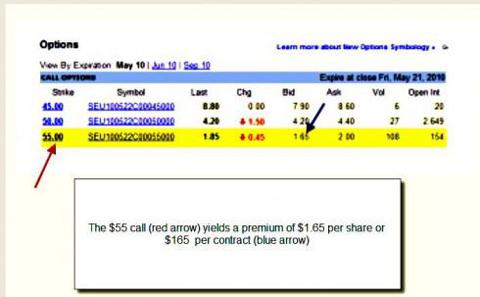 Click to enlarge
SHOO- options chain
The $55 call generates $165 per contract, or a 3.1%, 1-month return ($165/$5300) with additional upside potential of 3.8% per share if the stock climbs from $53 to $55 and assignment occurs ($200/$5300). Let's next view the impact this split will have on our covered call position both pre- and post-split.
Pre- and post-split comparison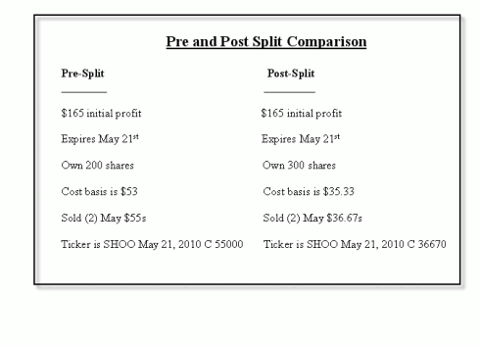 Click to enlarge
Pre- and Post- Split Comparison
The major difference is that prior to the split, each contract delivers the conventional 100 shares while post-split each contract will deliver 150 shares. This is known as a non-standard contract. If the split had been by an even number, such as 2 for1, the number of contracts would simply double and would deliver the standard 100 shares. For example, if a $50 stock splits 2-for-1 and we sold one $50 call, after the split we would have sold two $25 calls and our cost basis would be $25, with each contract delivering 100 shares. See page 179 of Cashing in on Covered Calls (my first book) for an example of a 3-for-1 stock split.
Conclusion: When the economy is on the upswing and the stock market shows a bullish trend, stock splits are likely to become part of our covered call lives. Since the downturn in the market in 2008, stock splits have been few and far between. With the recovery starting in 2009, investors have witnessed the beginning of a resurgence in splits like the one shown in this article. As the market strengthens we would expect that number to increase. It is important to recognize quality splits from imposters and to learn how the splits impact our option contracts.
Disclosure: I have no positions in any stocks mentioned, and no plans to initiate any positions within the next 72 hours.