Pessimism in the current market climate is warranted. Though stocks have actually held up pretty well this summer, what with the major indexes up for the month and only down 1.4-5.2% since the start of the second quarter, there is not yet much sense of a solid base. The U.S. GDP number was better than expected but still weak; Europe is slogging along on steady, alternating diets of hope and doubt; and no one really knows what's going on in China. Investors should continue to consolidate accounts around core long-term plays and be patient in picking through bargains and selling opportunities on any given day until the outlook gets clearer.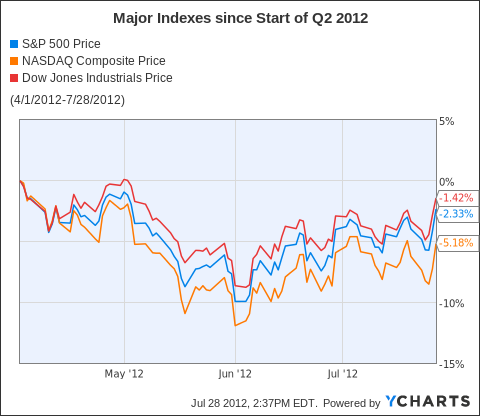 But while pessimism is warranted, outright doomsday fear should be avoided. There are scenarios where the world economy could truly slow down or fall into another recession, and if all of those scenarios coalesce a depth similar to 2008-09 might be reached, but it seems a low-probability case best left to Nouriel Roubini to cover. The market may be discarding some of its caution, but even at the lowest points over the last 18 months, nothing in stock prices has subscribed to this re-crisis situation.
Well, except in the case of a few select stocks, such as Cliffs Natural Resources (CLF). How else to describe the company's ridiculous valuation and terrible performance? There are certainly challenges the iron ore and coal producer faces, both on the macro level and internally. You as the knowledgeable investor probably winced reading "iron ore and coal producer" out of habit, and Cliffs has not hit all its marks, especially on a key project in Canada. Those challenges do not merit valuations just above 2009 lows, however.
(click images to enlarge)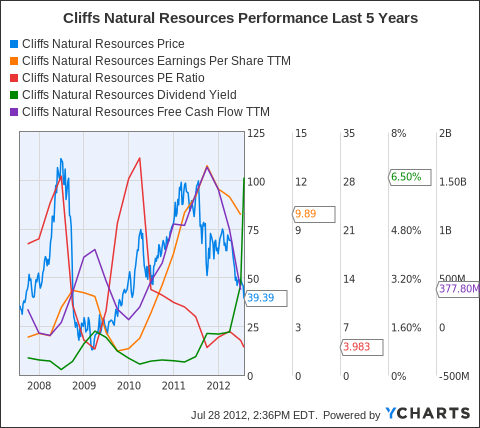 I've had Cliffs on my watch list for a few months, wondering when it would be worth investing in the company and when its stock price would end its cliff dive (pun fully intended). From mid-May to mid-July, it looked like $45-50 would hold as a range for Cliffs, but the latest earnings report sent it down to the 30s. Having looked at the stock, the most recent quarterly report, and the conference call, I am taking this latest fall as the signal to buy for the following three reasons:
1. Performance and Outlook
The most basic reason to invest in Cliffs is the belief that it can produce quality earnings. Cliffs just reported earnings of $1.81/share and revenue of $1.63 billion, figures which came in roughly in-line with estimates. The company than provided the following outlook for the year: Revenue of $6.31 billion, EBIT of $1.82 billion, an EBIT margin of 28.9%, operating cash flow of $1.3 billion, capital expenditures of $1 billion, and free cash flow/share of $2.1 (some figures backed out from company's guidance on production in each segment). This compares to estimates of $6.79 billion in revenue and $7.11 in EPS, and includes downward revisions to sales and profit margins in 3 of 4 segments and to operating cash flow.
All those numbers point to some disappointment compared to expectations, but also hardly the worst-case scenario that was built into the stock already. During the conference call and in the aftermath, most analysts' concern centered on the company's issues with its Bloom Lake mine in Canada. Costs have increased for the company's Canada iron ore production, and capacity for the Bloom Lake mine specifically, which is in the second phase of expansion. The company's guidance for eventual capacity at this mine and profit margin have both come down significantly over the year and a half since Cliffs bought out prior owner Consolidated Thompson. While the decrease hurts both the company's future earnings prospects and management's credibility, it has been overdone.
The other big linchpin of Cliffs' outlook is confidence that China is going to return to stronger growth. Cliffs is not alone in holding this view -- this was a prominent part of Caterpillar's (CAT) conference call, for example -- and bases this view on more than just blind faith. CEO Joseph Carrabba stated on Cliffs' call that China, "ultimately remains biased towards growth," adding that, "June's strong push for steel production in China -- I think the second-largest month on record -- is an indication of where steel production is in China."
Cliffs is often viewed as a direct play on China -- fair, as the company has shifted its iron ore production to be more directly tied to the seaborne market and seaborne pricing that is driven by China. Any sign of stability and/or a soft landing would be a huge positive for Cliffs.
Cliffs' production and outlook appears positive, with a few negative clouds hovering. It does not appear that the company is heading off the deep end any time soon, however, which makes it an attractive investment given the other two factors.
2. Dividend
Cliffs raised its dividend by 123% in March to an annual level of $2.50. This was viewed positively at the time, when the stock traded in the mid-60s with a yield around 4%. When the stock hung between 45-50, the yield floated above 5%. Now, we're talking about a 6.35% yield at Friday's closing.
This leads to questions of how safe the dividend is, but both the numbers and management have answered these as much as one could hope. The numbers show a forward payout ratio of 36% based on estimated 2012 earnings of 6.96 (averaged between WSJ and TDAmeritrade's numbers). Based on TTM free cash flow, the payout ratio is tighter at 94.7%, and goes up to 119% of forecast FCF for this year. Still, management vows to have the cash to pay the dividend. On the conference call, CFO Laurie Brlas brought up the matter in the prepared remarks, saying:
During the quarter, we also made our first payment under our meaningfully increased quarterly cash dividend of $0.625 per common share. With more than ample liquidity and a significant cash generation outlook, we're very confident in the sustainability of our impressive dividend rate. Based on our current outlook, we would expect to exit the year with no borrowings on our revolver and more than enough cash on the balance sheet to pay a full year of dividends.
I understand that to mean enough cash should be available on the balance sheet to pay for the dividend through next year. Brlas and Carrabba went on to raise the stakes in the Q&A, with Brlas stating, "we've really pressure-tested it and believe that we can sustain this dividend under quite a few variations of pricing scenarios. There are a lot of levers that we can pull as an organization… this was a commitment that we made to our shareholders that we would put above pretty much anything else." Carrabba followed by calling 2012 a big transition year with regards to the company's iron ore operations at Bloom Lake in Eastern Canada, but stating, "We didn't put this dividend on to take it off the table if things got tough. We've done it under a lot of different scenarios, and we continue to maintain that we can support that dividend."
All the defense in the world, both in words and corporate actions, might not save a dividend from being cut. In the near-term, however, Cliffs has staked a great deal of its credibility on maintaining its dividend. In the long-term, it seems likely that global growth will pick up pace. So unless catastrophe is coming, Cliffs seems likely to do OK from a performance standpoint and pay investors well in the meantime.
3. Valuation
Cliffs is not the only iron ore, coal, or steel-associated company to take a valuation hit over this year. Comparing the company to larger miners such as Vale (VALE) or BHP Billiton (BHP), similar-sized coal-focused companies such as CONSOL Energy (CNX) and Peabody Energy (BTU), or global steel companies such as Arcelor Mittal (MT), we find that Cliffs' valuation stands out as the ugliest in a pack of ugly ducklings.
(Sources: WSJ, TDAmeritrade, respective company websites)
| | | | | | | |
| --- | --- | --- | --- | --- | --- | --- |
| As of Q1 2012 | CLF | VALE | BHP | CNX | BTU | MT |
| Market Cap | $5.6B | $58.6B | $107.6B | $6.7B | $5.7B | $24.4B |
| Current Ratio | 1.14 | 2.25 | 0.85 | 1.32 | 1.48 | 1.73 |
| Long Term Debt-Equity Ratio | 0.57 | 0.47 | 0.29 | 0.82 | 1.07 | 0.4 |
| Quarterly Revenue Growth (Y-over-Y) | -8.36% | -20.82% | NA | -6.97% | -0.50% | -10.54% |
| Yearly Revenue Growth | 61.78% | 29.92% | 25.59% | 18.97% | 16.23% | 20.44% |
| EPS Growth (Annual, last 5 years) | 109% | 50.26% | 25.88% | 28.79% | 41.12% | NM |
| Estimated Earnings Growth (next 3 years) | -1.50% | -7.94% | 6.24% | 5.09% | 4.34% | 34% |
| EPS 2011 | 11.48 | 4.36 | 6.16 | 2.76 | 3.76 | 1.19 |
| EPS 2012 (Est.) | 6.96 | 3.2 | 6.68 | 1.69 | 2.19 | 1.44 |
| EPS 2013 (Est.) | 8.54 | 3.25 | 6.95 | 2.04 | 2.7 | 2.59 |
| Free Cash Flow/Share TTM | 2.64 | 1.44 | 4.24 | -1.79 | 3.07 | 0.81 |
| 2011 P/E | 3.43 | 4.22 | 10.88 | 10.66 | 5.53 | 13.25 |
| 2012 P/E | 5.66 | 5.75 | 10.03 | 17.40 | 9.50 | 10.95 |
| 2013 P/E | 4.61 | 5.66 | 9.64 | 14.42 | 7.70 | 6.09 |
| TTM P/FCF | 14.92 | 12.77 | 15.80 | neg. | 6.78 | 19.47 |
| PEG Ratio | neg. | neg. | 1.74 | 2.09 | 1.27 | 0.39 |
| Price | 39.39 | 18.39 | 66.99 | 29.41 | 20.8 | 15.77 |
| Dividend | 2.5 | 1.15 | 2.2 | 0.5 | 0.34 | 0.75 |
| Dividend Yield | 6.35% | 6.25% | 3.28% | 1.70% | 1.63% | 4.76% |
| Forward Dividend Payout Ratio | 35.92% | 35.94% | 32.93% | 29.59% | 15.53% | 52.08% |
| FCF Dividend Payout Ratio | 94.70% | 79.86% | 51.89% | neg. | 11.07% | 92.59% |
(Notes: Vale's long-term debt/equity ratio is based on its "long-term liabilities" figure; BHP Billiton reports every half year, so figures are backdated to year end 2011, and only two years of forward earnings estimates are available (i.e. through 2013, not 2014); Peabody's FCF is calculated as of Q1 2011)
There are likely few sectors less favored by the market than iron ore and coal producers, and yet Cliffs is the cheapest of them all. Cliffs' dividend yield, once a laggard among miners, has caught up to now lead the group, and the forward payout ratio is about on par with the other mining companies.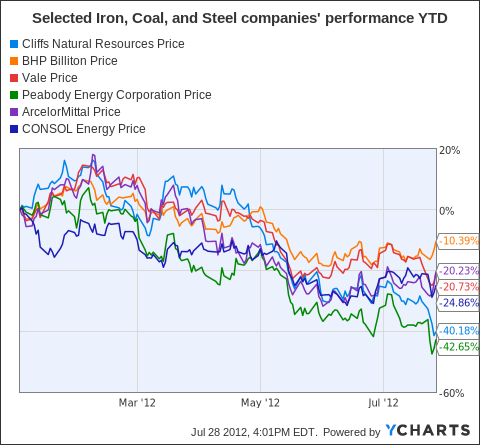 Cliffs' business certainly has concerns. The operational issues at Bloom Lake are a black mark on the company's performance so far this year, and the burden of proof is on management to meet guidance and turn the situation at the mine into a more positive one. The company's cash balance has been decreasing over the course of this year, and the free cash flow has run negative the last two quarters, neither of which are good signs.
If the stock had fallen to something like a 7x forward earnings multiple and a 4% yield, I might still hold off. Too many red flags, too much global bad weight, and plenty of better options out there. But when the company's production and results look decent, but not awful, and that forward earnings multiple is more like 5 and the yield more like 6? Then the red flags seem to carry a little bit too much weight, and there is an opportunity to be had. (Consider that for Cliffs, 7x 2013 earnings and 4% yield converge around $60/share, 52% above current levels).
That's where Cliffs stands right now. The company does have problems and headwinds to overcome in the next 18 months. But it should be well-positioned in the event of a China or subsequent global uptick in growth, and in the meantime, it has pledged to keep its dividend strong. That combination makes this a company that's worth investing in. After all, pessimism is one thing, but patience and opportunism can often make investors more money.
Disclosure: I am long MT, CAT, and I am looking to open a position in CLF in the next 72 hours.