"How on earth did we stalk our exes, remember our co-workers' birthdays, bug our friends, and play a rousing game of Scrabulous before Facebook?"
-Entertainment Weekly
In 2008, Facebook (NASDAQ:FB) was the #2 social network in the world, behind MySpace. By December 2008, MySpace and Facebook were neck-and-neck with 59 million U.S. visitors each. Then came the January explosion: Facebook shot ahead to 68.5 million U.S. Visitors in January, while MySpace actually lost 1 million people. Before the month was half out, Facebook had clocked a cool 150 million users as parents everywhere joined in droves.
By December that number was 350 million members making 45 million status updates every day. Mind numbing at the time, those figures seem quaint today. Members started grumbling about privacy: having everyone you've ever known only one-click away from you at any time was beginning to chafe. Comedian Stephen Colbert quipped that if you wanted to be left alone, just go to MySpace - "You'll have all the privacy in the world."
Today Facebook has 955 million members, exceeding the population of the entire Western Hemisphere.
And somehow, it manages to make only a dollar or so off of each of them per quarter. That's less than $5 a year, or about 6.25 cents per hour of interaction.
The Dead End Of Advertising
Any analysis defining Facebook's future prospects typically involves the advertising space. Facebook may be as sticky as the tar baby that snared Brer rabbit, but that doesn't translate to whirlwind financial success. In Q2, it makes about $1.24 per user through advertising. GM pulled its campaign. Mobile advertising looks even bleaker. You can only fit so many ads on a 3.5 to 4 inch screen, and no one wants to look at them. The IPO was an overpriced, oversubscribed bust out. It's P/E resides somewhere in the twilight zone between the stratosphere and the exosphere. The lock out period ends in a month, and insiders are going to dilute the market with shares. The following charts illustrate the decline of advertising as a growth model for Facebook: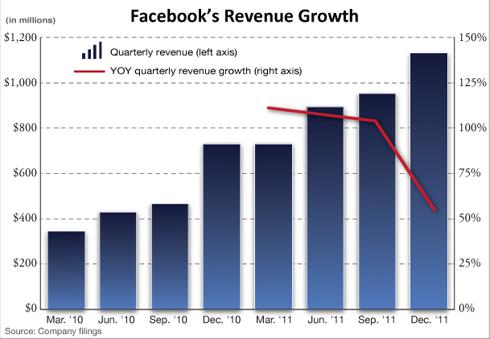 Click to enlarge
The reason analysts make the assumption that the future of Facebook is ads is because advertising forms the current basis of Facebook's revenue stream. What else is a 955 million member user base good for, analysts wonder, but to try to sell them something?
Such thinking represents a singular failure of imagination; you can always help the customer buy something as well. And that's a lot more lucrative than flashing an ad in their face while they're trying to message their BFF or chat with their sick mother in the hospital.
Don't get me wrong: Should Facebook leverage its deep well of user "likes" and browsing patterns in the vein of Google's Ad Exchange? Of course it should; but advertising is not the future of the Facebook. Mobile payments is.
It terms of revenue (Q2 2012), Facebook took in $992 million from advertising and $192 million from payments, plus additional fees. Advertising was 84 percent of total revenue and a 28 percent increase from the same quarter last year; but that's a mere incremental improvement at a time when Facebook needs a game changer. In fact, when the $1.3 billion stock-based compensation charge is taken into account, Facebook actually took a $157 million hit to net income, for a loss of $743 million on the quarter (GAAP accounting EPS shows a loss of $0.08.)
The Simplest Answer Tends To Be The Right One
The simplest way to monetize Facebook is to forget indirect monetization (advertising) and monetize Facebook directly. Half a billion people are already using Facebook to log onto other sites to comment on articles or register a product. It's the universal log in ID we all use. It comes with photo identification. The leap from there to "Buy With Facebook" is a small one. Is Father's Day coming up? Select dad from your Facebook Friends at checkout and click to confirm. Crisis averted. With its smooth Web 2.0 integration, Facebook has the potential to be everything PayPal (NASDAQ:EBAY) wanted to be when it grew up.
The Rise Of Mobile Banking
Mobile commerce began with two mobile-phone enabled Coca -Cola (NYSE:KO) vending machines in the Helsinki, Finland, that were set up to accept payment via SMS text messages. Mobile banking followed quickly thereafter, when MeritaNordbanken Group launched the world's first mobile banking service over WAP phones. Mobile banking took off on a large-scale in 2008.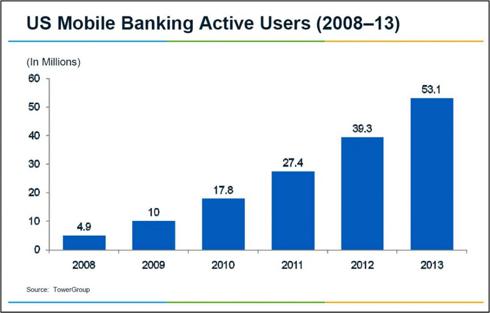 Click to enlarge
In 2011, mobile banking grew by an eyebrow raising 74%. However, online banking only forms a small part of the m-commerce space; which includes mobile shopping, mobile travel and booking, mobile corporate access and mobile brokerage. 38% of mobile users have used a mobile device to make a purchase, according to ComScore. For 2012, that figure will be significantly higher, as Unit Sales have increased across the board - part of a historical trend toward ubiquitous computing.
M-Commerce
The number of active monthly mobile users is up, increasing exposure to the M-commerce space per End User: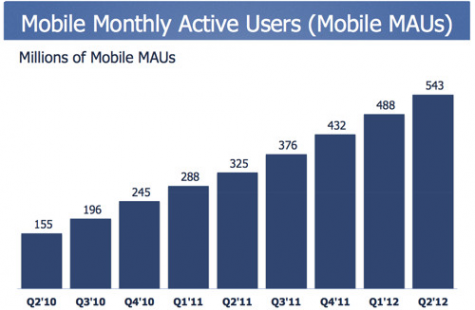 Europe demonstrates the same growth trend, albeit on a smaller scale. As of February 2012, 1 in 6 European users had visited an e-commerce web site. 1 in 8 had completed a transaction. Year-over-year Growth increased EU wide, with the fastest increase in affluent Germany: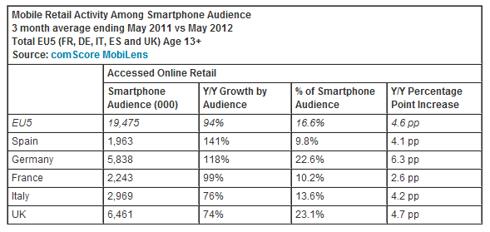 Click to enlarge
M-Commerce can provide the kind of growth with minimum overhead and start-up costs that Facebook requires to fire up investors.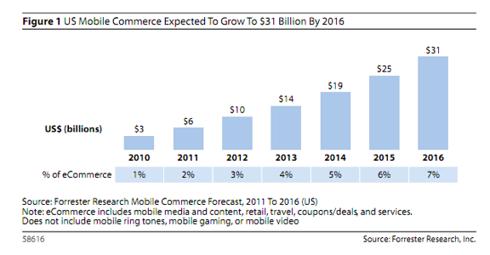 Click to enlarge
The U.S. Market, where Facebook has the deepest penetration, leads the world in growth: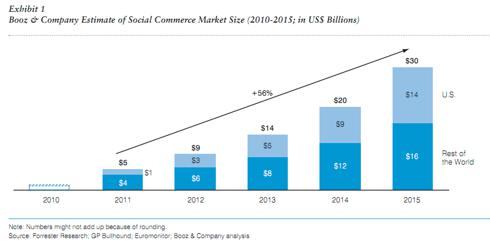 Click to enlarge
A Non Zero Sum Game
For most of the lifespan of DNA, the most complex thing was the prokaryotic cell, which exists today, mostly as bacteria. There were other free floating, autonomous entities, of course. Mitochondria were one. Chloroplasts are another. One day, two of these cellular ancestors floating in the primordial soup tried to eat each other and got stuck. Voilà! The eukaryotic cell was born.
This lesson from evolutionary biology illustrates a simple point about the benefits of cooperation over competition, and how unrelenting pursuit of the latter can sometimes lead to the former. Bankers' approach thus far to disruptive upstarts like Intuit and Square tends to be either dismissive or combative; but there's no reason for Facebook to pick a zero-sum fight with PayPal for the mobile payments space when it can adopt a non-zero sum strategy and co-opt it at a lower cost to both, and with less risk. That's exactly what Facebook is doing.
A Synergistic Solution
Online checkout is often a lousy experience for consumers, notably due to friction: the number of steps it takes to complete a secure purchase over the phone. Every shared login solution up until now - Google (NASDAQ:GOOG) Checkout, Paypal, as well as the various Online Banking instant transfer options - has failed to make a major impact precisely because it can't get everyone into one system. But everyone's already logging on to Facebook. As I've noted elsewhere, consumers are willing to sacrifice privacy considerations such as giving their credit card information to an online retailer, in exchange for convenience and immediate gratification. Simplicity is key. On June 6, Facebook began rolling out its new "frictionless" carrier billing system, which reduced the number of steps required to complete a purchase from 7 steps to 2.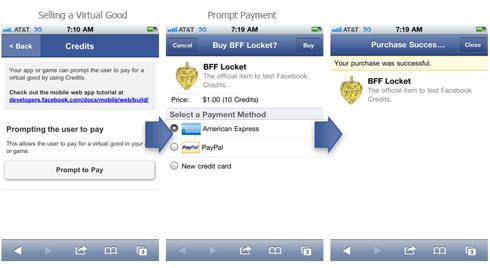 Click to enlarge
That's a lot simpler than typing in your PayPal information every time.
Social Commerce By The Numbers
A survey commissioned by Digitas and conducted by Harris Interactive in 2011 found that 55% of social media users would not be comfortable giving Facebook their credit card information. This is bad news if you're a glass half-empty sort, but flip it upside down: Assuming the survey results are accurate, 430 million people are open to giving Facebook their credit information. That's a launchpad of roughly 4x PayPal's user base.
And consider this: More than four in 10 Millennials (aged 20-33) in the U.S. and the U.K. said they wish there were more opportunities to shop within Facebook, versus 26% of Gen Xers (aged 34-46) and 16% of Boomers (47-66). Nearly half agreed that they spend so much time on Facebook already, they might as well shop there too,compared with a quarter of Gen Xers and 14% of Boomers. Similarly, 48% said they wish the places where they shop had a page where customers could buy products/services directly on Facebook (27% of Gen Xers and 19% of Boomers said the same). From a glass half-full perspective, Facebook Payments should do just fine.
Rebooting Reputation
The problem is Facebook's reputation when it comes to privacy: Nearly eight in 10 of American and British adults said they worry about the privacy implications of shopping directly on Facebook. Three-quarters said they "don't think Facebook is secure enough to make purchases on," and about the same amount said they "wouldn't use a shopping application on Facebook because of concerns that it could compromise my privacy-e.g., shared with third parties." The Millennials are the most concerned about privacy, though have the largest appetite for social commerce. And that represents a dilemma: How can Facebook get around its well documented trust issue?
Well, it could partner with someone that already has consumer's trust, like PayPal. Facebook is turning away from the prevailing paradigm of vertical integration employed by companies such as Amazon (NASDAQ:AMZN) and Google, choosing instead the ubiquitous route of bridging the gap between customers and payment processing providers. That way you get to leverage your name recognition + your partner's name recognition, your customer base and your partner's customer base.
Most importantly of all, you get access to your partner's reputation. When it comes to rebranding, the next best thing to sawing the horns off your head is to hide them beneath a borrowed halo.
Conclusion
PayPal ended the quarter with 113.2 million active registered accounts, a 13% increase over the second quarter of 2011. Its revenue increased 26% year over year, driven primarily by increased penetration on eBay as well as continued merchant and consumer adoption and strong growth in Bill Me Later. PayPal's net total payment volume (TPV) grew 20% year over year to $34.5 billion.
Let's assume that adding 450 million willing users results merely doubles PayPal's active users, resulting in an additional $34.5 billion. (PayPal's Q2 2012 contribution to eBay's bottom line.) Let's also assume for the sake of argument that Facebook's referral fee amounts to 1/3rd of that figure (Facebook has no intention of leveraging its precious user base for free), making such a deal attractive in principle to both parties. Facebook's take would amount to $11.5 billion dollars in additional revenue per quarter from PayPal alone.
One out of every two people online already has a Facebook account. By positioning itself as the middle-man for the growing M-Commerce market, Facebook has developed a way to monetize up to half of that user base without disrupting the user experience with increasingly ineffective ads which are difficult if not impossible to port to mobile phones. If Facebook continues down this path, its share price is bound to be positively affected. The steep discounts on Facebook stock after the lockout period ends next month may represent an opportunity.
Disclosure: I have no positions in any stocks mentioned, and no plans to initiate any positions within the next 72 hours.