Dividend investing remains the prevailing investing theme in the low-yield environment and volatile markets. This theme is supported by favorable supply/demand dynamics of dividend stocks. The dividend payout ratios for the market as a whole have fallen to historically low levels, which suggests that improvements in earnings could lead to higher dividend payouts in the future. On the other hand, the demand for dividend stocks remains brisk, as the retiring baby boomers and yield-chasing pension funds flock to dividend stocks that yield more than alternative income assets.
Dividend stocks with above-average yields, consistent dividend growth, low dividend payout ratios, favorable valuation, and robust earnings per share (EPS) growth have a potential to produce strong total returns. Below, we take a closer look at five dividend stocks with these characteristics. They all represent good choices for income investors seeking total returns within a medium-term investment horizon.
Click to enlarge images.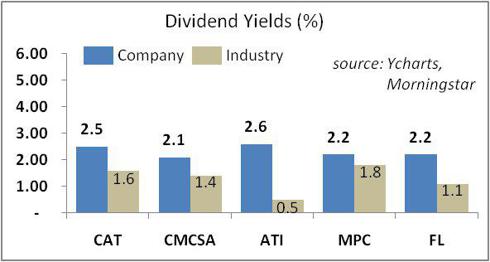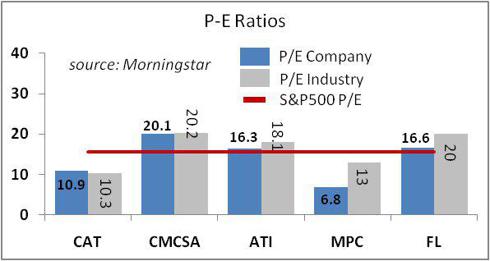 Caterpillar (NYSE:CAT) is a $56 billion company producing heavy-duty machinery and technologies for construction, mining, and power systems industries. The company pays a dividend yield of 2.5% on a payout ratio of 23%. Its peers Deere & Company (NYSE:DE), Fastenal Company (NASDAQ:FAST), and Kubota (KUB) pay dividend yields of 2.5%, 1.8%, and 1.7%, respectively. Caterpillar is a play on an expected cyclical rebound in the mining and construction industries. Once the European crisis settles down and businesses gain confidence, capital spending will return and demand for Caterpillar's machinery will rebound. Even with a slower growth in China, the company recently posted a 22% year-over-year rise in revenues and a 63% gain in earnings. The growth was driven by higher sales across all industrial segments, better pricing, and acquisitions. Despite lower revenues projected for this year, the company is boosting EPS guidance.
Although some analysts are concerned that Caterpillar will have few catalysts for growth in the currently depressed economic setting, the medium-term horizon is still bullish for Caterpillar. Analysts expect that the company will expand its EPS at an average rate of 17.5% per year for the next five years. The company has raised dividends by 8.6% per year over the past five years. It is also attractive on valuation, as its forward P/E is well below that of its industry. The stock is trading at $86.16 a share, down 15% over the past year. Among fund managers, Caterpillar is popular with billionaire Ken Fisher and Ralph V. Whitworth of Relational Investors.
Comcast Corp. (NASDAQ:CMCSA) is an $87 billion U.S. entertainment, information, and communications products and services company. The company is the largest U.S. cable and Internet service provider in terms of service subscribers. Comcast pays a 2.1% dividend yield on a payout ratio of 40%. Its peers DirecTV (DTV) and Dish Network Corp. (NASDAQ:DISH) do not pay regular dividends. Since 2008, the company has raised its dividend 2.6 times, averaging 27.4% per year in dividend hikes. This year, Comcast boosted its dividend by 44%. The company has seen strong EPS growth. Analysts forecast that the company will expand its EPS at an average rate of 15.7% per year for the next five years. This robust EPS expansion suggests that the company's low payout ratio could make room for more dividend hikes in the future.
Internet traffic is expected to increase fourfold over the next four years. In a rush to capture market share, Comcast is launching its fastest Internet service under the Xfinity Platinum Internet brand at a price of $299.95 a month. This service is in a direct competition with Verizon Communications' (NYSE:VZ) FiOS service that provides speeds of 300 megabits for $204.99 a month with a two-year contract. Comcast stock is valued at a discount to its industry. The stock is trading at $32.28 a share, up 31% over the past year and close to its new 52-week high.
Allegheny Technologies (NYSE:ATI) is a diversified specialty metals producer with a market cap of $3.2 billion. Its main customers include the aerospace, defense, automotive, and medical industries. The company pays a dividend yield of 2.6% on a payout ratio of 39%. Its peers Titanium Metals Corporation (TIE) and Carpenter Technology Corp. (NYSE:CRS) pay yields of 2.7% and 1.6%, respectively, while RTI International Metals (NYSE:RTI) does not pay a dividend. Allegheny Technologies raised its dividends at a rate of 8% per year over the past five years while its EPS contracted at 19% per year. Analysts forecast a spectacular rebound in the company's EPS over the next five years, with the EPS growing at a 36% annual rate. This bodes well for future dividend growth.
The company recently reported earnings that met analyst expectations on revenue and beat expectations on EPS, although EPS was lower on a year-over-year basis. The company specifically highlighted the softening growth in the U.S. and China and the turmoil in Europe as the primary reasons for poor performance on a year-over-year basis. Still, it emphasized that "the long-term secular growth trends in our global markets remain intact." Once the economic uncertainty in Europe withers away, emerging markets including China will resume growth and the U.S. will bounce back in economic activity. This robust demand resumption will support the company's dynamic EPS growth. On a forward P/E basis, ATI is trading below its own historical metrics. The shares are attractively priced, changing hands at $30.19 a share, down 50% over the past year. The stock is popular with Steven Cohen, D.E. Shaw, and Ken Fisher.
Marathon Petroleum Corp. (NYSE:MPC) is a $16 billion refiner, transporter, and marketer of petroleum products in the United States. The company's annualized dividend is yielding 3% on a payout ratio of 20%. Its peers Valero Energy Corp. (NYSE:VLO) and Anadarko Petroleum (NYSE:APC) pay dividend yields of 2.4% and 0.5%, respectively. Marathon Petroleum has seen robust dividend growth, with its payout rising 75% since mid 2011. This includes the just-declared 40% increase in the quarterly dividend. The company has a $2 billion stock repurchase program in place.
In its recent upgrade, Goldman Sachs has said that "shares are trading at an estimated low-end trading value," and risk/reward is favorable. Barron's thinks that the company has good prospects due to "long-term Midwest refining capacity constraints and the resulting strength in refining margins." Moreover, Barron's gives credit "for Marathon's plan to put pipeline assets into a yield-rich partnership." While Marathon Petroleum's revenues have been on a decline in the recent quarters, a recovery in crude, natural gas, and natural gas liquids (NGL) prices would bode well for the company's top-line growth. The company's stock is trading on a forward P/E that is well below the industry average. The shares are changing hands at $47.04 a share, up 12% over the past year and close to their new 52-week high. Large investors in the stock are Barry Rosenstein (Jana Partners) and billionaire D. E. Shaw.
Foot Locker (NYSE:FL) is a $5.1 billion athletic footwear and apparel retailer. The company is paying a dividend yield of 2.2% on a payout ratio of 36%. Its peers Dick's Sporting Goods (NYSE:DKS) and Finish Line (NASDAQ:FINL) each pay a dividend yield of 1.1%. The company raised dividends at a rate of 8.2% per year over the past five years. Over the same period, its EPS grew at an average annual rate of 2.7%. Analysts forecast even better days for the company, with its EPS forecast to expand at 15.4% per year for the next five years.
The demand for premium footwear and apparel appears to be insensitive to weak economic growth. Reports indicate that strong demand for athletic footwear due to new product introductions, catchy new designs, and strong pricing of high-end shoes have created the best conditions for the industry in a decade and a half. These trends are likely to persist going forward. Moreover, future improvements in employment around the world and the rebound in incomes and net worth should support future sales growth. Foot Locker's stock is trading on a forward P/E that is well under the average ratio for the apparel retailers industry. The shares are changing hands at $33.65 a share, up 54% over the past 12 months. The stock is popular with billionaire Ken Griffin.
Disclosure: I have no positions in any stocks mentioned, and no plans to initiate any positions within the next 72 hours.