Market Recap: The market had a pretty flat day as today was a waiting day for potential moves from the ECB, Europe, and the Fed. Many traders are expecting some action this week from one of the parties involved, but until we get that action, the upside will be limited. Wednesday is the FOMC Rate Decision and Thursday is the ECB Rate Decision, so we should expect either a big end to the week or some strong weakness. Friday culminates with the jobs data, and that report will be heavily watched as well. We had no economic data today and light earnings, so it was really just a sit and wait day.
Tomorrow, we do get some important economic data, which should give the market some direction, but we would expect any up or down moves to be tempered by the larger decisions and announcement expected this week. We have Consumer Confidence, Personal Income/Spending, and Chicago PMI all tomorrow, so we will definitely get some short-term moves on that news as well as some earnings reports of weight.
Two Trades
Two trades we like right now are long Monster Beverage (NASDAQ:MNST) into earnings as well as long-term position in Teradata (NYSE:TDC). Into earnings next week, we think MNST could make a nice move and break out from its current levels. The stock dropped on very little news to start the month before catching support, and it now looks like it could break out above the $69-$70 level. That area is an upward channel resistance area as well as 20-day MA. If we see a move above those levels, we could see a nice breakout as well as some short squeezing. The company's last report was very strong, and it is expecting 40% growth in earnings and 30% growth in sales this quarter, which should give some nice upside into the report. For long-term, we like the looks of Teradata. The company is one of the "under-the-radar" cloud companies with great earnings and revenue growth this year, but it still has a nice valuation when you compare it with F5 Networks (NASDAQ:FFIV) and Salesforce.com (NYSE:CRM). We have an $85 price target for the next 6-12 months as well as Buy rating.
Trade #1: MNST, Aug18, $80 Calls
Trade #2: TDC, Long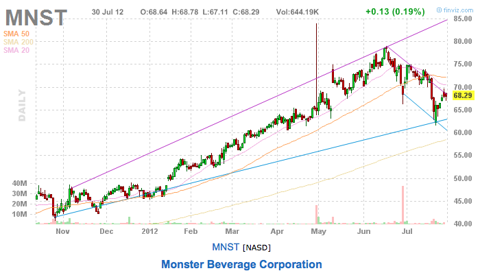 Tomorrow's Outlook
Tomorrow, we are looking for a larger move in the market but still something tempered unless we get a more concrete announcement from Europe or the Fed (which is unlikely). Without action, the obvious move for the market is more weakness, but if we did get something nice from a large slate of economic data talked about above, we could see some upside. Earnings should be watched as well for some movement from tonight's reports and tomorrow morning. The reports we would watch AnadarkoPetroleum (NYSE:APC) tonight as well as Aetna (NYSE:AET), BP (NYSE:BP), Coach (NYSE:COH), Cummins (NYSE:CMI), Pfizer (NYSE:PFE), and US Steel (NYSE:X). Tomorrow morning's earnings are all pretty important to their individual sectors, which makes up a large percent of the market, so we should get some moves off these reports. European developments will be important, and we do get some important unemployment information from those markets tomorrow, which should move them and give some movement to the dollar as well.
Oxen Group Moves
We had a nice day in the market as we were able to exit four positions for a gain. We exited half of our Monsanto (NYSE:MON) bull put spread from the Options Portfolio for a 12% gain. We exited the rest of our Seagate (NASDAQ:STX) bull put spread from Earnings Alpha for a 20% gain. We exited our long in Canon (NYSE:CAJ) from Goldman Portfolio for a 4% gain as well as half of Noble (NYSE:NE) for a 2.5% gain. We added the above long in MNST to our Earnings Alpha Portfolio. We added a bull put spread in United States Oil (NYSEARCA:USO) based on our oil analysis for August. We also entered a pair trade in Short-Term Equity with long in Scripps Networks (NYSE:SNI) and short in Intel (NASDAQ:INTC).
We have the following positions:
In our Short-Term Equity Portfolio we are long Scripps Networks , Southern (NYSE:SO), Dominos Pizza (NYSE:DPZ), Dollar Tree (NASDAQ:DLTR), Wolverine Worldwide (NYSE:WWW). We are short Intel , Agilent (NYSE:A), Pall (NYSE:PLL), Mosaic (NYSE:MOS).
In our Options Portfolio, we are long Nike (NYSE:NKE), United States Oil , Monsanto (MON), Dollar General (NYSE:DG), Home Depot (NYSE:HD). We are short Tiffany (NYSE:TIF).
In our Earnings Alpha Portfolio, we are long Monster , VeriSign (NASDAQ:VRSN), Seagate Tech (STX), Apple , Disney (NYSE:DIS), and American Eagle Outfitters (NYSE:AEO). We have a reverse iron butterfly in F5 (FFIV). We have reverse iron condors in Coinstar (NASDAQ:CSTR) and Facebook (NASDAQ:FB).
In our Goldman Sachs Up/Down Paper Portfolio, we are long MDC (NYSE:MDC), Basic Services (NYSE:BAS) and Noble .
Chart courtesy of finviz.com.
Disclosure:
I have no positions in any stocks mentioned, and no plans to initiate any positions within the next 72 hours.