Intel (NASDAQ:INTC) continues to be the market leader in the personal computer chip sector. Lately market and economic factors have kept the company from showing short term gains but the long term future for the company seems bright. Market action lately hasn't been great and over the past month the hourly trading action has been mixed as is evidenced by this hourly trading chart provided by Barchart.com: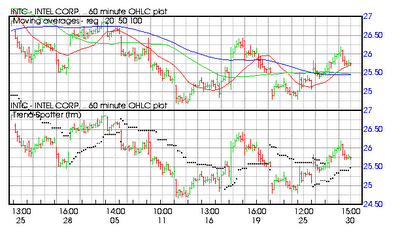 I'm not putting the stock down and realize that over the last 6 months it has held its own against the market as measured by the Value Line index: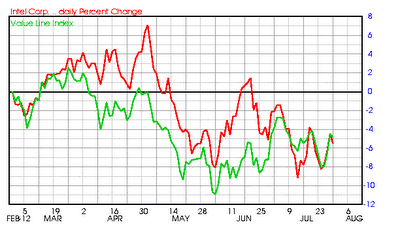 How is Intel really doing?
Intel Corporation designs, manufactures and sells integrated digital technology platforms primarily in the Asia-Pacific, the Americas, Europe and Japan. The company offers microprocessors that process system data and controls other devices in the system; and chipsets, which sends data between the microprocessor and input, display, and storage devices, such as keyboard, mouse, monitor, hard drive or solid-state drive, and CD, DVD, or Blu-ray drives; system-on-chip products that integrate its processing functions with other system components, including graphics, audio, and video onto a single chip; wired network connectivity products; and wireless connectivity products.
It also provides mobile phone components comprising baseband processors, radio frequency transceivers, and power management integrated circuits; and mobile phone platforms, such as Bluetooth wireless technology and GPS receivers, software solutions, customization, and interoperability tests. In addition, the company offers endpoint security, network and content security, risk and compliance, and consumer and mobile security software products for consumer, mobile, and corporate environments to protect systems from malicious virus attacks, as well as loss of data.
Further, it develops and licenses embedded and mobile device software products that comprise operating systems, virtualization technologies, middleware, and development tools; and provides NAND flash memory products, which are used in solid-state drives, portable memory storage devices, digital camera memory cards, and other devices. The company markets its products primarily to original equipment manufacturers, original design manufacturers, and industrial and communications equipment manufacturers in the computing and communications industries. Intel Corporation was founded in 1968 and is based in Santa Clara, California.(Yahoo Finance profile)
Factors to consider:
Barchart technical indicators:
24% Barchart technical sell signal
Trend Spotter sell signal
Trading above its 20 day moving average but below its 50 and 100 day moving averages
Lost 3.33% last month
Lost 9.33% last quarter
12.03% off its 1 year high
Relative Strength Index 49.09%
Barchart computes a technical support level at 25.25
Recently traded at 25.77 with a 50 day moving average of 26.04
Fundamental factors:
A big hit with Wall Street where 40 brokerage firms have assigned 24 analysts to crank out report for clients
Analysts project revenue will increase by 3.50% this year and another 6.80% next year
Earnings are estimated to stay almost flat this year, rise slightly next year by 6.70% and continue by an annual rate of 11.86% over the next 5 years
These consensus projections result in 13 strong buy, 12 buy, 24 hold, 5 under perform and no sell recommendations for he Wall Street client to consider
If the numbers are correct the firms predict their clients will see about an 18% - 22% annual rate of total return over the next 5 years
The balance sheet rate a very solid A++
The P/E of 10.81 is a nice discount to the market P/E of 14.200
The dividend rate of 3.29% is about a 1/3 of earnings and higher than the market rate of 2.50%
Acquisitions appear to be properly integrated and new acquisition may be in the near term future
They are the market leader in personal computer chips and not expected to be replaced any time soon
Investor interest:
Wall Street is giving the stock a thumbs up
Individual investor interest is high as measured by the 9,481 readers of Motley Fool giving an opinion
Of those voting 94% think the stock will beat the market
The more savvy All Stars voted 95% for the same result
Jim Cramer has given a positive view on the stock
Hold or better opinion come from Goldman Sachs, UBS, Kaufman Brothers and Northland Securities
In the past month short interest has risen slightly
Always see if the market thinks a stock is the sector leader. In the past year Intel has risen 19%, while Taiwan Semiconductor (NYSE:TSM) was up 11%, Texas Instruments (NYSE:TXN) was down 7% and Analog Devices (NYSE:ADI) up 18%: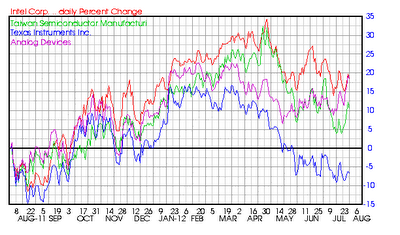 Conclusion: Intel is a stock that if you already hold it there seems to be no reason to dump it. You may have to wait awhile to see upward price momentum but it should continue to hold its own against the rest of the market. For those of you on the sidelines put it on your watchlist and enter when you get the signs from the moving average and turtles channels: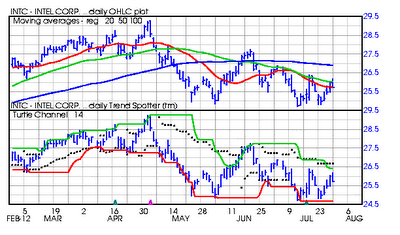 Disclosure: I have no positions in any stocks mentioned, and no plans to initiate any positions within the next 72 hours.