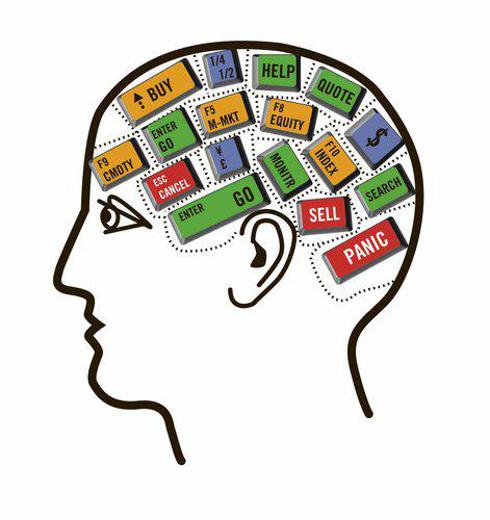 I'm not the kind that spends much time looking for aberrations.
Well, that's not entirely true, as I do try to uncover what I've called Double Dip Dividend opportunities every week.
Essentially, those are situations that the call seller is daring the call buyer to exercise their option of an in the money position, in order to capture the dividend.
For the call writer, that tends to be a great situation, in that they quickly would turnover their shares and pocket the premium, offset a bit by the difference between the stock's cost and the lower strike price. Much of the time, however, likely because option buyers are loathe to invest unleveraged dollars, the call seller not only keeps the premium, but also gets the dividend.
In my weekly forward looking game plan this week, I had Walter Energy (NYSE:WLT) as the sole Double Dip Dividend selection. In that article, I mentioned that selling the deep in the money August 3, 2012 call on Walter Energy was perhaps the most intriguing trade of the week.
Of the stocks that I list in my weekly report, typically less than 75% end up becoming Trading Alerts. The trade in Walter Energy made the cut just a few minutes after Monday's (July 30, 2012) opening bell.
Here's why.
The call to purchase shares went out at 9:41 AM. At that time shares were trading at $34.01. Yet the August 3, 2012 $32.50 call option was providing a premium of $2.37. Adjusting for the cost to sales price differential, that leaves a net of $0.86 for a 5 day option.
Now of course one has to consider that Walter Energy announces earnings after the closing bell on August 1, 2012, which is also the deadline for capturing the dividend.
That $0.86 premium represents a 2.5% ROI based on the purchase price. The outsized premium is something that you see on highly volatile stocks or stocks that are volatile right before earnings announcement. Walter Energy in that regard is living in a neighborhood populated by the likes of Apple (NASDAQ:AAPL), Google (NASDAQ:GOOG) and Amazon (NASDAQ:AMZN). Yet, a look back at Walter Energy's performance in the aftermath of releasing its earnings is far from that exhibited by its volatile brethren. It barely budges.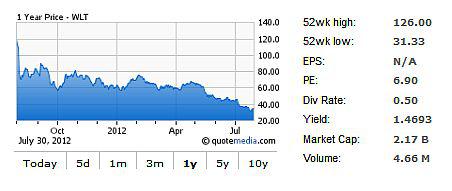 In Monday's trading, shares were all over the chart, on a day when the market itself was trading in a very narrow range. Shares traded from $33.06 to $34.96 For my personal account, I bought shares on two separate occasions at prices of $34.03 and $34.38 for two different accounts.
On the lesser priced shares I did sell the August 3, 2012 calls, while on the more expensive shares I sold the $35 August 3, 2012 calls. The decision to use different strike prices was reflective of the objectives of each account. One seeks high income streams and the other seeks capital gains and income. Both accounts like to capture dividends, especially the double dipping kind.
It's not really clear why Walter Energy is offering such a rewarding premium. Just as today's trading bounced around during the day, so too are analyst's earning estimates distributed along a wide range. Although the average is for a gain of $0.36 per share, the low is $0.15/share and the high end of that range is $0.65.
I suppose that kind of uncertainty helps to froth the options premiums a bit, yet recent historical precedence seems to be lacking. A downgrade by Johnson Rice this past Friday seemed to have no impact on share performance, as shares well outperformed even in a market that saw the Dow Jones average advance more than 200 points. But with Walter Energy recently confirming FY 2012 Production Guidance, uncertainty should be out of the equation.
Looking for a reason to explain aberrations just confirms that our bias is to believe in rational and efficient markets. Sometimes, perhaps they just take a break. Although it's not likely that traders are suspending rational decision processes because they're tuned into the lesser Olympic events that are aired during traded hours, there appears to be an opportunity that I couldn't resist.
At the moment (3:25 PM), shares are trading at $33.84 and the premium has a bid of $2.93
So what are you waiting for?
Disclosure: I am long WLT.