Pfizer (NYSE:PFE) is slated to report its second quarter 2012 earnings on July 31, 2012 before the opening bell. The current Zacks Consensus Estimate for the second quarter is 55 cents per share, representing a year-over-year decline of 8.3%. Full year earnings are expected to be $2.20 per share, down 4.8% from the year-ago period.
Pfizer has surpassed earnings estimates in each of the last four quarters with a trailing four-quarter average of 5.59%. Analysts, however, expect a negative surprise of 1.82% where second quarter 2012 earnings are concerned.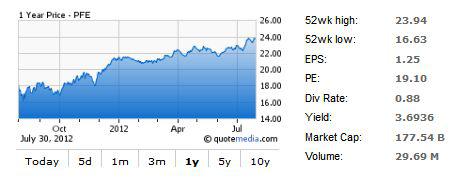 First Quarter Recap
Pfizer posted first quarter 2012 earnings (excluding special items) of 58 cents per share, a couple of cents above the Zacks Consensus Estimate but 3% below the year-ago earnings.
Revenues fell 7% to $15.4 billion, slightly below the Zacks Consensus Estimate of $15.5 billion. Pfizer's results were affected by the November 2011 loss of Lipitor exclusivity.
Including one-time items, first quarter earnings fell 14% to 24 cents.
Agreement of Analysts
Estimate revisions for Pfizer for the second quarter are mixed with an equal number of analysts (two) raising and lowering their estimates over the last 30 days. The last seven days have seen just one analyst raising their estimate for the second quarter.
As far as full year 2012 is concerned, seven of the 16 analysts covering the stock have lowered their estimates over the last 30 days with just one analyst moving in the opposite direction. Over the last 7 days, only one analyst has raised their 2012 estimate with no movement in the opposite direction.
Magnitude of Estimate Revisions
While the Zacks Consensus Estimate for the second quarter remains unchanged at 55 cents per share, the full year 2012 Zacks Consensus Estimate has gone down by a cent over the last 30 days to $2.20 per share. Factors like unfavorable currency fluctuation as well as the entry of additional generic competition for Lipitor may have led to the downward revision in the 2012 Zacks Consensus Estimate. Pfizer expects 2012 earnings in the range of $2.14 - $2.24 per share on revenues of $58 - $60 billion.
Neutral on Pfizer
We currently have a Neutral recommendation on Pfizer, which carries a Zacks #3 Rank (short-term 'Hold' rating). While near-term earnings will be driven by cost cutting efforts and share repurchases, longer-term growth will depend on the success of drug development.