There are two events scheduled in the water industry this week as industry giants America Water Works (AWK) and Aqua America (WTR) are both scheduled to report earnings Tuesday and Thursday, respectively. These have the potential to put the spotlight back onto the water industry as the growing demand for water is being seen in all parts of the world.
A research report from Goldman Sachs summarizes the issue: "demand for water - the natural resource with no substitute - continues to escalate at unsustainable rates, driven by population growth and industrial expansion. At the same time, the world's fresh water supply is shrinking due to pollution, draining of underground aquifers, and climate change... Given current trends, by 2025, it is estimated that about one-third of the global population will not have access to adequate drinking water."
Further, Goldman Sachs estimates that there are long term 4%-6% growth opportunities in the global water sector. "In developed markets such as the United States and Western Europe, the water sector should generate steady 1X-2X GDP or about 3%-5% growth… In developing markets such as China and India, the build-out of new water and wastewater infrastructure should drive 10%+ growth for at least the next five to ten years." Furthermore, the future projected imbalance for the demand and supply of clean water, have some calling water the "new oil." The growth potential in the industry is obviously in place both in the developing and more so, in the developing world.
The key for both companies will be revenue, obviously, and how rate increases for each of their companies is progressing with the domestic budget crunch. I would also look for commentary on infrastrucuture improvement and if there are any new projects coming online.
Aqua America is the first company up with earnings due out tomorrow morning with analysts expecting EPS of $0.28 on revenue of $192 million. Although revenue for the quarter is just expected to be up 2% y/y, this is a bit of a slow quarter compared to the balance of the year as the Street expects WTR to post revenue growth of over 9% on the year before following that up with a 6% revenue growth effort in 2013.
The company is the holding company for regulated utilities providing water or wastewater services to what it estimates to be approximately 3 million people in Pennsylvania, Texas, North Carolina, Ohio, Illinois, New Jersey, New York, Florida, Indiana, Virginia, Maine, and Georgia. Although it has operations in a number of states, over half of its revenues and the people it serves are from Pennsylvania. The company also provides water and wastewater services through operating and maintenance contracts with municipal authorities and other parties in the states it operates in as well as sludge hauling, septage and grease services, backflow prevention services, and certain other non-regulated water and wastewater services.
The financial results for water companies are very stable and consistently post growth as shown by Aqua America.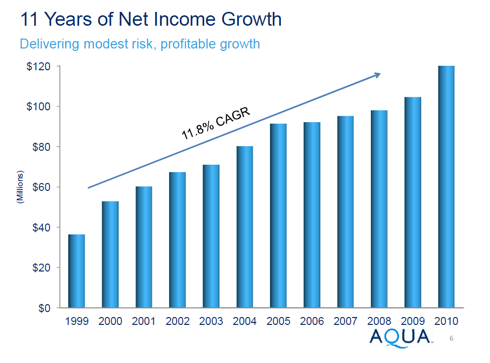 Click to enlarge
America Water Works, due up second, is the industry heavyweight with trailing twelve months revenue of nearly $3 billion. The company is expected to report revenues of about $710 million for y/y growth of 5% and an EPS jump to 49 cents a share from 46 cents a share. The growth rate is in-line with Goldman's industry expectations.
AWK's primary business involves the ownership of subsidiaries that provide water and wastewater utility services to residential, commercial, industrial and other customers, including sale for resale and public authority customers. Furthermore, the competition in the space domestically is limited as the utility sector is characterized by high barriers to entry, given the capital intensive nature of the industry.
In a recent company presentation, AWK highlighted the need for new water infrastructure domestically.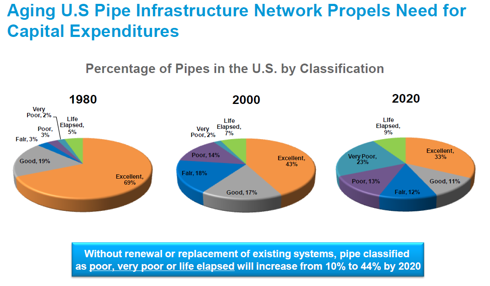 Click to enlarge
The focus on the earnings reports from the two industry bellwethers this week should bring investor interest to some of the other smaller water plays such as Quest Water Global (OTCPK:QWTR) and Cadiz (CDZI).
QWTR is an innovative water technology company that provides sustainable and environmentally sound solutions to water scarce regions. Quest uses proven technologies to create economically viable products that address the critical shortage of clean drinking water in developing countries. Quest notes that the growing global demand for clean, potable water offers significant revenue opportunities.
The company has operations in three developing parts of the world: Angola, Mexico, and the Arabian Peninsula. Quest's first launch is an atmospheric water production and bottling facility projected to commence this year with plans for the launch of Mexico are slated for 2013 and the Arabian Peninsula shortly thereafter. The basis thesis is that almost three decades of civil war devastated water systems across the country has created a major problem as only 50% of the population has access to an improved drinking water source. And with 7 years of sustained stability and rapid economic growth in the country, the African nation is an attractive area to do business in and that's where QWTR comes into play.
The Mexico opportunity is focused around the Baja region, which has experienced sustained economic growth, along with growing tourism and commercial trade. The country has announced a large $5 billion mega port area in Punta Colonet that would involve construction of a new US border crossing, planning for a new community of 200,000 residents, along with significant infrastructure upgrades and a water source to serve the new community. However, just as with Angola, the area is short on water which Quest sees as a strategic opportunity to position itself in a growing market, in a rapidly expanding region.
Cadiz engages in the acquisition and development of land and water resources in the United States. The company's development activities include land, water resource, agricultural, and solar energy development at its San Bernardino County properties. It owns approximately 34,000 acres of land and the subsurface strata in the Cadiz and Fenner valleys of eastern San Bernardino County; and approximately 10,800 additional acres in the eastern Mojave Desert, including the Piute and Danby Lake properties. The company is also involved in the cultivation of lemons, grapes/raisins, and spring and fall plantings of vegetables on the Cadiz Valley properties. Insiders have shown their confidence in the stock by purchasing a significant amount of shares in May.
Disclosure: I have no positions in any stocks mentioned, and no plans to initiate any positions within the next 72 hours.