By G C Mays,
When Potash Corp (POT) reported its Q2 earnings they made a point to note that a $341 million impairment charge against their available-for-sale investment in Sinofert Holdings reduced earnings by $0.39 per share, which implied that this was the key driver of the earnings miss. In my opinion the charge is notable because available-for-sale and equity investments make up $3.3 billion, or just under 20 percent of Potash Corps total assets. The company's share of earnings from these investments including dividends total $133 million year to date and are equal to 5.5 percent of sales from operations.

Source: The Mays Report
The company's available-for-sale investments include a 14 percent stake in Israel Chemicals (NYSE:ICL), a supplier of potash and phosphate fertilizers to Europe, Brazil, India, China & Israel and a 22 percent stake in Sinofert holdings limited, the largest fertilizer importer and distributor in China. Both companies are publicly traded on the stock exchanges in their respective countries. Technically, the investment in Sinofert is an investment-in-associates or equity investment because Potash Corp owns more than 20 percent of the company and exerts significant influence because it appoints two of the company's eight board seats.
The investments on the Potash Corp balance sheet now listed as an investment in associates or "equity-accounted" investments is a 32 percent ownership of Sociedad Quimica y Minera de Chile (SQM), a Chile-based company that produces specialty plant nutrients and chemical commodities and a 28 percent ownership stake in Arab Potash Company Ltd., a mineral marketing and manufacturing company with its headquarters in Amman Jordan. The updated carrying amount of the equity investments were not available at the time of this writing.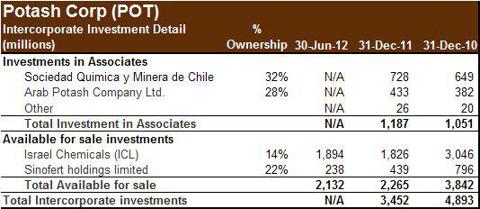 Source: The Mays Report
A company does not impair an investment unless they expect its carrying amount or original cost to permanently exceed its fair value. The company's decision to impair this investment is in and of itself telling. Specific operational details are hard to come by but I was able to get a chart of the stock's closing prices between July 4, 2011 - July 24, 2012.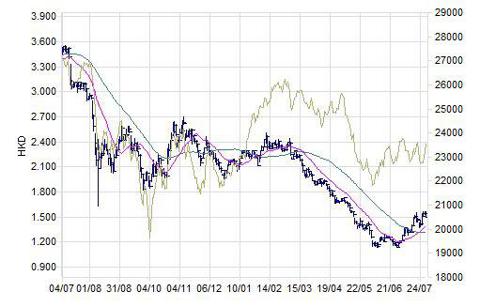 Source: Hong Kong Stock Exchange
Based on the chart Hong Kong market participants did not like the Sinofert Holding's performance over the time period illustrated. Potash Corp also purchased extra shares during its fiscal 2011 for $4 per share, which exacerbated the loss. The value of the company's other available-for-sale investment in Israel Chemicals has also declined since 2010. However, year to date the fair value of this investment has begun to rise again.
In the Q2 earnings release the company pointed out that the market value of their investments equaled $8.6 billion, or $10 per Potash Corp share as of market close on July 25, 2012. This is correct as the market value of the respective companies are as follows.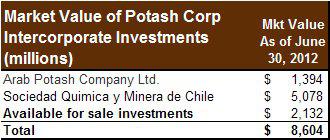 Source: The Mays Report
However, investments in associates or "equity-accounted" investments are not listed on the balance sheet at "fair" or market value in the way available-for-sale investments are because these investments are strategic and their sale is unlikely. Additionally, I am not sure I would have pointed out a valuation equal to roughly 22 percent of a recent closing stock price that is outside of core operations.
I have written on several occasions about Potash Corps high valuation compared to its peer group based on both a price-to-sales and price-to-book basis. If Potash Corp could acquire a controlling interest in both strategic investments each of those relative valuation metrics would move closer to their respective peer group averages. However, this sort of acquisition would be unlikely as the governments of the countries these companies call home would be unlikely to approve a deal just as the Canadian Government rejected BHP Billitons (BHP) bid for Potash Corp in 2010.
Disclosure: I have no positions in any stocks mentioned, and no plans to initiate any positions within the next 72 hours.