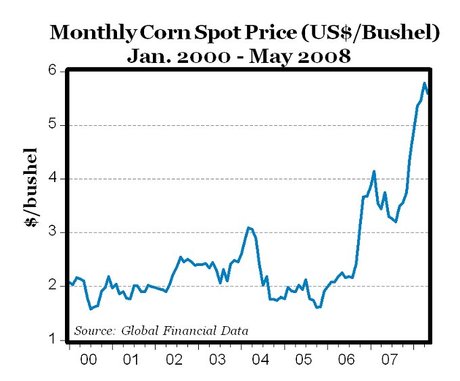 The U.S. program subsidizing the use of corn for the production of fuel ethanol came under sharp criticism at a Senate hearing Wednesday. Economists told the panel the program leads to higher food prices.

Twenty percent of the U.S. corn crop goes into ethanol production, and corn prices worldwide have increased by 50% over the past year (see chart above, corn prices have increased 3.5 times since 2005, from $1.61/bu. to $5.59/bu.). John Sununu, a Republican senator opposed to farm subsidies, says corn prices have risen in part because America is using increasing amounts of corn to produce fuel for automobiles.

Calling the U.S. ethanol program a disaster, Sununu said it is replete with taxpayer subsidies as both farmers and ethanol producers receive tax breaks from the government. In addition, he said, imports of cheaper sugar-based ethanol are blocked by high tariffs.
And from a related article from Forbes, "The Ethanol Industrial Complex"
Ethanol, once heralded as the homegrown Nicorette gum of America's oil addiction, is getting a second look from lawmakers suddenly concerned about the unintended consequences of merging the fuel and food markets.
What a great sentence!
Is the ethanol bubble about to burst? This from Slate.com's Daniel Gross' article "Corn Dogs":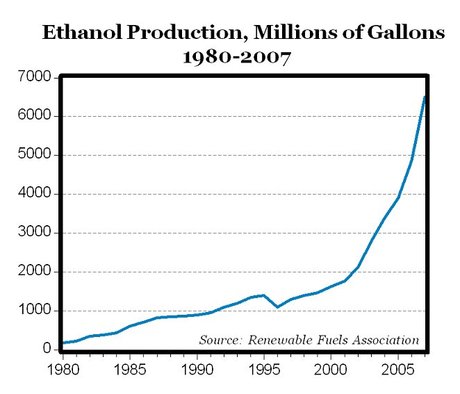 Judging by recent financial results, the big villains in the ethanol story—the American companies that are responding to government mandates by buying about 20% of the U.S. corn harvest and processing it into fuel—aren't exactly thriving. In fact, their bottom lines and stock prices are suffering pretty badly.

What gives? In theory, business should be gangbusters in the ethanol patch. Government policy has mandated consumption of the fuel, thus stimulating investment (and record high levels of production, see chart above).

But just because the government forces people to buy your product doesn't mean it's a surefire win. The combination of high oil prices, tariffs that protect domestically produced ethanol from imports, and tax credits for companies that blend ethanol into gasoline has stimulated something of an ethanol bubble. And as always happens during a bubble, excess capacity—and the vicious competition it creates—winds up eroding margins.
(Click charts to enlarge.)