Last week, two companies trading below their net cash per share levels reported second-quarter financial results. Both of them lost money during the quarter and are trading close to their respective 52 -week lows. Despite this, I believe they present opportunity for investors. Here are the companies:
1. BroadVision (NASDAQ:BVSN) is an innovative provider of e-business and social networking solutions for organizations seeking to grow profitably by improving online business processes through invited participation and social interaction. The company's solutions—including Clearvale, the world's first network of networks for the socially driven enterprise—enable mission-critical e-business for next-generation organizations around the globe.
The customers benefiting from BroadVision solutions include Aeroxchange, Centre for Railway Information Systems, Controller General of Defence Accounts, Fiat, Front Burner Restaurants, Hilti, Iberia, Indian Railways Catering and Tourism Company, Kotak Mahindra Bank, Malayala Manorama Co., Promart Retail India, SINA (NASDAQ:SINA), SOFTBANK TELECOM, Thomas Cook India, Vodafone (NASDAQ:VOD). As of December 31, 2011, the company had licensed its products to approximately 500 companies.
Click to enlarge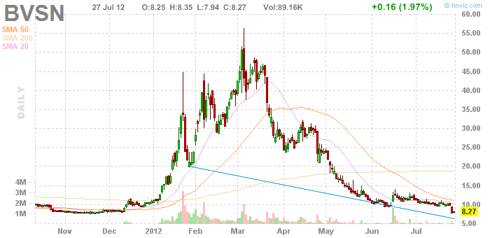 Financials
On July 25, 2012, the company reported financial results for its second quarter with the following highlights:
| | |
| --- | --- |
| Revenue | $3.6 million |
| Net loss per share | $0.54 |
| Cash per share | $11.3 |
Dr. Pehong Chen, President and CEO commented the results:
"The transition from our legacy on-premise, software licensing business model to the new cloud-centric, subscription-based Clearvale enterprise social networking (ESN) services continued to make solid progress during Q2. The most important milestone has been the introduction of the Clearvale Hybrid Network solution, which provides a unified platform for the enterprise to manage its complex social business ecosystem, empowering new B2B/B2C use cases and complementing ESN's core B2E usage. We look forward to expanding our global market reach with the complete suite of Clearvale offerings, including our PaasPort program for channel partners and our Social Enterprise Transformation (SET) program for ensuring successful end user adoption. As social business and cloud computing become mainstream, we believe Clearvale is well positioned to dramatically change how people and businesses collaborate and in doing so transform the entire industry."
My analysis
The company generated net income in years 2006, 2007 and 2009; and net loss in years 2008, 2010 and 2011. During the dotcom boom, it went to a split-adjusted high of $20,000 per share.
2. Pacific Biosciences (NASDAQ:PACB) offers the PacBio RS High Resolution Genetic Analyzer to help scientists solve genetically complex problems. Based on its novel Single Molecule, Real-Time (SMRT) technology, the company's products enable: targeted sequencing to more comprehensively characterize genetic variations; de novo genome assembly to more fully identify, annotate and decipher genomic structures; and DNA base modification identification to help characterize epigenetic regulation and DNA damage. By providing access to genetic information that was previously inaccessible, Pacific Biosciences enables scientists to increase their understanding of biological systems.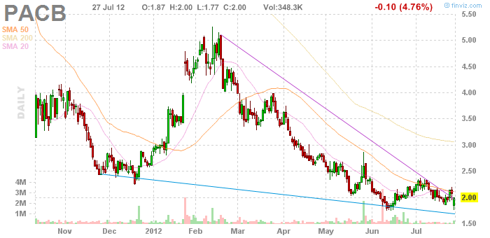 Financials
The company reported the second quarter results on July 26 with the following highlights:
| | |
| --- | --- |
| Revenue | $7.3 million |
| Net loss per share | $0.40 |
| Cash per share | $2.46 |
Outlook
The company's revenues are expected to be lower in the second half of the year, and the company continues to target approximately $20 million of cash used per quarter and $80 million of cash used for the year.
CEO Michael W. Hunkapiller commented at the second quarter conference call:
With a series of new product releases scheduled to go out during the second half of the year, we feel that we are well-positioned to drive business from them.
Conclusion
Despite both of these companies being unprofitable currently, they have seen a significant rally in the beginning of the year and exceeded their respective net cash per share levels. BroadVision rallied from $7.82 in November 2011 to the high of $56.46 in March 2012. Pacific Biosciences rallied 100% from December 2011 to February 2012. I believe there is an opportunity for a significant rally in both of these stocks during the next 6-12 months.
| | | |
| --- | --- | --- |
| Company | Share price (July 27) | Net cash per share |
| BVSN | $8.27 | $11.3 |
| PACB | $2.00 | $2.46 |