Twenty two companies in the Dow Jones Industrial Average (DIA) reported 2Q 2012 earnings so far. Coming into earnings season many CEOs lowered their guidance and equity analysts reduced their estimates. This weakness showed up in the results as many companies reported revenue below (reduced) estimates, though often earnings were in-line or above (reduced) estimates.
We want to analyze how equity analysts are adjusting their 2H 2012 and FY 2013 estimates now that the 2Q results for most of the Dow components are out. In our analysis below we show that 2H 2012 earnings estimates are coming down, indicating that the news from 2Q may be worse than expected. FY 2013 estimates are declining as well and may be prone to more reductions. Recent reductions may have already been priced into stock prices, but we are interested in seeing how long earnings estimates continue to be cut and when the trend reverses.
We have written about the 2Q results for several bellwether companies already, including Dow components Alcoa (NYSE:AA), JPMorgan (NYSE:JPM), Intel (NASDAQ:INTC) and IBM as well as others: Wells Fargo (NYSE:WFC), Citigroup (NYSE:C), Goldman Sachs (NYSE:GS) and Google (NASDAQ:GOOG). In this article, however, we look at the sentiment in the analyst community about future corporate performance.
Growth Estimates
The following chart displays EPS growth estimates for the 22 Dow components that reported earnings so far.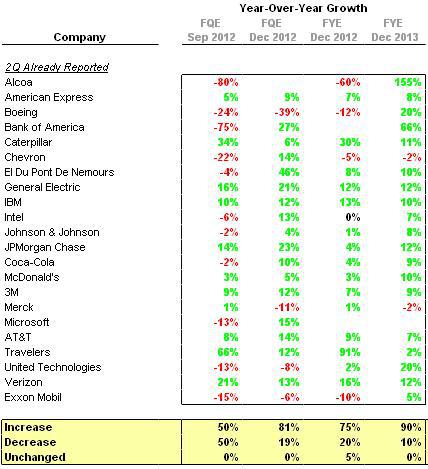 (Source: Soha Group Blog, Dow Earnings Center; data from Yahoo Finance)
Interestingly, only 50% of these Dow components are projected to generate EPS growth in 3Q 2012, compared to 3Q 2011. Analysts are more optimistic about 4Q 2012 when 81% of these Dow Components are projected to show growth over the prior year's period. The outlook for FY 2013 still seems positive as 90% of these Dow components are projected to generate EPS growth.
Analysts are either expecting a 4Q 2012 and FY 2013 economic acceleration or they have not yet marked down their estimates sufficiently. In the next two sections, we will show the recent changes in analyst estimates.
Revisions to 3Q & 4Q 2012 Estimates
Over the last month, 3Q 2012 estimates were reduced for 64% of Dow companies that reported so far and 4Q 2012 estimates were cut for 68% of these companies.
The following charts display the changes to the 3Q and 4Q 2012 estimates.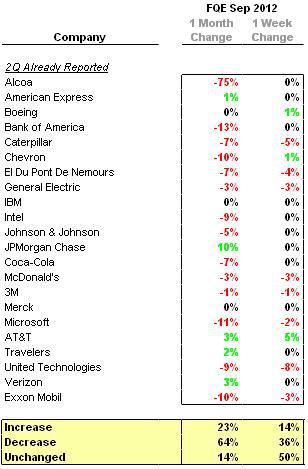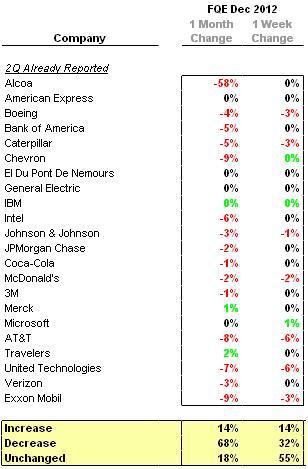 (Source: Soha Group Blog, Dow Earnings Center; data from Yahoo Finance)
Revisions to FY 2013 Estimates
As seen in the first chart above, estimates for FY 2013 call for double digit EPS growth for half of the Dow companies that reported so far. For many of these companies, EPS growth in FY 2013 is expected to exceed EPS growth this year.
Analysts may be optimistic about FY 2013, but their EPS estimates are coming down. Over the last month, EPS estimates for 76% of these companies declined. Considering the growth projections for FY 2013, analysts may reduce their estimates further if the coming quarter or two are weak.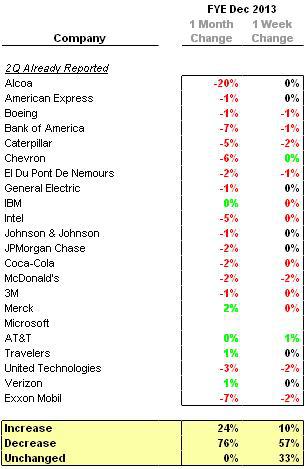 (Source: Soha Group Blog, Dow Earnings Center; data from Yahoo Finance)
Earnings Forecast Cycle
The trend of declining earnings expectations has been playing out for a few months already so the recent reductions are likely priced into stock prices. With the current low valuations it seems that investors are even pricing in further earnings weakness. Since a certain amount of economic weakness and earnings headwinds are already priced into stocks we are looking to see when changes in the trend emerge.
Continued small declines in earnings estimates may not impact stock prices, but sharp declines to FY 2013 estimates would be a negative catalyst for the market and a rebound in earnings estimates would be a positive catalyst.
Earnings Highlights
IBM is one of the Dow components with strong and steady earnings growth. According to analyst estimates, IBM is expected to generate double digit earnings growth in Q3 and Q4 as well as next year. Furthermore, analysts have slightly raised their FY 2012 and FY 2013 EPS estimates for IBM. In fact, IBM raised its earnings guidance when it issued its 2Q 2012 results, like it did in the previous quarter.
On the negative side, estimates for cyclical companies, such as Alcoa, Caterpillar (CAT), Du Pont (DD) and United Technologies (UTX) have been under pressure, which does not indicate confidence in an acceleration of economic activity.
Similarly, estimates for the energy companies, Chevron (CVX) and Exxon Mobil (XOM), have been reduced. Analysts have been reacting to the sharp decline in the price of oil during 2Q and the relatively low current price. The reduction in the FY 2013 estimates seem to indicate that there is not much faith in a rebound in oil prices to levels seen earlier this year.
Future Updates
One of the reasons we put together this analysis is that we did not react fast enough to the negative sentiment toward 2Q 2012 earnings over the course of the last quarter. We want to follow more closely changes in earnings expectations going forward. We recognize that sell-side equity analyst estimates are unreliable and are often designed to underestimate the actual results to give companies the appearance of beating the numbers.
In this analysis we are more interested in the trends than in the specific estimates. We intend to update this information regularly to follow the changes in real time as we look to see if the trend of declining earnings estimates intensifies or reverses.
Disclosure: I am long IBM, JPM, BAC, XOM, WFC, GOOG.
Additional disclosure: We may trade any of the stocks/ETF mentioned in this article in the next 72 hours.