We previously published our investment research report analyzing Nokia Corporation's (NYSE:NOK) struggles. Due to the interest that report generated, we followed it up by researching, analyzing and evaluating Nokia's turnaround efforts versus Sprint Nextel Corporation (NYSE:S) and we concluded that Sprint is further along in its restructuring process than Nokia.
We then analyzed and evaluated Nokia's recent price cut for the Lumia 900 and we were pleased that Nokia cut the price of its new smartphone. Nokia had developed the Lumia smartphone product line in conjunction with Microsoft (NASDAQ:MSFT) to run on Microsoft's Windows Phone mobile operating system. In our opinion, we saw this as a marriage of convenience between two have-been technology and smartphone firms. We also saw this as Stephen Elop's idea, since Elop had previously headed Microsoft's Business division before becoming the first non-Finnish CEO of Nokia.
Based on the ebullient optimism of Nokia's customers and shareholders, we were expecting big things from Nokia and its new Lumia 900 smartphone. The Lumia 900 was supposed to be Nokia's and Microsoft's attempt to compete with Apple's (NASDAQ:AAPL) highly popular iPhone device. AT&T (NYSE:T) was also a stakeholder in the success of the Lumia 900 because Ralph de la Vega (AT&T Mobility's CEO) wanted to increase company operating profits by reducing its handset subsidy expense.
We found by displacing iPhone sales in favor of Nokia Lumia, de la Vega could reduce AT&T's annual operating expenses by a whopping 1.67%. AT&T was so obsessed with this effort, it spent $150M of its own money to promote the Lumia 900. AT&T was also motivated to help promote the Lumia 900 Windows Phone because it lost its exclusivity on the iPhone to Verizon (NYSE:VZ) early last year. We think that Sprint landing the right to sell the iPhone in Q4 2011 added insult to injury, especially when AT&T dealt with the indignity of withdrawing its bid to acquire T-Mobile USA and pay T-Mobile a $4B breakup fee.
Unfortunately for Nokia's shareholders and management, its handset sales were lukewarm at best. We were actually surprised that Nokia managed to increase its sales of its low-end Mobile Phones. Nokia's low-end Mobile Phone devices saw a 2.4% increase in mobile phone sales on a year-over-year basis and a 4% increase on a linked-quarter basis. Unfortunately, this product line saw an 11% decline in revenues due to the continual decline in average sales prices. This resulted in product line contribution income declining from €213M in Q2 2011 to €98.5M in Q2 2012 and represented a sharp 54% decline in year-over-year income.
Click to enlarge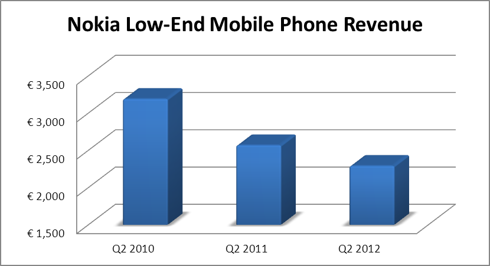 Click to enlarge
Source: Nokia's Q2 2011 and 2012 Earnings Releases
Nokia's Smart Device performance has also been a bit of a mixed bag. The good news was that Nokia was able to increase its average selling price per Smart Device by an outstanding 7%. Another piece of good news was that total Lumia device sales reached 4 million during the quarter, up from 2 million in Q1 2012. Unfortunately, total smartphone device volumes served as bad news by collapsing at a rate of 39% from prior year levels and by 14% on a quarter-on-quarter basis. Also, only 600K Lumia devices were sold in North America, despite the heavy promotional activity. Not even a €212M year-over-year decline in operating expenses was enough to prevent this product line's losses increasing from (€216M) in Q2 2011 to (€507M) in Q2 2012. At least AT&T will be ponying up $250M in Q3 to further promote the Lumia.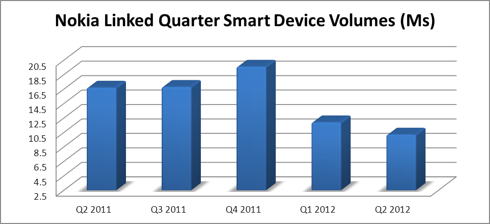 Click to enlarge
Source: Nokia quarterly press releases, Q2 2011-Q2 2012
Nokia's Location and Commerce segment was the one island of tranquility in an otherwise truculent quarter for Nokia. Despite seeing a slight decline in its gross margin, it still generated a 77.4% gross margin during the quarter. Year-over-year sales for this segment rose by 4% to €283M in Q2 2012 and the segment profit jumped to €41M profit from €7M in the prior year. This segment was created in 2008 when Nokia acquired NAVTEQ for $8.1B. Nokia wrote-off €1.09B of this segment's goodwill in 2011 and has €3.274B in segment goodwill remaining.
Nokia Siemens Networks is continuing its proud tradition of futility. We would like to see the performance of this division get fixed; it hasn't seen a profit since 2006. Despite spending $975M last year on Motorola Networks and having the full "benefit" of that acquisition in this year's results, Nokia Siemens Networks saw its segment revenue decline by nearly €299M (8%). The segment saw its reported loss more than double to €227M versus prior year levels. Even if we give it the benefit of the doubt (and frankly we have plenty of doubts about NSN and other telecom equipment makers) and exclude restructuring charges and amortization of acquisition related intangible assets, the segment generates reed-thin profit margins of about 1%. At least Siemens (SI) gets to share in 49.9% of this division's losses.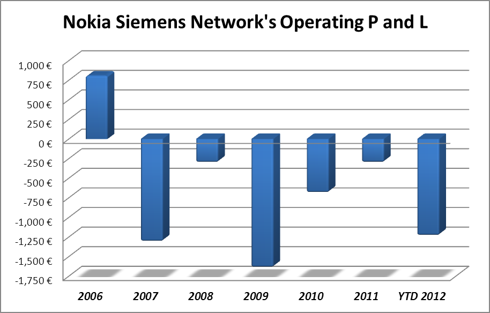 Click to enlarge
Source: Nokia Annual Reports: 2007-11 and Q2 2012 Results
We are amazed that despite outspending Apple by a 4-1 ratio in research and development over the past decade, Nokia and Apple have switched places in the technology industry. Nokia's mobile phone market share has steadily eroded over the last five years from 40.4% in 2007 to 21% in Q1 2012, even though the company represents 30% of the industry's research and development expenditures. According to The Wall Street Journal, Nokia spent lavishly on researching mobile phone breakthroughs, but unfortunately was unwilling to invest in developing those breakthroughs into products. We are interested in seeing how Nokia performs once the Windows Phone 8 devices come to market.
In conclusion, we believe that Nokia will continue to struggle for the rest of the year. We like to quote John Maynard Keynes's "When the facts change, we'll change our opinion" line. When the facts on the ground for Nokia change, we at Saibus Research will change our opinion. We think it is too early to change our opinion though.
We noticed that the company generated positive free cash flows from business operations. However, when Nokia bulls tout the company's €15M in quarterly free cash flows, we think that they are grasping at straws. We recognize Nokia's €5B cash and investment stash net of debt and we certainly believe it is too early to declare bankruptcy for Nokia. However, Nokia earned a pathetic 1.2% annualized free cash flow return rate on its net cash and investment stash. If we want 1.2% after-tax return on our money, we'll buy a 7 year high-grade general obligation muni-bond. No wonder Fitch downgraded Nokia's credit rating.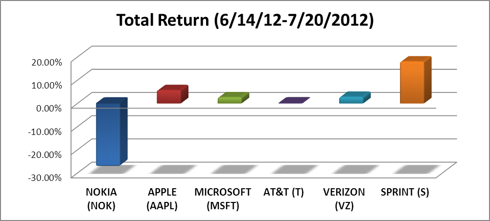 Click to enlarge
Source: Morningstar Direct
Disclosure: I am long S, AAPL.
Additional disclosure: Saibus Research has not received compensation directly or indirectly for expressing the recommendation in this report. Under no circumstances must this report be considered an offer to buy, sell, subscribe for or trade securities or other instruments.