We have had a pretty good party in the last month or so. Since June 25 2012, the S&P 500 has gained about 5.45%. But the first few days in August could put downward pressure on the markets.
Market Moving Economic Indicators in August
The market will be anxious to see the following economic data within the first few days of August itself.
01 August 2012:
FOMC Meeting - The Fed committee meets 8 times a year to decide near term direction of monetary policy decisions such as rate changes or quantitative easing (QE aka stimulus). The FOMC Meeting comments could have a huge market impact. The market expects strong Fed comments from this meeting due to severe economic slowdown since May. Many hope for an announcement for QE3, which I believe might not happen in August, as Fed will be forced to use it as the last resort either in September or October.

Any negative comments about the Fiscal Cliff or absence of any positive comments regarding the next QE could disappoint many investors, possibly triggering some sell off.

ISM Index for July - The Institute for Supply Management (ISM) surveys manufacturing firms on jobs, production, orders, supplier deliveries and inventories. The ISM index of 50+ indicates growth in manufacturing, 43-50 range indicates the manufacturing sector is contracting and any level below 43 shows that the economy is in recession.

The market consensus for July ISM Index will be 50.1, as opposed to 49.7 in previous month. ISM Index is a major market moving indicator, and any major disappointment in this number could potentially result in a market panic.

Motor Vehicle Sales - This economic data indicates trends in consumer spending and is considered a major indicator at business cycle turning points. The market consensus is 14 million total vehicle sales and 11 million domestic vehicle sales. Any big disappointment in this indicator merits additional attention as it helps in raising the red flag.
02 August 2012
Jobless Claims - The consensus for the jobless claims in 370,000 versus the previous month of 353,000. An increasing 4-week trend indicates a deteriorating labor market and a decreasing trend an improving market.
03 August 2012:
Employment Situation - This indicator is the one to fear the most. Monthly payroll increase of 150,000+ are considered good generally, but in a recovery phase like we are in today, investors usually expect the gains to be more than 250,000 per month! The market does not expect much after past three months' performance of this indicator, as the consensus is still at a modest 100,000. Any number below this could pose serious questions about the recovery. Also the consensus unemployment rate will be 8.2%.
07 August 2012:
ICSC-Goldman Store Sales and Redbook data - These indicators are related to consumer spending, which accounts for more than two-thirds of the economy. Consumer spending trends are a major influence on both stock and bond markets.
08 August 2012:
MBA Purchase Applications - Mortgage Bankers' Association or MBA provides this important indicator regarding housing construction and single family home sales. Remember that new constructions result in an economic ripple effect that affect jobs, payrolls, consumer spending and the broader market performance. A bad reading of this indicator will have a direct effect on the stocks, bonds and commodities markets.
Learning From July 2012
Take a look at the performance of S&P 500 between July 3 and July 12 2012. I pick this date range become some disappointing economic indicators announced during this period triggered a pullback in the S&P500 and the broader markets.
Click to enlarge
02 July 2012: ISM Manufacturing Index for June was 49.7 instead of forecasted 51.5 and prior month's 53.5.
05 July 2012: ISM Services for June came out as 52.1 opposed to the expected 53.0 and previous month's 53.7.
06 July 2012: Unemployment situation appeared to be worsening in June; Non-Farm Payrolls for June came out 80,000 versus the expected 100,000. Looking at the non-farm numbers since March 2012, we have seen a significant downward trend. In the months of April, May and June, a total of 225,000 non-farm jobs were gained, less than the single month figures of January and February each!
Learning from August 2011
The negative data that was out during this exact period last year in August 2011 had a hand in fanning the flames of panic.
First, the ISM Index came out a disappointing 50.9 versus the consensus of 54.3. Then the ICSC-Goldman Same Store sales came out negative, decreasing 0.3% on a weekly bases and 0.2% on yearly basis, because of a slow start in the back-to-school season. Also, the Factory Orders fell 0.8% indicating that the manufacturing was slowing. Lastly, the Standard & Poors downgraded the US creditworthiness.
Stocks globally plummeted as fears about an economic slowdown and the Europe's debt crisis intensified. Investors started worrying about "Spitaly", fearing a default of those states, and also about the US debt ceiling. The S&P 500 dropped almost 8.5% during this time.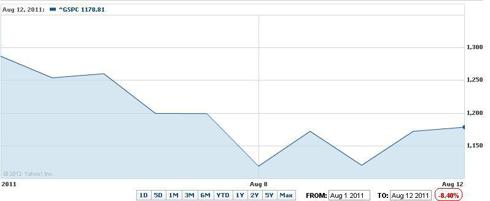 Back in August 2012 - Europe Problem Has Not Changed
Europe has become like the Smash-A-Munch game of the famed Chuck E. Cheese stores: smash one little monster's head that pops out of a board with a hammer and another head rears itself out.
Just like last year, the countries of Greece, Spain and Italy are still facing major challenges in the Eurozone. In spite of the recent positive "Save The Euro" comments by ECB Mario Draghi, German Chancellor Angela Merkel, French President Francois Hollande and Eurogroup chairman Jean-Claude Juncker, that gave a hint of coordinated actions to bring Spain's and Italy's borrowing costs down to a sustainable level, there are many reasons for investors to remain skeptical in the near term.
Do Not Panic and Behave Yourselves
If the economic data in the first few days of August comes out weaker than expected, the Volatility Index or VIX could spike. In such cases, investors who have bought quality stocks with the longer term recovery in mind must not panic. If there is heightened concern, they should use either VIX options or protective option strategies on their stocks to establish a floor, or maybe even take some profits, but there is no reason to sell good stocks at a loss.
I remain optimistic for the remainder of 2012 even though we have seen weak economic indicators in the past couple of months. Recent earnings do show some exciting activity in the construction and housing area - companies like United Rentals (URI) and Caterpillar (CAT) have provided better pro forma guidance or have expressed positive outlook for the rest of the year. Last but not the least, the possibility of QE3 (albeit later - in September or worse, October) seems imminent based on what Ben Bernanke himself said in his most recent FOMC meeting minutes.
Disclosure: I am long URI.