The Coca-Cola Company (NYSE: KO) loves the Summer Olympics. Very few brands have the lasting power of appeal and recognition that Coca-Cola enjoys throughout the world and the Olympics is the ideal place to showcase that power. Sugar-based sodas might be unpopular here at home, but the rest of the world is still drinking Coke.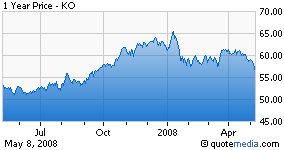 Coca Cola is truly a global company, with consumers in more than 200 countries. I've been drinking Fanta and Sprite since I was a kid in Latin America. I still remember the guy who used to deliver the cases of Fanta and Coke right to our doorstep every month. Talk about personal service. But this is the sort of service you still see today in places like Peru, Argentina, Hungary and Croatia.
Today, Coca-Cola is an even more diverse company, offering over 400 brands and more than 2,600 beverage products, including water, orange juice, sports drinks, tea and energy drinks. The company is also deeply committed to sustainable business practices (recycling water, plastic and glass bottles) and has been working closely with the UN and many NGOs around the world. As a result, Coca-Cola has been included in the Dow Jones Sustainability Indexes and the FTSE4Good Index. This is important to young people and Coke has done a great job addressing their concerns.
But what about the numbers? In 2006, Coca-Cola outperformed both the Dow Jones and the S&P 500 and 2007 was a stellar year--case volume increased by 5% and revenues were up 23.6%. Most importantly, this is a company that performs well during good and bad times and 70% of sales come from outside the United States. The fastest growing markets are the BRIC nations: Brazil, Russia, India and China. But Mexico and Brazil are the top two markets outside the United States. This is really about the youth factor, and a huge percentage of the population in the developing world is under 25.
The company has also paid 343 consecutive quarterly dividends since 1920. At $56.66, with a P/E of 21, the stock is at or near fair value. I'm watching the stock closely on a daily basis because I really want to own this company prior to the Beijing Olympic games. This is not a company that will give you explosive growth, but I'll take 4%-5% annual volume growth and 6%-8% operating income growth any day if we're talking about stability and long-term performance.
Something else to keep in mind is the weak dollar. For Coca Cola, this means a favorable currency exchange, which helps the company deal with the negative effects of high commodity prices, and recent data suggests that Coca Cola is doing well. First-quarter 2008 numbers were strong, with net revenues up 12% over 2007 despite the slow down here at home and Europe. Sales were also up 5% year-over-year. I expect the Olympics to provide an additional boost in Q3 and Q4, so this is definitely a solid stock for 2008 and beyond.
Disclosure: Author holds a long position in KO