On May 7, Hansen Natural (HANS) reported its 1Q 2008 results (see conference call transcript):
Gross sales up 28.4% to $244 million from $190.1 million in 1Q 2007
Net sales up 27.9% to $212.2 million from $165.9 million in 1Q 2007
Cost of sales $107.46 million from $80.22 million in 1Q 2007
Gross profit margin 49.4% from 51.6% in 1Q 2007
Operating income up 34.2% to $42.8 million from $31.9 million in 1Q 2007
Net income up 42.6% to $28.8 million ($0.29 per share) from $20.2 million ($0.21 per share) in 1Q 2007
Profit margin 13.58% from 12.18% in 1Q 2007
Diluted share count 99,007,000
Cash and short-term investments $159.11 million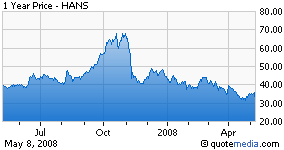 Analysts were, on average, expecting an EPS of $0.35 with sales of $220.7 million. This explains why the stock was hammered more than 15% yesterday to new annual lows. Was this a disappointing quarter? Personally, I don't think so. Yes, I was expecting a better EPS. But 40%+ growth is nothing to be disappointed about. Consumers are getting more and more cautious and the economy is not doing real well right now. The point is that Hansen is not in a very strong beverage environment. Costs are rising and many segments in the industry are struggling with flat or even negative sales. The energy drink market is still rising at good levels and this has managed to keep Hansen's growth strong through these tough times. Some seem to be worried that Hansen is going downhill and the company is having problem after problem. Given the current economic environment, Hansen is doing quite well and still has a good cushion thanks to a strong balance sheet. And we still haven't seen cash flow numbers, which will give us a good idea of how the company's general cash situation is.
Even though this quarter was below analysts' estimates, I believe there is still a good chance for 50% EPS growth in 2008. Currently we are in what is historically a weak time for the beverage industry, and barring a sharp slowdown in the summer, I think Hansen will be in a good position for the historically good 2Q and 3Q.
The board of directors recently approved a $200 million repurchase program and I wouldn't be surprised if a good amount of stock will be purchased now that it has been whacked big time. It's not like Hansen is losing its ground in the industry. New products are still being worked into the mix and the distribution deals are just getting going; I believe we're far from their full potential. International expansion has been picking up and I believe this will be a help to earnings and sales in particular as the year progresses.
I get the feeling that short-term sacrifices are being made for better results long-term. New distribution deals, new products, international expansion; these things take time and money and will be a burden on short-term results. I can't say if this explains the missed estimates. All I know is that if these new projects and developments work out well (and I believe they will), Hansen has an even larger bundle of opportunity than before.
While gross margins fell again this quarter, the profit margin continues to expand. Again, considering today's circumstances, I'm surprised that not many others are talking about this. Hansen still has very strong margins, and when you put this together with the strong balance sheet, I think the company is in a good position if the economy stumbles further.
I'm very tempted to invest more at these levels around $30, but I probably won't be able to because of a shortage of cash. To sum this up, I remain very confident in the long-term prospects of Hansen and I urge others to focus on long-term stability rather than short-term fluctuations.
For the 2Q 2008, analysts expect an EPS of $0.61 on sales of $337.18 million.
Disclosure: Author has a long position in HANS