The American Association of Individual Investors (AAII) is a long-standing non-profit organization designed to educate individual investors founded in 1978. AAII is perhaps best well-known for its sentiment survey of members, whereby the individual investors give their opinion as to the outlook for stocks.
The AAII Investor Sentiment Survey is weekly and has been around since 1987 and can now be voted by members on the AAII website, with 1 vote per member accepted on a weekly basis.
Many traders and contrarians have analyzed the AAII survey data over the years, often using this an indicator of public money and sentiment. The theory quite often is that the public as measured in this survey is often showing levels of extreme bullishness at market tops and vice-versa for market bottoms.
In this article, we're just going to quickly note the recent AAII survey data. In a recent article (a new one will be published by the end of the week), AAII notes that Bullish Sentiment fell to nearly a 2-year low. The level of Bulls last week was at 22.2%, the lowest level since August 2010. This is also the 68th lowest Bullish reading ever out of 1300 readings in history. Additionally, Bullish Sentiment has been below its historical average of 39% for 16 (now 17 consecutive weeks).
AAII themselves point out
The last time bullish sentiment was lower, August 26 2010, the market reached a short-term bottom. Though very low bullish readings have been correlated with short-term market rebounds, optimism among individual investors can stay at low levels for a period of time.
Here is a graphical representation of the recent AAII data compared to the S&P 500 Index (SPX) (NYSEARCA:SPY) - we complied these charts from the newest survey data on the AAII website. We're using the (Bull% - Bear% formula) - this ignores "neutrals" and shows when Bearishness outweighs Bullishness because it turns negative:
AAII (Bull - Bear) Sentiment Spread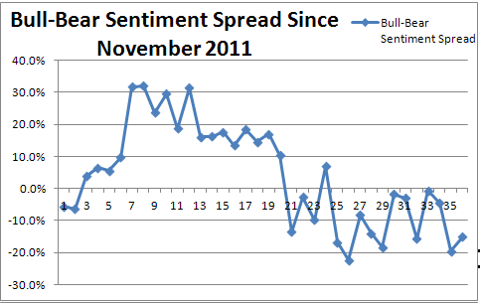 SPX Simple Weekly Chart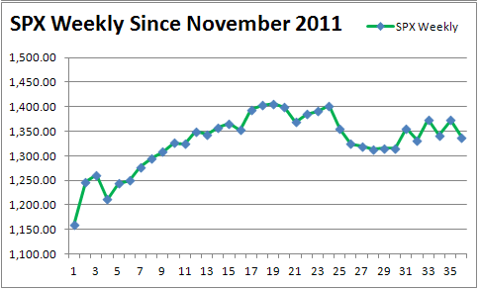 Certainly this extended run of a negative bull-bear spread (which has been in place since April 2012) can be encouraging to a contrarian bull because the market (NYSEARCA:DIA) (NASDAQ:QQQ) (NYSEARCA:IWM) itself rallied into that bearish sentiment and has basically been sideways since that time (recently making higher highs and higher lows basically since June).
And the fairly extreme run of bearish numbers as detailed by AAII above does point to an inflection point that may be coming - are the AAII survey members going to be correct in their bearish view or will it once again serve as a contrarian bullish sentiment signal? We would lean to the latter theory at this point.
Disclosure: I have no positions in any stocks mentioned, and no plans to initiate any positions within the next 72 hours.