Resin shoe manufacturer Crocs (NASDAQ:CROX) reported so-so earnings on Wednesday afternoon and the stock saw a massive squeeze in Thursday trading, with the stock up 16% as I write this. Results were nowhere near great, contrary to what yesterday's trading action was telling you. They missed consensus estimate for EPS and came in at the low end of their guidance.
Although CROX came in above expectations for sales, their international revenue growth was nothing to cheer about. They only grew this figure 80% YoY to $106M, compared to last quarter when sales increased 220% YoY. Crocs is having issues growing its international markets, which our buy side contacts say is the only reason one would want to be in this name at all. In addition, gross margins were down to 42%, lower than analyst expectations of 46%. Wednesday's conference call was essentially a non-event, since all CROX did was reaffirm their previous guidance.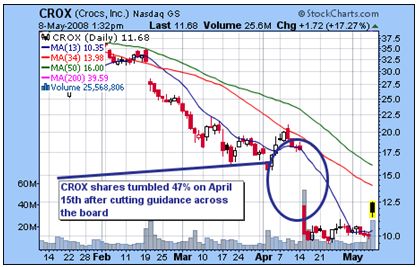 Other tidbits from the Q1 conference call:
International Sales represented 53% of their sales with Japan representing the strongest region.
Regarding costs, CROX will be increasing advertising spend.
CROX expects Cap EX to be approx $85 million, down to previous expectations
Generally speaking, sell through rate was less than expected but still remains encouraging and "well positioned" for a strong 2009. CROX wants to beat industry growth in 2009 and beyond. Company will drill down on cutting costs going forward.
Crox believes inventory will be down 10-15% by the end of Q2; will continue to pull it down at the end of the next quarter.
They did guide for Y08 gross margins in the range of 54-56% for Y08 (Comment: this is nonsense, as management has guided high GMs like this before and failed to execute).
Bottom line: Despite falling short of EPS estimates for the first time in its history, shares of CROX are ramping up the tune of 16%. CROX reaffirmed its second quarter and full year guidance, which are currently slightly above consensus estimates. However, CROX has not yet put a headlock on its inventory and margin issues, and on top of that, international sales are decelerating: that has us worried, especially because CROX management has pitched the international scene as their main avenue for growth going forward.
The question we need to be asking ourselves right now is: has management pulled down numbers far enough? The international figures were not what we were looking for and we'd stay away from this stock altogether.
Disclosure: none