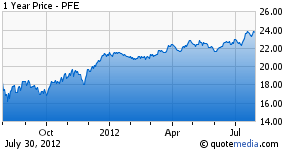 I have been fan of Pfizer (PFE) for some time now and wrote about my position in it several times in 2011. I picked it up at under $18 during the summer of last year. Although it has remained a core and very profitable position for me, it has been awhile since I have updated the argument for owning this safe high yielder. Given it just reported earnings, it seems like a good time to revisit its value story.
Key highlights from Pfizer's earnings report:
The company reported earnings of 62 cents a share excluding special items, easily beating estimates of 54 cents a share.
Revenues came in slightly above $15B, approximately $200mm above consensus estimates.
Pfizer said it plans by mid-August to ask regulators to approve a potential initial public offering of up to a 20 percent ownership stake in the new animal health business, to be called Zoetis. This business has $4.2B in annual revenues and is worth keeping an eye on as it should perform well in an eventual spin-off.
Four reasons PFE is solid selection for value investors at $24 a share:
The company has an AA rated balance sheet, a low beta (.71) and a 3.7% dividend yield.
This earnings report marked the seventh straight quarter that the company beat earnings estimates.
The valuation is very reasonable given the stock's yield. PFE sells for just over 10 times forward earnings and under 10 times operating cash flow.
Its cost cutting efforts also seem ahead of schedule, and earnings estimates should at least get a bump up based on these latest results. The stock is rated an "outperform" at Credit Suisse and a "buy" at S&P.
Disclosure: I am long PFE.