National Western Life Insurance Company (NWLIA) is a life insurance company headquartered in Austin, TX. The company reported first quarter of 2008 earnings on May 7. NWLIA does not hold a quarterly conference call to discuss earnings.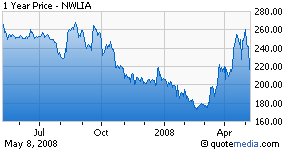 This company is heavily leveraged to the annuity business with more than 80% of its revenues in this area. Its products are highly interest sensitive and earnings depend greatly on the spreads between yields earned on investments less rates credited to policies. The company states it best in its annual 10-K:
A decline in interest rates could expose the Company to reduced profitability due to minimum interest rate guarantees that are required in our products by regulation. A key component of profitability is investment spread, or the difference between the yield on our investments and the rates we credit to policyholders on our products.

A rise in interest rates will increase the net unrealized loss position of our investment portfolio and may subject the Company to disintermediation risk. Disintermediation risk is the risk that policyholders may surrender their contracts in a rising interest rate environment, requiring the Company to liquidate investments in an unrealized loss position.
The company has a Class A and Class B structure with voting power invested in the Moody family, who are the two shareholders of Class B.
NWLIA is highly illiquid and days can pass without any trading. It traditionally trades under book value due to this liquidity issue and the strong family voting control. The trading range the last decade has been 0.5 to 0.9 times book value.
Growth in book value has been quite good the last five years, rising from $172.26 at 12/31/2002 to $279.29 at 12/31/2007.
Due to the ongoing credit crisis, NWLIA made fairly extensive disclosures on its investment portfolio in its recent 10-K filing:
Impairments during 2007 were $67,000 on its bond portfolio, and $1,467,000 on a mortgage loan.
NWLIA owns $107.0 million in asset-backed securities, including $52.7 million of manufactured housing bonds and $54.3 million of home equity loans (subprime securities). All of the subprime securities were rated AAA, and seven of the thirteen subprime securities owned were insured by bond insurers.
No holdings in collaterized bond obligations (CBOs), collateralized debt obligations (CDOs), or collateralized loan obligations (CLOs).
The mortgage-backed portfolio includes one Alt-A security with a carrying value of $4.7 million.
NWLIA had two mortgage loans past due six months or more with the principal balance totaling $7.0 million.
First Quarter 2008 Earning Summary
Net earnings of $14.4 million.
EPS per diluted Class A share of $4.07
Book value per share at March 31, 2008 increased to $283.27.
Operating revenues were $123.2 million, which excluded realized investment gains and losses and derivative losses.
Insurance sales and Annuity sales were up 20% and 3%, respectively from same quarter of 2007.
Net investment income was $84.0 million, excluding derivative losses.
Derivative loss was $24.6 million. NWLIA uses derivatives to hedge its exposure to annuity products indexed to Equity markets.
Management Comments
"The combination of low interest rates and an equity market subject to wide swings not only puts pressure on our interest rate spreads, but also requires us to recognize a higher level of amortization of our deferred policy acquisition costs."

"While we continuously monitor our investment portfolio, particularly in this tough credit market, for possible impairment issues under the accounting rules, we are at the same time pleased with the investment performance of our portfolio and the absence of significant writedowns in our financial statements over the past several years."
Disclosure: I have owned this company on and off the last year. I recently sold it in late April 2008 as its price approached book value.