When a company warns that quarterly earnings will be weaker than originally forecast, shares will plunge. The decline creates either a buying opportunity or an invitation for further losses for investors. For Riverbed Technology (RVBD) and Alcatel-Lucent (ALU), both companies missed expectations at the start of 2012, and both said that earnings would improve in the second half of the year. When the companies both reported recently, only Riverbed reported a rebound in demand, while Alcatel-Lucent cast further doubt in its survival.
Alcatel-Lucent was last considered a buy on June 20 when shares closed at $1.69. Since then, shares continued to lose value, dropping to $1.03. At the time of analysis, LTE growth and GSM orders were cited as reasons for upside, dependent on GSM demand in China. Management stated at the time that orders would come in Q2.
In its Q2 conference call, Alcatel-Lucent admitted the situation is worse:
It's only six months ago that we told you that you should expect for 2012, a better result than 2011. So this is totally changed where we are in today. I think it requires sound, frank and transparent analysis.
Business is so poor that the company is now in need of cutting costs by twice the amount and at twice as fast. The cut will involve reducing staff by 5,000 in SG&A, while maintaining staff levels in R&D. This will reduce costs by $1.25 billion.
The company identified cloud services, system integration, and professional services as areas of strength. Similar to other companies like Nokia (NOK) and Research in Motion (RIMM) struggling to generate profits, Alcatel-Lucent wants to leverage its patent portfolio. The company earned just $140 million from its patents.
Similar to Nokia and RIM, Alcatel-Lucent is seeing revenue decline in its older businesses. Wireless revenue dropped 26% year-over-year on CDMA weakness. LTE, which rose 264% (17% quarter-over-quarter), was not enough to offset weakness in this segment.
China, an important market for many telecom makers for growth, dropped 22% for Alcatel-Lucent. Management still insists the second-half of the year will be stronger.
More worrisome for investors was the growth of inventory as receivables increased by $80 million, pension obligations increasing by $1 billion, and negative working capital.
Investors hoping Alcatel-Lucent shares will rebound will need to believe that the inventory build-up will decline, as demand from China initiates.
In April, when Riverbed reported Q1 earnings, the company blamed the "unavoidable growing pains associated with becoming a multiproduct company" as a reason for missing earnings expectations. In Q2, the company delivered better results earlier than investors expected. Riverbed reported:
Revenue growth of 17% year-over-year to $199 million
Solid ramp in sales of new products in Steelhead and Cascade (30% annual rate of growth)
Stingray business revenue of $7 million, achieved one quarter ahead of schedule
WAN optimization revenue up 12% to $178 million year-over-year
Strength in Riverbed's business is clearly sustainable. The company added 65 employees, and now has a headcount of 1,739. The company simplified its pricing and commissions structure, and delivered effective training to its partners to exceed sales expectations. Although deferred revenue rose 30% to $173 million over the previous year, the rise was due to seasonality from support renewals.
Contrary to Alcatel-Lucent, Riverbed shares appears to be on a more sustainable rebound: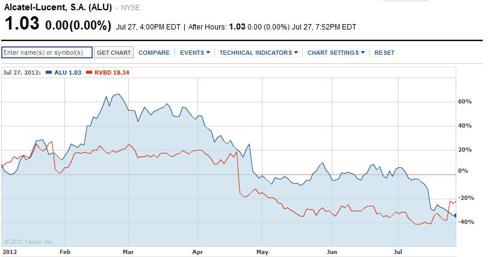 (Chart Source: Yahoo Finance)
Conclusion
Six months ago, Alcatel-Lucent and Riverbed both forecast better results in the second-half of this year. Only Riverbed succeeded in meeting the forecast. The company fixed execution challenges associated with transitioning to a newer, more-integrated product. The WAN optimization offering by Riverbed for mobile, notebook, and tablets offers further earnings growth. Investors who missed the initial 30% rally in Riverbed shares should still expect that shares bottomed. Conversely, Alcatel-Lucent has not yet found its 52-week low.
Disclosure: I am long RVBD.