I was recently exchanging messages with an investor and he asked me about favorite longs. I mentioned a few stocks that I expected to do well coming up or which have done me well so far, among them Watson Pharmaceuticals (WPI). He responded that he felt he was late to the party and might have to skip this train.
Nobody likes being late to a stock move. But Watson's move isn't over yet. The stock has done investors well so far this year, but thanks to a transformational acquisition and continued excellent performance, there is more room to run. In fact, while the stock is up 31.57% on the year, there could well be another leg upward of at least that size in Watson's next 12-18 months of trading. The latest earnings report only adds fuel to Watson's trajectory.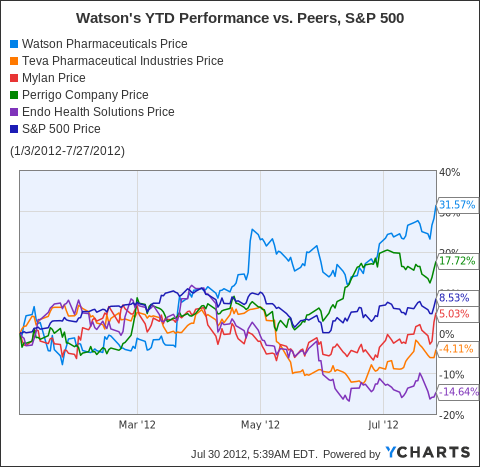 The rocket that has boosted Watson's stock price so far this year is the company's acquisition of Actavis, a private Swiss generic pharmaceutical company. Two of the big jumps in Watson's share price this year came when the deal was first reported - March 21st - and when the deal was announced - April 25th. Since that time, the situation in Europe has deteriorated, and with Actavis earning 52% of its revenues from Europe in 2011, it would seem like this deal could become a liability
Watson's management stated on the Q2 conference call, however, that the recent European turmoil has made the deal more attractive. On the weakness side, management fielded several questions about its outlook for Europe. President of Global Generics Siggi Olafsson said, "With regard to Europe, second quarter has been quite good for us," citing the U.K. and Greece (!) as strong markets with increased generics penetration, while highlighting France as a weaker market. He went on to say the company would have less exposure than expected to the Euro and Western Europe, and that, "we think the market, especially in Eastern Europe, is growing well, and we look forward to take on that challenge when the transaction closes." In a later question, Olafsson added color and numbers to the outlook, citing 14% growth in Russia and Watson's top-3 positioning in 11 markets after the deal
On the other hand, Watson acquired Actavis in Euros, putting up €4.25B when the deal closes. The euro has, of course, dropped since then, and Watson has already unwound an initial hedge at $1.33/euro, dropping into a hedge of $1.26/euro that has already saved the company $157M on the transaction. CEO Paul Bisaro estimated possible total savings of $400M if the euro remains depressed at current levels (presumably around $1.23), which would knock 7% off the original dollar figure of $5.6B. Considering Watson's debt load in the aftermath is the major risk of this transaction, this is not chump change.
In the meantime, Watson reported another strong quarter. The company beat analysts' estimates for at least the 5th straight quarter, producing $1.42 non-GAAP EPS and revenue of $1.355B, improvements of 40.5% and 25% over last year's Q2 figures, respectively. Each of the company's three segments - global generics, global brands, and distribution - grew in revenue, and the first two saw increased operating margins as well. Watson raised its guidance for the second time in as many quarters, as the midpoint has risen from $5.65 EPS to $5.675 and subsequently to $5.75 EPS for the year on this call. While that raise came in large part due to Watson's already achieved strong results, the company did maintain its revenue outlook, a good sign amidst the current macro environment.
Several positive developments with key drugs have helped Watson so far this year or boost the company's outlook going forward. A major item was the agreement with Endo Pharmaceuticals (ENDP) allowing Watson to release a generic version of Lidoderm, a drug that in patch form helps relieve pain, in September 2013. Other wins include approval of a generic version of the contraceptive drug Plan B and approval for Actavis to release a generic version of Adderall in the U.S. The company also backed its position in selling key drug Concerta, an ADHD drug Watson produces in authorized generic form (Johnson & Johnson (JNJ) is the original maker). The company stated that its earnings outlook for this year would not change even with the advent of a generic competitor.
Going forward, Watson continues to paint a bright picture. In a question, Bisaro backed the company's previously stated double-digit standalone (i.e. non-Actavis) earnings growth for 2013, saying that, "Certainly, the way things have developed with Lidoderm, we believe that is a comfortable position for us on a standalone basis." While Lidoderm looms as a key part of the standalone growth, the company also views Actavis as bringing in 30% accretive growth in earnings to that standalone 2013 number. Quick math leads to a minimum of 43% earnings growth in 2013. (Watson still expects to close the deal in late 2012). For the longer term, Bisaro cited a number of growth "levers" that should help power the company after the Actavis benefit flows into earnings. He suggested that in the post-2015 landscape branded drugs could help power the company's growth in larger proportion.
Before working out the forward numbers, it's worth looking at where Watson's valuation currently stands compared to generic competitors such as Teva Pharmaceuticals (TEVA), Mylan (MYL), Perrigo (PRGO), and Endo.
(Sources: WSJ, TDAmeritrade, companies' respective websites)
| | | | | | |
| --- | --- | --- | --- | --- | --- |
| As of Most Recent Quarter | WPI | TEVA | ENDP | PRGO | MYL |
| Market Cap | $10.2B | $39B | $3.5B | $10.8B | $9.4B |
| Quarterly Revenue Growth (Y-over-Y) | 25.23% | 25.05% | 23.32% | 12.49% | 7.63% |
| Yearly Revenue Growth | 28.51% | 13.59% | 59.09% | 21.41% | 12.55% |
| EPS Growth (Annual past two years) | 33.07% | 22.09% | 28.65% | 46.52% | 25.28% |
| Estimated Earnings Growth (next 3 years) | 24.91% | 7.54% | 2.62% | 15.47% | 12.52% |
| Earnings 2011 | 4.77 | 4.97 | 4.69 | 4.01 | 2.04 |
| Earnings 2012 (Est.) | 5.8 | 5.38 | 5.03 | 4.95 | 2.49 |
| Earnings 2013 (Est.) | 8.07 | 5.83 | 5.55 | 5.43 | 2.73 |
| Free Cash Flow TTM | 3.9 | 3.28 | 4.23 | 3.36 | 1.55 |
| 2011 P/E | 16.72 | 8.32 | 6.35 | 28.93 | 11.41 |
| 2012 P/E | 13.75 | 7.68 | 5.92 | 23.44 | 9.35 |
| 2013 P/E | 9.88 | 7.09 | 5.37 | 21.36 | 8.52 |
| TTM P/FCF | 20.45 | 12.60 | 7.04 | 34.53 | 15.01 |
| PEG Ratio | 0.67 | 1.10 | 2.42 | 1.87 | 0.91 |
| Price | 79.77 | 41.33 | 29.79 | 116.01 | 23.27 |
| Dividend | NA | 0.99 | NA | 0.32 | NA |
| Dividend Yield | NA | 2.40% | NA | 0.28% | NA |
(Note: Only Watson and Mylan have reported CY Q2 earnings; I used the most recent quarter reported for each company; Perrigo's FY runs July-June)
Pharmaceuticals have their laggards - Teva is still struggling to prove it can return to growth, Endo faces key patent cliffs, and Mylan's visibility for growth after 2012 is not strong. So Watson is not cheap compared to certain peers, and certainly not after outperforming the group year to date. Watson does have the best growth profile among this group, however, and the small PEG ratio reflects this.
The figures in the above table may be understating Watson's prospects a little. The estimates, culled from TDAmeritrade and Wall St. Journal collected estimates, do not match to Watson's guidance, guidance the company has typically met. For example, if we use the current midpoint of Watson's earnings guidance for 2012 - $5.75 - and add 10% growth to 2013 for Watson's standalone earnings, the bottom of Watson's goal of double-digit growth, we get $6.325 2013 EPS. Add in 30% accretion from the Actavis deal (about $1.90/share), again on the conservative side of Watson's range, and the EPS jumps to $8.22. Watson's guidance as such implies a low-end of 43% growth from this year's earnings, and that on top of 20% growth in this year's earnings compared to last year.
It's from here that I see Watson as being not even halfway through its move. Watson is currently trading at 13.75x 2012 earnings. If we presume that the company is receiving a bit of a boost for its acquisition, we can knock the multiple to 13x forward earnings. Using 8.22 as the 2013 EPS figure, we derive a 12-month target of about 107/share, still 34% above current levels. I would not call this estimate quite as conservative as the 8.22 in EPS, but I hope it's clear that the target is not outlandish.
It's not fun to show up at a party when the night is dying down, there are no drinks left in the fridge, and all that's left to do is fight, cry, clean up, or all three. But a well-paced party, one where the host brings out a second round of food and refreshments just when the conversation flags, is one worth attending.
Watson's shares have run up a great deal so far this year, fueled by excitement over the company's big acquisition and all around solid results. As Watson turns that deal into continued results and delivers on the promises management is making, shares could well take off again. Pullbacks and market downturns can be viewed as opportunities and spare invitations, because Watson's shares are only halfway to hitting their marks.