For all those Hudbay Minerals Inc. (HBMFF.PK) investors banking on a takeover bid to bring life back to the stock, RBC Capital analyst Adam Schatzker says think again.
In a research note Mr. Schatzker said:
Once again, the rumor mill is saying HudBay is going to be acquired. We do not think this is likely. With increasing costs, short mine lives at two mines, a pending smelter closure and the poor performance at Balmat, we think HudBay is not a target.
Instead, the analyst suggests another catalyst for HudBay's slumping shares could be found in the company's growing cash balance. He noted that HudBay has a substantial cash position of more than $780-million and should the company be unable to find accretive uses for the cash, he said an extra dividend could be in the cards.
Mr. Schatzker told clients:
We believe that HudBay management is continuing its search for acretive acquisitions, but we also think that if it is unable to find one it will have to give serious thought to returning some of it to shareholders through a special dividend.
As a result, he added 50% of the company's net cash to his earnings derived target price which nonetheless dropped C$0.50 to C$16 to reflect HudBay's disappointing first quarter results. He maintained his "underperform" rating.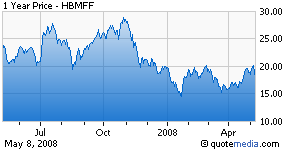 The company's earnings per share of C$0.20 fell well short of Mr. Schatzker's C$0.36 forecast due to higher operating costs at all of its mines. The analyst reduced his valuation going forward, citing "higher operating costs, higher tax rates and lower production guidance for 2009 at Balmat," a mine that HudBay said could face closure if substantial improvement is made.
Meanwhile, Canaccord analyst Gary Lampard downgraded his recommendation to hold from buy, and lowered his target to C$20.50 from C$21.50, saying he is "disappointed in the progress-to-date" of the share buyback program.