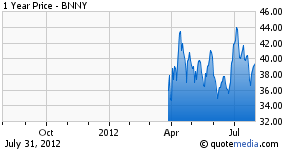 Annie's Inc., (BNNY) is known for a wide range of healthy food products such as pastas, pizzas, salad dressings, granola bars, vegan and organic foods as well. This small food company went public in March 2012, at just $19 per share and the stock has been extremely well-received by investors. A potentially partial reason for this success was that the amount of shares offered (5 million) in the IPO was relatively small. However, according to the prospectus, many more shares are likely to be available for sale soon. I am not a big fan of shorting stocks, however, I think Annie's shares could be an excellent opportunity for shorts. I started researching Annie's because I was looking into the natural and organic food industry, and I expected to write about buying Annie's, but the more I researched, the more it seemed like a short. Those who bought this stock at the IPO price of just $19, might want to consider taking profits. Those who have not bought this stock but want to participate in what could be a significant decline should consider shorting (if the risk of shorting stocks is appropriate for you) this stock for a number of reasons which include:
1. This stock now trades at about 48 times earnings, which makes it one of the most expensive food stocks in the market. The company expects sales growth between 16 to 19% for 2012, and this also confirms that investors might be overpaying for the stock. Many investors prefer to buy growth stocks when trading at a 1:1 PE to growth rate ratio, which would indicate that a PE ratio of 16 to 19 times earnings might be a more appropriate level for many growth stock investors. Even a very high 2 to 1, PE to growth rate ratio would suggest the very top-end PE ratio would be about 37 times earnings, versus the current 48 times.
2. According to Yahoo Finance, Annie's has only about $5.1 million in cash on the balance sheet. It has a market capitalization of about $660 million and sales of around $147 million. What some investors may not realize is that when 5 million shares were offered in the IPO, about 950,000 were sold by the company, and the vast majority, about 4,050,000 shares were sold by other stockholders, which means much of the IPO proceeds did not benefit the company directly. Because the offering was limited and because the company has relatively small amounts of cash on the balance sheet, I would not be surprised to see this company announce a secondary offering. Considering that the company was willing to sell about 950,000 shares at $19 to the public, it would probably be even more willing to sell at the current price, around $40 per share. A future secondary offering could cause the stock to go lower.
3. Existing stockholders might also be preparing to sell a considerable amount of stock since it has doubled, when the IPO lockup period of 180 days expires on September 24, 2012. Normally, at that time, the stock might see pressure as many more shares could be available for sale. However, the company just announced that the leading investment bankers for the Annie's IPO, which includes J.P. Morgan, have decided to issue a waiver for the lock-up restriction which means millions of shares could be available for sale starting on July 31, 2012. This could be a sign that existing shareholders want to take advantage of the lofty share price as soon as they can. This is more significant when you consider that Annie's Chairman of the Board "Molly Ashby" controls another company as CEO and Chairman called "Solera" which sold a large number of Annie's shares in the IPO for just $19 per share, and could be anxious to sell more at even higher prices now. Furthermore, "Solera" is part owned by an affiliate of J.P. Morgan according to page 114 of the IPO prospectus, (under Other Relationships and Conflicts of Interest) which is noteworthy, considering that J.P. Morgan just issued a waiver for the lock-up restriction. Also, Molly Ashby spent many years working at J.P. Morgan. For the first time since the IPO, Annie's recently announced that 3.2 million shares would be sold by existing stockholders.
4. Page 13 of the Annie's IPO prospectus states "Also, we use epoxy linings that contain bisphenol-A, commonly called BPA, as part of the protective barrier between the metal can and food contents in our canned pasta meals." Many health conscious consumers are concerned with the use of BPA because some studies and countries believe it can be harmful. Canada has already declared BPA a toxic substance. As consumers become more aware of the potential risks of BPA, food companies (especially ones that are considered to be focused on health and organics) might see reduced demand for products that contain this substance. In particular, health food companies should lead the industry and end the use of BPA for the sake of their revenues and customers' health, and shareholder portfolios.
5. Page 16 of the IPO prospectus states " We derive all of our sales from products manufactured at manufacturing facilities owned and operated by our contract manufacturers. During fiscal 2011, we paid $45.0 million in the aggregate to our top three contract manufacturers. We do not have written manufacturing contracts with all of our contract manufacturers, including Lucerne Foods, one of our top three contract manufacturers that manufactures several of our top selling products." This statement appears to indicate that Annie's does not manufacture any of the food products it sells, which might be surprising, even shocking to some consumers and shareholders. It surprised and disappointed me since the "Annie's Homegrown" brand and the company's image makes me think of a small group of organic food hippies from Berkeley passionately making healthy food themselves, not so much a corporation using other, even bigger corporations to manufacture products for it on a contract basis. Aside from the mental image I had being different, this business model could also pose a risk if a major manufacturer for Annie's decides to raise prices or if it encounters manufacturing, quality control, strikes, or other problems. Major food manufacturers are expected to be hit soon by higher corn and crop prices due to the recent droughts in the U.S. This could lead to price hikes from contract manufacturers in the near future, especially since Annie's said in the prospectus that it does not have written contracts with some of it's top manufacturers.
6. Page 21 of the IPO prospectus states that "We have significant goodwill related to previous acquisitions, which amounted to 45% of our total assets as of December 31, 2011." Most investors do not want to see such a high percentage of total assets being goodwill, because that could lead to an impairment charge in the future. Recent balance sheet data shows goodwill value of about $30.8 million, which is considerable. When assets consist of cold hard cash on the balance sheet, there is no chance of an impairment charge in the future. While this is not the biggest risk I see here, it is worth considering.
7. Capital gains taxes are poised to rise significantly at the start of 2013. Many investors with major gains might be motivated to sell before the end of 2012, in order to ensure the lowest possible tax rates. For some executives with many millions of dollars worth of gains, selling sooner rather than later, (and before other large holders sell) is almost free money in terms of the tax savings. If I held a major stake in Annie's with significant gains, I would be considering the sale of at least some if not all of my shares based on the fact that the stock trades for almost twice the recent IPO price, and selling in 2012, could result in major tax savings. A recent Marketwatch article titled "Paying Capital Gains Taxes Now May Be Wise", discusses the strategy and potential tax savings for investors who sell in 2012.
Considering that more shares will soon be available for sale, and that the stock is selling at very lofty levels, the potential risks to the operations, financial results, and business model do not appear to be priced in at current levels. At nearly $40 per share, this stock might be priced for near-perfection, and after reading the prospectus, that level of valuation does not seem appropriate.
Key Data Points For Annie's Inc. From Yahoo Finance:
Current Share Price: $39
52-Week Range: $31 to $45
Dividend: none
Fiscal 2013 Earnings Estimate: 82 cents per share
Fiscal 2014 Earnings Estimate: 98 cents per share
P/E Ratio: about 48 times earnings
Disclosure: I have no positions in any stocks mentioned, but may initiate a short position in BNNY over the next 72 hours.
Disclaimer: Data is sourced from Yahoo Finance. No guarantees or representations are made. Please consult a financial advisor before making investments.