Following the actions of the founders of computer-services outsourcing firm CGI Group Inc. (NYSE:GIB) to monetize up to 11 million shares while maintaining control of the company, Canaccord Adams analyst Dushan Batrovic has downgraded the stock to a "sell." In a note to clients he said:
He does not like the implications of an arrangement that will have company management take considerable money off the table without seeing any reduction in control.
He also suggests that the timing of the move is "somewhat inopportune" for investors as it coincides with a share price that is near a five-year high and the potential buyout of BCE Inc. (NYSE:BCE), CGI's largest customer, by a group led by the Ontario Teachers' Pension Plan, which is expected to close in June.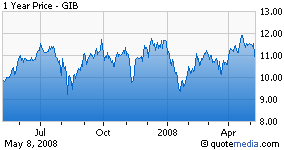 Earlier this week, CGI announced that founders Serge Godin and Andre Imbeau will earn more than C$120 million in a deal with National Bank Financial, while retaining 55% control of the company's voting rights.
He said:
The risk-reward profile has deteriorated, as any potential downside related to the BCE change in control, strong Canadian dollar, week U.S. economy or financial services softness with be magnified. Our concern is that any potential hiccups will translate into meaningful downside given the insider selling and current valuation.
Mr. Batrovic also noted that the recent moves by the founders effectively eliminates the likelihood of control moving outside of their hands, "which in turn lowers the potential for a takeover."