The last time we profiled iShares Dow Jones U.S. Home Construction ETF (NYSEARCA:ITB) in October 2006, the fund was dead last on the ETF Momentum Tracker Table. At that point there was no doubt that the housing market was in rough shape—but it seemed possible that homebuilding stocks might have hit bottom. That wasn't the case. In fact, the fund fell almost continuously through 2007, losing nearly two-thirds of its value.
But since January, homebuilding stocks are on the move and ITB has built momentum. The fund gained more than 17% year to date through May 2, outperforming 96% of the funds in Morningstar's mid-cap blend fund category and topping the S&P 500 by a whopping 20 percentage points. Still, ITB has a long way to go to fully earn back its decline—and there's a chance the fund might simply be experiencing another short-lived swing in investors' perceptions of the hard-to-read housing market.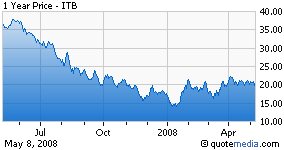 ITB invests in stocks of 21 U.S. homebuilding companies. Most funds that focus on homebuilders offer some exposure to home-supply retailers, construction firms or real estate companies, but ITB takes a pure-play approach to the industry. Most of the companies in this industry are quite small. The largest homebuilder in the U.S., D.R. Horton (NYSE:DHI), has a market capitalization of only $4.9 billion—and overall, ITB's portfolio recently had an average market capitalization of only $979 million. In fact, Morningstar classifies more than 40% of the fund's holdings as micro-cap. The fund's portfolio is also highly concentrated, with more than 55% of its assets typically invested in its top 10 stocks.
Any fund that invests the majority of its assets in a handful of tiny firms is sure to perform with intense volatility. That quality has been magnified in recent years, as homebuilding companies have endured the worst housing market in generations. Since its inception two years ago this week, ITB has suffered from dramatic swings—most of them downward—and has lost nearly 60% of its value.
Single-family housing starts declined 63% from a 2006 peak through March, nearly matching the 66% drop in housing starts during the downturn of 1978 to 1981—and the current downturn could last considerably longer. Morningstar analyst Eric Landry predicts that the market will eventually register the steepest drop in housing production in 60 years. "Home prices are likely to be pressured for several more quarters, as there's now anywhere from 1 million to 2 million surplus homes for sale, a large majority of which are sitting empty," Landry explains.
New data released in the last few weeks support Landry's assessment. The S&P/Case Schiller Home Price Index reported that the price of single-family homes (excluding new construction) in 20 major U.S. cities dropped almost 13% in February from a year earlier. Landry believes that most of the "formerly hot markets" have made it anywhere from halfway to 90% of the way through the correction process, leaving a long way for some markets to fall.
If the housing bust drags on, some of the more vulnerable firms might not make it to the other side. Several homebuilders have already gone bust, and several of ITB's holdings could join them. Standard Pacific (SPF), Beazer Homes (NYSE:BZH), WCI Communities (WCI) and Hovnanian Enterprises (NYSE:HOV), all of which were recently in ITB's portfolio, are likely candidates for bankruptcy or acquisition.
A prolonged recession in the U.S. likely would make a difficult situation much worse. Good news on that front came last week, when the Department of Commerce reported that the gross domestic product grew at an inflation-adjusted rate of 0.6% in the first quarter of 2008, surprising analysts who expected a lower or even negative figure. The report carried more bad news for the housing sector, however: The housing market experienced a 27% decrease in investment, shaving 1.2 percentage points off the country's total GDP.
Nevertheless, investors have taken recent signs of a firming economy as good news for housing stocks, which trade at rock-bottom prices. ITB has rallied as a result, which has led to rising momentum. The fund jumped 26 spots on the ETF Momentum Tracker Table between March 11 and last week, leaving it ranked 18th. Moreover, only one of ITB's top 20 holdings showed a year-to-date loss through May 2, and 10 generated gains of more than 20%.
Eventually, the housing market will boom again, and investors who snatched up stocks when they were beaten down will benefit handsomely. But with so much uncertainty still plaguing the homebuilding industry, investors interested in this fund would be wise to take a cautious approach.