Excerpts from Gilford Securities analyst Ashish R. Thadhani's recent update to clients on Cognizant Technology Solutions (NASDAQ:CTSH):
• • •
CTSH: CY07-09 EPS Growth Potential 30%, Fwd. P/E 19x
Investment Conclusion. Based on slower revenue momentum – offset by a modest 1Q08 overage and certain non-operating items – we are fine-tuning our estimates: 2008 GAAP diluted EPS remains at $1.50 on revenue of $2.900 billion (36% YoY growth but down from our prior $2.955 billion projection); and 2009 GAAP diluted EPS also stays unchanged at $1.80 on revenue of $3.842 billion (33% YoY growth and down from $3.988 billion previously). At this time, we are introducing a 2010 GAAP diluted EPS estimate of $2.15 on revenue of $4.898 billion (28% YoY growth). Additionally, we are resetting our target price from $50 to $42. In 12-months, this would correspond to 20-25x forward EPS – a premium to the current depressed valuation (19x).
We are reaffirming our Buy rating on the basis of industry-leading 25% compound EPS growth in calendar 2007-09E – including the expiration of tax benefits that reduces 2009 EPS by $0.15 but will likely be delayed by a year; significant margin flexibility (note the low offshore utilization rate with each 1% improvement = 50 bps); and the lowest currency exposure among offshoring majors (1% swing = 20 bps). Recent price weakness indicates continued concern over the U.S. IT spending environment (80% of revenue).
1Q08 Results. GAAP diluted EPS of $0.34 vs. $0.25 a year ago on revenue of $643.1 million beat our $0.33 estimate on revenue of $642.0 million. Results benefited from a $4.0 million forex gain (1.1 cent EPS impact). Operating income advanced 34% YoY and met our estimate. Highlights included 40% YoY and 7.2% QoQ revenue growth, and stabilization of employee turnover at 12.4% (the lowest level in two years). During the quarter, Cognizant entered into an alliance with T- Systems – the IT services arm of Deutsche Telekom with 56K employees and 2007 revenue approximating $18 billion. This relationship brings a front-end partner with deep local knowledge and should accelerate penetration of the large German market.
Takeaways. Cognizant posted slower growth in the Financial Services segment (37% YoY but only 3% QoQ). Areas of strength included the Healthcare vertical (45% YoY and 10% QoQ growth) and European region (up 87% YoY and 12% QoQ to 19% of total revenue). Cognizant also recorded double-digit QoQ revenue growth in the Retail/Manufacturing/Logistics and Technology/Other verticals.
Citing heightened economic uncertainty and challenges in the Financial Services industry, Cognizant has adopted a cautious short-term outlook. Current 2008 revenue guidance includes 5.7% QoQ growth in the June quarter (vs. our original 11% estimate and 0-3.5% at peers) while implying aggressive double-digit growth in the remaining two quarters. Management noted the following: client attitudes changed in March (after the Bear Stearns collapse) and the need to reassess spending plans resulted in project delays/cutbacks in the Financial Services vertical; increased emphasis on cost rationalization should still favor offshore initiatives; the 2008 outlook factors in ramp-up of prior wins backed by a record pipeline of ~50 large opportunities – but affords no cushion for further deterioration in the macroeconomic environment; and there has not been any change in pricing expectations. Separately, Cognizant anticipates a moderation in annual wage inflation to about 10% vs. 12-16% in recent years.
Revenue from Application Management services advanced 37% YoY and 10% QoQ to 52% of the total. Revenue from discretionary Application Development & Integration projects rose 43% YoY but only 5% QoQ to 48% of the total. Operating income of $111.7 million (17.4% margin) was in line with our $112.3 million estimate (17.5% margin). Available levers for countering currency and wage pressures comprise offshore utilization, pricing and scale/SG&A efficiencies, i.e., rental, communications, marketing and back-office savings.
Hourly price realizations appear to have been stable QoQ at approximately $72-73 for onsite work (25% of billable workforce) and $24-25 for offshore (75%). Excluding 9,000 non-billable trainees, offshore utilization stood at 70% vs. 69% a year ago and should rise throughout 2008. Worldwide headcount rose 4.7% QoQ and 33% YoY to 58,000 in March. Attrition improved to 12.4% from 15% a year ago. Cognizant has elected not to disclose future hiring plans in order to retain flexibility on staffing decisions. In February, it planned to exit 2008 with 72-75K employees, up 30-35% YoY. We now expect less aggressive headcount growth – reflecting lower turnover and a more appropriately sized offshore bench – that should neither compromise revenue upside, nor client requirements.
By industry, Financial Services ranked largest (45% of total revenue), followed by Healthcare (25%), Retail/Manufacturing/Logistics (15%) and Technology/Other (15%). Top-10 clients accounted for 31% of revenue, down from 33% in the December quarter. Cognizant added 56 new clients compared with 82 in the immediately prior period (including 40 that were acquired). It exited the quarter with an active roster of 505, up from 500 in March. Out of 113 strategic clients – those offering annual revenue potential of $5-50 million – most still remain only 20-30% penetrated.
Cognizant posted CFFO of $22 million or $0.07 per share in the quarter. Proceeds from financing activities (exercise of options) amounted to $17 million. Major outflows comprised an acquisition payment ($9 million) and capital expenditures ($53 million), budgeted to climb from $182 million in 2007 to $250 million in 2008. To date, Cognizant has repurchased 3.39 million shares of common stock for $105.4 million – or an average price of $31.10 per share – and has $95 million still available under its current program. Cognizant exited the quarter with net cash of $617.4 million, down from $641.0 million on December 31. This figure includes (illiquid) auction rate securities valued at $170.4 million. Accounts and unbilled receivables slipped to 73 DSOs from 65 in December.
CTSH shares are suitable for aggressive investors. In our opinion, principal risks include: U.S. slowdown; rising offshore salaries; appreciation of the Indian currency, which would translate into higher expenses; correction in the Indian and/or U.S. markets; and political opposition.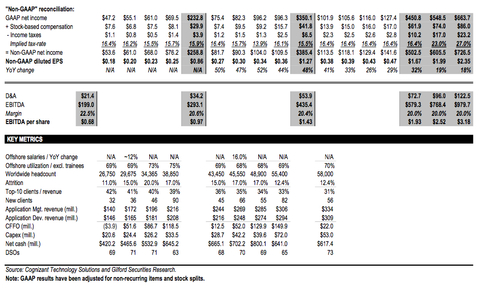 ANALYST CERTIFICATION
I, Ashish Thadhani, certify that all the views expressed in this research report accurately reflect my personal views of the subject companies. I certify that I have not and will not receive compensation with respect to the issuance of this report.