On April 25, Dean Laster wrote an intriguing article regarding the fact that E*Trade's (NASDAQ:ETFC) stock has short interest sitting at 20% of the stock's float (see "Why the E*Trade Shorts Have It Wrong"). Mr. Laster pointed out that E*Trade has no "downside catalyst" and that all the the bad news is priced into the $4 existing stock price. In fact E*Trade's April 17th Earnings Conference Call presented many positive upside trends for both the brokerage business and the mortgage portfolio performance, so "shorts are in effect digging their own graves."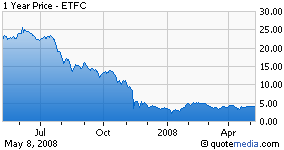 This week, on Wednesday May 7, Nick Perry from Schaeffer's Investment Research wrote an article entitled "Is E-Trade Financial Corp. Poised to Make Another Run?" In this article Mr. Perry affirms the unusual circumstances that the 20% short interest position sets up. He also indicates that the current "contraction in volatility can be a sign that 'pressure' is building." He points out that "a contraction doesn't suggest which way a stock will break." However, the "stage" is set for a "pop above the front-month calls but we still need a catalyst to spark the buying."
What Mr. Perry doesn't realize is that the catalyst is now here. This coming week, the Annual Shareholder's Meeting will be held by E*Trade. Will this meeting provide the "Short Interest" holders with their negative price effect? The pressure is there, which way will E*Trade break this coming week, up or down?
Other points of interest are as follows:
1) A concern in April was that stock market and brokerage trading volume would decline because of recessionary trends, which would hamper E*Trade's brokerage recovery. Since that time the DOW Jones Industrial Average surpassed 13,100 and many economic employment and production indicators have provided signs of positive economic trends.
2) On April 22, 2008, Kanner Frederick Wilkinson, a Director at E*Trade purchased 50,000 shares of stock. Also, Donald H. Layton, CEO, has his compensation/bonus package directly linked to stock value.
3) On January 29, 2008, nine E*Trade directors directly purchased significant blocks of E*Trade stock totaling close to $2 million.
Disclosure: Long