Since the uranium bubble has popped, there is very little spoken of with respect to the nuclear trade. As many of the companies are good long term plays, many lack luster with respect to the near term as much of the United State's Government inventory of tail, uranium and plutonium are released to the market. Even with this, there will be pricing power going forward in nuclear as the White House knows they have an oil production problem going forward, which will continue to keep the dollar weak as we import more oil than we export.
The United States can make a huge dent in the price of oil by setting up the electricity capacity to be able to recharge batteries of hybrid style vehicles. It is my thought that a massive amount of money will be poured into the grid as many nuclear and natural gas power plants are built. This should decrease the amount of gasoline used over the long term and at the rate other countries are developing a taste for automobiles we better get started as nuclear reactors take about 4 years to build as opposed to a year for coal fired plants. I am not dismissing the fact that clean coal is an alternative, but I think the politicians will push cleaner methods of meeting electricity means as states such as California have plenty of votes to push their agenda.
Many of the nuclear plays are well known to investors although not the general public. Companies such as Cameco (NYSE:CCJ) and Exelon (NYSE:EXC) have a presence and there is even an ETF. The company I like in the short term is EnergySolutions (NYSE:ES-OLD). They specialize in the collection and removal of nuclear waste and byproducts. The reason this company has upside is that there is no set disposal for nuclear waste or the cooling of the rods. Right now all waste is stored in the reactor. This was the resistance to building new reactors seen by the Federal Government. There were very few applications sent in for the permits because of a call for a nuclear disposal area as the utilities believe that it places them in a precarious liability. No sooner do the applications get approved then a new IPO enters the market.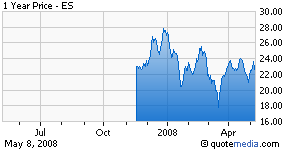 Looking at the company they currently trade under what their opening day price was of their initial public offering. There are a few details I find interesting. First, they announced earnings for the full year of 2007 beating estimates by over 400%. Right after this they offered a dividend of .4%. They also guided up, $.69 to $.75 per share for the full year of 2008. This year they are estimating that they will decrease in growth by 14%.
There are a couple of reasons I find this strange. Before this year the majority of their earnings were coming from the UK. This will currently help earnings on the strong Pound and Euro. Second, they are currently seeing a major increase of work associated with all the waste located at reactors that have been accumulating for years. I believe their acquisition of RSMC will dramatically increase their earnings capability and was paid through their IPO stock offering. Revenues through this acquisition increased over 300% year over year.
Long term the company sees $55 billion in contracts awarded by the Dept. of Energy over the next three years, and I believe they will announce the signing of deals at this meeting. RSMC also provides them with the ability to expand their business in Europe. They are contracting with Shaw Group (SGR) and Westinghouse to supply services for the nuclear reactors. If we look at company value they trade at a forward PE of 21 and this is based on a growth rate next year of 41% making the company inexpensive with respect to their PEG ratio. I believe this company will blow out revenues and earnings, if so look for high volume and a possible breakout as the company is valued well at this level. $.20 per share and $500 million in revenues is the ballpark figure.
Disclosure: None