If you thought natural gas looked like a good investment three months ago, you were right. Maybe.
To actually capture natural gas' returns over that time period, you had to pick the right ETF.
Over the past three months, the United States Natural Gas Fund (NYSEArca: UNG) returned 32 percent, which is great if you were smart enough or lucky enough to buy the fund in late spring. It tacked on almost 6 percent more on Monday.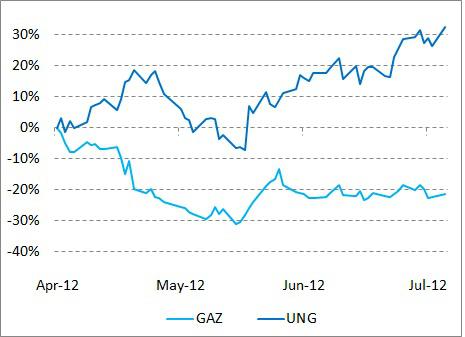 At the same time, the iPath Dow Jones-UBS Natural Gas Subindex Total Return ETN (NYSEArca: GAZ) would have lost you 21 percent. That's about a 50 percent spread between the two securities.
So what makes the returns of the two funds so different?
Both track indexes that follow front-month Henry Hub natural gas futures, so it doesn't stem from different portfolios.
GAZ is an ETN. But that's still not the problem.
Take a look at the chart below: I've added GAZ's indicative value over the past three months. GAZ's indicative value returns look almost exactly the same as those of UNG—it has even outperformed it by about 4 percentage points.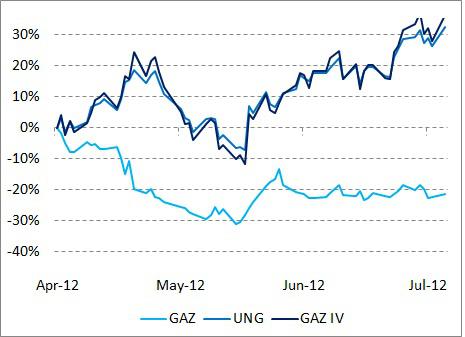 The problem is that GAZ is an ETN that has been closed for creations since Aug. 21, 2009, which means that GAZ no longer reliably delivers the returns of its underlying index.
Over the past three months, UNG has traded very close to its net asset value, while GAZ's premium has fallen from 95 percent on April 30 to 15 percent this morning.
And that hurts.
In May, Barclays released an investor guidance notification noting that "Barclays Bank PLC believes that the GAZ ETNs will not track the price of the underlying natural gas futures index in a consistent manner and therefore are currently not suitable for most investors."
That's basically lawyer talk for: "This is a broken security, and we're not responsible if you're crazy enough to own this."
The amazing thing to me is that GAZ still has $40 million in assets under management. That's $40 million attached to a natural gas ETN that no longer even claims to be able to deliver natural gas returns.
If you're still holding GAZ, it's time to stop betting on an unpredictable premium and move over to a fund that can actually deliver the exposure you're looking for.
[This article previously appeared on IndexUniverse.com.]