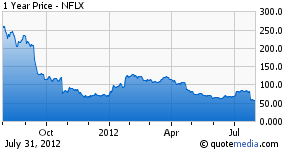 When people here and elsewhere look at Netflix (NFLX) they see a content company, a sales channel for Hollywood. They may compare it with other channels or they may focus on its growing costs.
What no one seems to do is consider Netflix as a technology play. So let's look at that:
You may have heard about Netflix' Open Connect, a way to bring its content closer to subscribers. But that's not the only open source code it's put out there. This week is launched Chaos Monkey, a system for pre-testing the security of clouds by attacking them from all angles. It's available from GitHub under the name Simian Army.
Netflix is trying to crowdsource video titling through a project on the video captioning service Amara. As its open source projects bring programmers to it, so its titling offering brings videophile loyalty.
Netflix is trying to tweak the cybersecurity bill now going through Congress by allowing its users to share their movie reviews through Facebook (FB). As with the other efforts this is designed to expand the use of Netflix beyond the mere watching of movies, into the social space.
What critics who point to growing competition from Verizon (VZ) and RedBox, from the likes of Wal-Mart (WMT), Apple (AAPL) and Amazon.com (AMZN), even from BSkyB, is that scaling out a business like this is a technological challenge, one with many dimensions.
Netfllix has chosen to embrace open source principles in meeting this challenge. Open source programming, crowdsourcing, and social networking are all elements in this. Since this is a large company undergoing this transition on-the-fly, and not a start-up, this point is often obscured. We focus on the short-term and ignore what is going on beneath the surface.
But I think we're going to wake up in a few years and see that what Netflix has built itself is an open source cloud, based on many important technical elements it has sponsored, one that puts it into an entirely different class of competition.
Instead of wondering whether it might be bought by Comcast (CMCSA), Disney (DIS) or News Corp. (NWS), maybe we'll be considering it as the target of a Rackspace (RAX) or a Google (GOOG).
If Netflix is really a cloud company it's cheap as chips.