Kimberly-Clark (KMB) has increased revenues over the last decade. Its problem: Net income hasn't budged since 2003.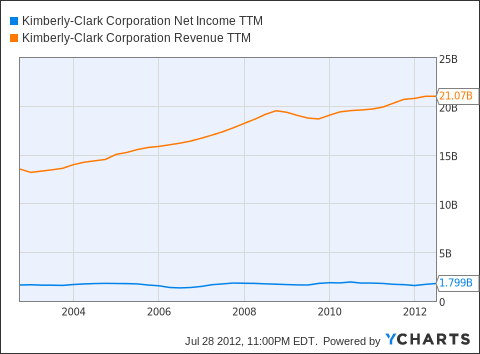 The reason: Unlike many of its competitors, Kimberly-Clark's operating margins tumbled. As a result, higher revenues didn't translate to the bottom line. Compare Kimberly to Procter & Gamble (PG), Colgate-Palmolive (CL) or Church & Dwight (CHD). Kimberly's margins are well-below its peers.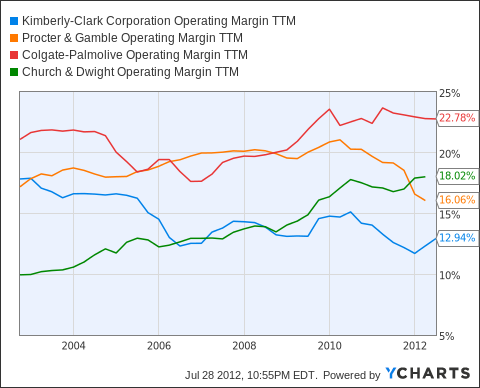 The FORCE Is With Kimberly: A Turnaround In Operating Margins
Kimberly-Clark's operating margins have been rising over the last six quarters, bucking the decade-long trend. Operating margin reached 14.7%, almost a 300 basis point improvement over an 18-month period.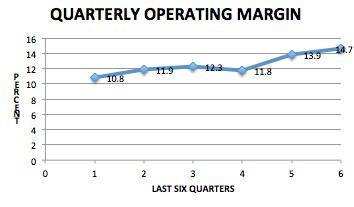 Kimberly-Clark attributes a large part of margin improvement to the success of its FORCE (Focused on Reducing Costs Everywhere) program. Since 2003, Kimberly has set cost reduction goals in its FORCE program. This quarter Kimberly saved $70 million. FORCE's 3-year goal of saving $150 to $200 million was reached a year early. It remains to be seen if the plan will continue to be successful in boosting Kimberly's margins.
Two more reasons to buy Kimberly-Clark:
1. Dividends and Share Repurchases.
Kimberly bought back 31% of its shares over the last decade. One significant result of Kimberly's determined repurchases: While net income was flat for the decade, EPS actually increased 33% as earnings were spread over fewer shares. The company increased its dividends from $1.20 (2002) to $2.84 due to share buybacks and a higher payout ratio. Kimberly pays a 3.45% dividend.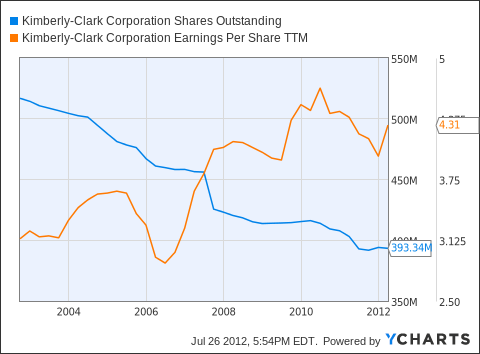 Kimberly-Clark's dedicated repurchase program has boosted its yearly EPS despite stagnant overall net income. So many buybacks fail because companies buy their shares at high prices; a consistent long-term approach like Kimberly-Clark's avoids that problem.
2. Kimberly-Clark Is Growing.
The company is growing organically, particularly overseas. Last quarter, Kimberly experienced 5% organic growth. Its K-C International added 9%.
Kimberly-Clark has room to increase its operating margins. Its peers have margins that are 500 basis points higher. Will Kimberly be able to bridge the margin "gap"? So far the FORCE has been with Kimberly-Clark.
Disclosure: I am long KMB, PG.
Additional disclosure: Disclaimer: The opinions in this document are for informational and educational purposes only and should not be construed as a recommendation to buy or sell the stocks mentioned. Past performance of the companies discussed may not continue and the companies may not achieve the earnings growth as predicted. The information in this document is believed to be accurate, but under no circumstances should a person act upon the information contained within. We do not recommend that anyone act upon any investment information without first consulting an investment advisor as to the suitability of such investments for his specific situation.