The 3D printing market remains hot as top competitors 3D Systems (NYSE:DDD) and Stratasys (NASDAQ:SSYS) surged to new all time highs last week. The sector has been heating up amid advancing capabilities of additive manufacturing via localized 3D printing, which is now even affordable at home.
Stratasys is a leading manufacturer of 3D printers and production systems for prototyping and manufacturing applications.
Previously, we wrote an article on 3D Systems' earnings report. The research suggested that the company had a history of unpredictable earnings reports, and that investors should be careful going into its July 26 report.
The stock sold off that day, as the market was initially disappointed with in-line results and the company's mere 20% organic growth. Amazingly, the stock went on a tear to end the day basically flat. Then, as the market soared on Friday, both 3D Systems and Stratasys jumped nearly 10% to record highs.
Considering the recent activity in the sector, we are reviewing the upcoming earnings for Stratasys, which will be released before the market opens on Wednesday, August 1.
Analyst Estimates
Unlike 3D Systems, Stratasys has consistently beaten analyst estimates over the last four quarters. The Q1 report beat estimates by $0.01. As a result, analysts raised Q2 estimates by $0.02, to $0.32. This number provides for a solid 39% growth over Q2 2011. Revenue is expected to growth roughly 25% to $46 million.
In its Q1 report, the company guided to a midpoint of $1.34 in earnings and $188 million in revenue for the full year. The average of five analysts' estimates comes in at only $1.31 for the year, with the high end at only $1.33. This suggests that an easy beat could be in order for Stratasys.
Estimize shows that consensus numbers for Q2 are $0.34 -- also suggesting an easy beat over analysts' estimates. Estimize is an open source financial platform consisting of a community of informed investors and traders that provides a unique view into earnings estimates.
The stock now trades at 40x 2013 estimates, suggesting that Stratasys needs a solid earnings beat to maintain its current price. These numbers do not include results for the company's upcoming merger with Objet, another 3D printing firm. We will cover the merger in more detail later in this article.
Stock Performance
In 2012, Stratasys' performance has seen one or two periods of explosive moves, followed by months of flat returns. The stock began the year at $30, but has nearly doubled since January. See the below chart for more details.
8 Month Chart - Stratasys
(click image to enlarge)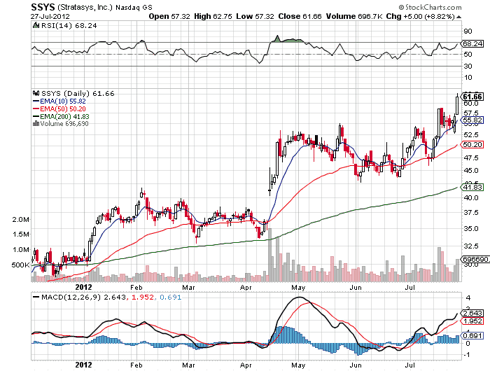 Objet Merger
The major news this past quarter was an April 16 announcement that Stratasys was merging with privately held Objet. Objet is a leading manufacturer and rapid prototyping company based in Israel. The merger is designed to help Stratasys provide scope and leadership in an advancing industry.
The combined company will be a powerhouse in 3D printing and direct manufacturing, with recently announced pro-forma revenues of $277 million in 2011, and $83 million for Q1 2012. The 2011 total was significantly higher than the $230 million reported by 3D Systems, which was previously a larger competitor to both companies.
What really impressed investors was the accretive earnings, which increased Stratasys' previously individually reported $0.28 to $0.32 for the newly combined entity.
The merger is expected to close in Q3, with Stratasys shareholders owning 55% of the shares. Per the pro-forma document (linked above), the diluted shares are now roughly 40 million. This places the new value at nearly $2.5 billion, which is considerably higher than the original $1.4 billion Stratasys was valued at on the day the merger was announced.
Competition
Naturally, 3D Systems provides the most direct competition. It turned in a solid earnings report last week, though there was nothing spectacular about it. The company had only 20% organic growth out of the reported 50% total growth. Industry consolidation and the company's expanding expertise in new materials has been a big driver of its growth.
At a market cap of only $2 billion, 3D Systems is now some 20% smaller than the combined Stratasys and Objet entity. 3D Systems has been consistently acquisitive, however, so don't expect it to stand still -- especially after buying 3D scanning and imaging solutions provider Viztu Technologies just last week.
As mentioned in the 3D Systems report (linked above), Proto Labs (NYSE:PRLB) also provides a level of direct competition, as the company produces CNC machined and injection molded plastic parts on immediate order. Proto Labs reported a solid beat for Q2 2012, but the stock still trades at 31x earnings. Interestingly though, the stock is still trading $2 below its highs.
Valuation
Without factoring in the Objet merger, Stratasys trades for nearly 40x the 2013 estimates. If one assumes a 15% increase in 2013 earnings for the combined entity based on the accretive Q1 numbers, than Stratasys trades at closer to 35x forward earnings.
Conclusion
The 3D printing sector has a ton of potential for disrupting the manufacturing process. Unfortunately, the stocks now account for that future growth, making investments at these prices questionable.
A major issue concerning these valuations is that revenue growth isn't exactly off the charts. The organic growth only appears to be in the 20% range, suggesting that valuations in the 35x range probably are maxed at the top end.
Maybe the most impressive part of this sector is that all of these companies are very profitable. This typically isn't the case in relatively new and fast growing sectors. Stratasys is clearly worth watching, but at this point buying a dip is probably warranted.
The stock has had a major run, and merger integration of two near equals doesn't always happen without problems along the way. Investors might be best served to pounce on any future weakness, as expectations are now sky high. Stratasys' earnings should be solid, however, and guidance on the Objet merger will be key.
Disclosure: I have no positions in any stocks mentioned, and no plans to initiate any positions within the next 72 hours. Please consult your financial advisor before making any investment decisions.