We said that we would check back on CVR Partners (UAN) when I wrote this article in May. I had to love the story at the time, and right now, it is looking even better.
I went long at 21.50 shortly after writing that article, and as of this morning the price is around $25, which gives us a reason to smile.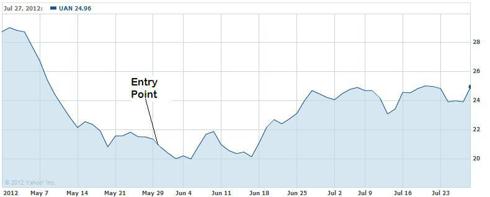 Click to enlarge
There are a couple of things going on in the background that are interesting to us.
1. Icahn Drama
CVR Partners gets its petroleum feedstock from its neighbor, CVR Energy, which is owned by Carl Icahn. Icahn had announced that he was selling the Coffeyville refinery, but the sale period expired without Icahn getting what he wanted for it. This will be the first of however many attempts it takes to sell this place. CVR Partners already has a feedstock contract in place into the next decade, so none of this will affect them directly, but some stability would be nice.
2. The Corn Price
For those who have not noticed, the price of corn has gone up about 60% in the last month, because of drought conditions in the Midwest.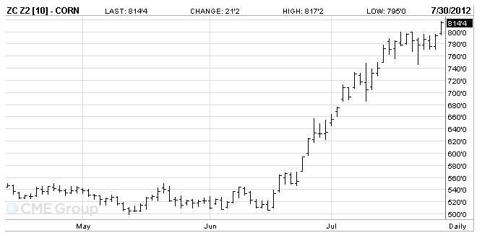 Click to enlarge
There are a couple of things to think about on this. First of all, the price of ammonium fertilizer typically follows the corn price, but at the moment, because of the seasonality, the fertilizer price is lagging a little. Secondly, it is not unheard of during drought conditions for there to be problems navigating the river system, and a lot of the Gulf Coast urea is normally shipped by barge. Both of these factors will work in UAN's favor, since they are located away from the Gulf of Mexico and use rail shipments into the Midwest. This link has some more information on this topic.
3. Earnings and Dividends
The earnings announcement for UAN will be on August 1, and the 60 cent per unit dividend has been declared for shareholders of record as of August 7. So, we have a week to know what the earnings were, and more importantly, how or whether to collect the dividend.
We noted in the previous article that it might be smart to sell the stock right before the dividend, and re-buy it immediately afterward. Historically, this stock drops more than the dividend amount, per this chart from my previous article: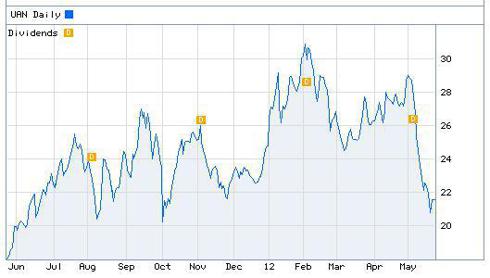 Click to enlarge
Most recently, at the end of the first quarter, UAN stock dropped about $4 per share in the period just after the dividend was declared, giving us a nice entry point. The point is: Don't be surprised if the UAN price drops by a couple of dollars when the dividend is announced. I am not sure I am brave enough to exit my position this particular time, in light of several limit-up days in the corn pits recently, but others may wish to try to skip the dividend in the hopes of some extra price appreciation, and there would be some historical justification for doing just that.
I think I'll just wait patiently and increase my position after the dividend is paid out in a week or so.
The world is chaotic, and there are no guarantees on anything. But, it seems like UAN could get back to its historical level of trading in the upper 20s or as high as their 52-week high of 31 in light of some extra pressure from their end use markets, and in light of the drought effects.
We will know more after the earnings announcement.
Disclosure: I am long UAN.
Additional disclosure: I may wait a day or so after the dividend is declared to try to increase my position.