Apple's (AAPL) share price, lofty as it has risen over the past year, is a victim of the company's success. Victim to the constant overhang of skepticism about Apple's future prospects, about whether the company can maintain its excellent pace. Victim to the slightest perceived misstep, even when the company's business is still ticking along at its impressive rate. Victim to the unceasing interest in the stock from investors, journalists, and, especially, analysts that leads to expectations brewed out of a strange alchemy of guesswork, modeling, and belief that rarely offer a good prediction of what's to come with the company.
Apple is the epitome of a mega-interest stock, a stock about which everybody cares one in which almost everybody is invested in already, directly or indirectly. Fortunately for those already long Apple, the company's performance is stellar and, "speed bumps" included, shows solid strength at least through the announcement of the iPhone 5 and any Apple TV rollout. Those still waiting on the sidelines, or waiting for an opportunity to add to positions, however, may view this quarter as a new opportunity. The opportunity comes out of the disparity between the abundance of information about Apple and the limited information from Apple on the business.
This quarter was a symptom of the greater challenge of investing in a company like Apple: everybody thinks they know the whole story, and when Apple's story doesn't match, they throw a fit. Many have called this quarter a repeat version of last year's September quarter (Apple's FY 2011 Q4). There are several similarities: Apple guided conservatively, as is the company's habit, and then proceeded to beat earnings. Analysts, fueled by the competition to be most enthusiastic over the company, saw their overzealous estimates miss. The stock sold off in the aftermath, before the company recovered with a blowout follow-up quarter and soared to new heights during its incredible January to April 2012 run.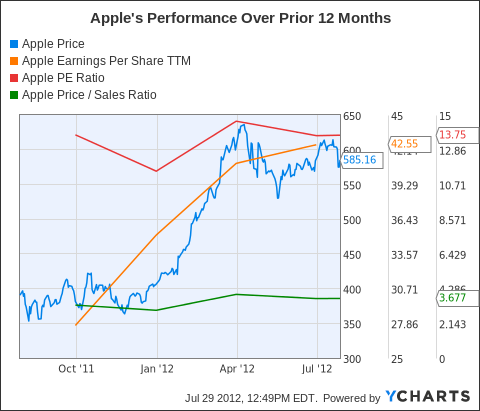 What I'd like to do is take last year's Q4 as a guide for what we might expect in Apple trading this quarter. The following table places Apple's guidance, analysts' estimates, and the actual results together for both revenue and EPS, and then includes a few growth comparisons and forward guidance, as well as Apple's post-earnings stock performance:
(Sources:
| | | |
| --- | --- | --- |
| Apple's Earnings Results | FY Q4 2011 | FY Q3 2012 |
| Guided Revenue (Apple) | $25B | $34B Rev |
| Estimated Revenue (Analysts) | $29.7B | $37.33B Rev |
| Actual Revenue (Apple) | $28.27B Rev | $35B Rev |
| Guided EPS | $5.50 | $8.68 |
| Estimated EPS | $7.39 | $10.33 |
| Actual EPS | $7.05 | $9.32 |
| Year over Year Rev. Growth | 39.26% | 22.15% |
| Y-o-Y Earnings Growth | 51.94% | 19.64% |
| Forward Guidance | $37B Rev, $9.30 EPS | $34B Rev, $7.65 EPS |
| Forward Guidance Rev/EPS Growth | 38.58%/44.63% | 20.26%/8.51% |
| Day After Share Price Move | -5.59% | -4.33% |
| Near-term Bottom After Earnings | -13.96% | ? |
Apple beat guidance in both cases. True, the EPS guidance beat this time around was narrow (only 7.37% vs. 28.18% last year) and the revenue beat even slimmer (2.94% vs. 13.1% in the earlier case), one bad note. It is also true that revenue growth on a year-over-year basis is slowing, and that Apple's miss compared to the analyst estimates was wider on both revenue and earnings fronts. This looks like a worse report for Apple than the last miss, though only to a minor degree.
There are a few other similarities between the two quarters. In both cases, the macro climate globally was unsettled - Q2 2012 saw the Euro crisis roil and rumble, China appear to slowdown (which hit Apple), and the U.S. and other markets creak and groan; Q3 2011 had the debt-ceiling debate go awry and send the markets in a tailspin while the global market hit a typical summer slowdown. Both quarters also saw Apple dealing with buyer patience for the next iPhone - the iPhone 4s came out last October, and the iPhone 5 is hotly anticipated to come out in either September or October.
The biggest difference between the two quarters is the guidance management gave coming out of it. The guidance for this year's FY Q1 was notable for its boldness, as CEO Tim Cook rung in his first conference call with expectations of 38% year-over-year revenue growth and 45% earnings growth. Apple would go on to beat those numbers easily with its best ever quarter, but at the time the guidance seemed unusually bold for Apple. This time around, guidance is more subdued, with modest 20% forecast revenue growth and 8.5% forecast earnings growth. Analysts have been left to parse the tea leaves, with some suggesting that the company will come out with the iPad mini this quarter (while stating the guidance was actually bold) and others suggesting the company needs to either maintain average selling prices of the iPhone or sell a smaller iPhone.
Still, most analysts and investors seem confident in Apple's long-term story. The drop in share price was smaller after this miss, and Apple quickly gained back nearly 2% to close the week. Another sign of the company's impressive earnings momentum is that Apple's shares trade at a cheaper Price/Earnings TTM ratio after this miss than they did after the prior miss, even after a 50-60% rally in the stock price: Apple currently trades at 13.75x EPS of 42.55 for the last 12 months, compared to 14.19x EPS on October 21, 2011.
In the coming months, barring a surprisingly early iPhone announcement, there could be some drift in the share price as doubt creeps into the company's growth picture and the stock continues to consolidate or give back some gains off of its impressive run. In the last go-round, the 200-day moving average served as the perfect floor for Apple's stock, as the shares bounced off it twice on Thanksgiving week last November before taking off on a run that did not slow until April. The 200-day MA currently sits just above 500. Coincidentally, an equivalent 13.96% loss from the pre-earnings price would put Apple's shares at 517, a good next or first entry point for interested investors.
There's no guarantee that Apple has another huge run like this year's Q1 in it. The timing of the iPhone 5 is going to be pivotal to Q4's results and to how the growth timeline looks going into the end of the year, and any new products could disrupt models going forward as well. In the coming 6-9 months though, Apple's stock setting new highs is a fairly safe bet. Doubts may remain about the company's direction in the post-Steve Jobs world and the company's ability to maintain momentum long-term, but the iPhone growth engine seems likely to maintain over the next product cycle, and lots of other opportunities remain for the company.
There could be some choppiness in Apple's trading before then. Given the overwhelming reputation and endless interest that surrounds the company, it's one of those near-term trends that Apple investors have to get used to. That interest demands information, and if the company doesn't release any, misleading conjecture will fill the space. Best thing to do is just block it out.
Disclosure: I am long AAPL.