The Chicago PMI of 53.7 this morning was slightly above estimates and still in an expansionary range, but markets barely reacted to the news. So is there any data out there that may provide an indication of where the market may be headed in the near future?
The U.S. economy is made up of 70% consumer spending, and the thought is that while the labor market remains weak, the consumer will not be the next driver of growth in the economy. But what about business spending? I analyzed how business spending trended versus GDP and the S&P 500 and found some interesting insights.
First, let's look at the relationship between Personal Consumption Expenditures (PCE) and the S&P 500 (NYSEARCA:SPY). As you can see from the chart, there seems to be a strong relationship there.
(click images to enlarge)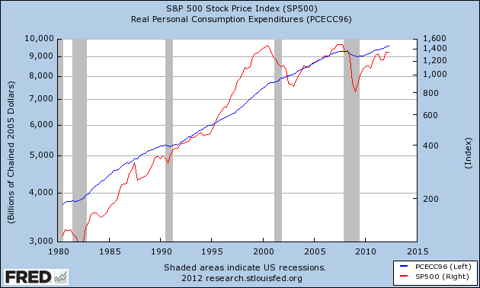 Click to enlarge
And if consumer spending makes up approximately 70% of GDP, the following graph is not surprising. PCE and GDP move almost in tandem.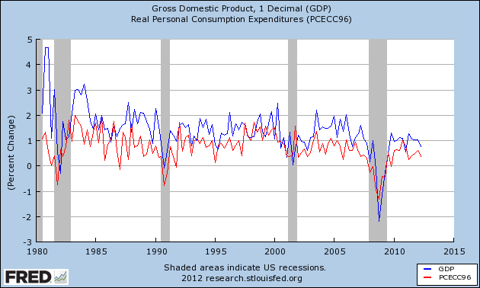 Click to enlarge
But what if there could be another, powerful driver of GDP growth, which consists of a pent-up supply of cash within the coffers of some of the largest companies in the world? Perhaps that might be the catalyst we are looking for to drive GDP growth to sustainable rates of expansion.
The following graph shows there is an evident relationship between fixed investment and GDP. And one might argue that most components of GDP will tend to move in the same direction, but that is not always the case.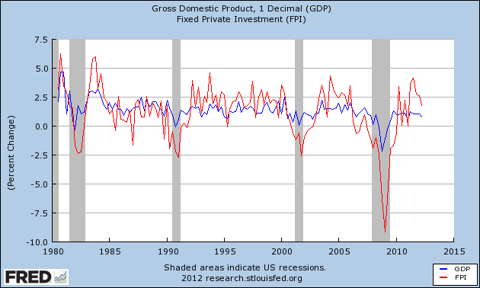 Click to enlarge
And in a situation like the one we're in today, where corporations are flush with cash, perhaps this may be the way out of this state of moribund growth we're in, instead of relying on "stimulus" from the FED. Which, by it's very expectation, provides no stimulus at all.
After all, fixed investment does affect markets. It makes sense that to drive revenues and earnings, companies must invest. Whether in acquisitions, marketing, cost reductions (we've seen plenty of this), new plants and equipment, etc., investment drives profit, which drives the market, and the following graph shows a strong relationship there.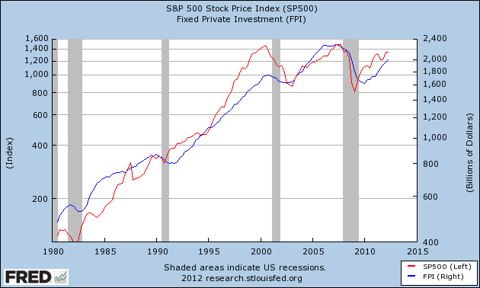 Click to enlarge
Not once since the trough of the 1980 recession did the market decline when fixed investment was growing.
The consumer is definitely suffering, and until the labor market begins to improve, consumers will be cautious about their spending and reluctant to use credit again, as they did circa 2008. So GDP growth will not be jump-started by the consumer.
The more likely scenario is for businesses to invest, get the economy going in the right direction, and the stock markets to rise more convincingly. And I'm not just talking about the S&P 500, but also the Nasdaq (NASDAQ:QQQ), with it's larger contingency of tech companies and slightly lower market caps, as well as the Dow Jones (NYSEARCA:DIA), the leaders in each respective sector.
Small caps and tech companies tend to appreciate faster than their larger cap competitors during times of economic expansion, and this might also be played through iShares Russell 2000 index ETF (NYSEARCA:IWM), or the Technology SPDR (NYSEARCA:XLK). If we can ever officially call it an economic expansion, small caps will be likely to benefit, as well as technology companies, whose sales are driven by corporate spending.
In addition, investors still investing in equities through defensive strategies will still throw money at the larger, dividend paying stocks that have done so well recently. After all, these are the companies that have the cash and should be making investments in this environment. And they, too, should perform well.
Eventually, the consumer will be able to ride the optimism to spend again, driving corporations to continue to hire, and creating a virtuous cycle that we haven't seen since the late 1990s.
On the other hand, if businesses don't invest, we could continue to play this game of chicken to see who is going to make the first move. Corporations obviously want consumers to spend on their products and services to the extent that revenues grow at a reasonable pace. But with such negative job prospects and an unemployment rate that hasn''t fallen below 8% since the economic crisis ensued, consumers are reluctant to do so.
If corporations don't spend, the cash on their balance sheets will continue to reach unprecedented levels. The cash on the balance sheet of the S&P 500, excluding financials recently reached $1.2 trillion. Granted, not all that cash is held in the U.S, and for the time being, repatriating those funds is unlikely. But even if say 50% of the cash is held in the U.S., investing it will do more for the economy and jobs than sitting on it.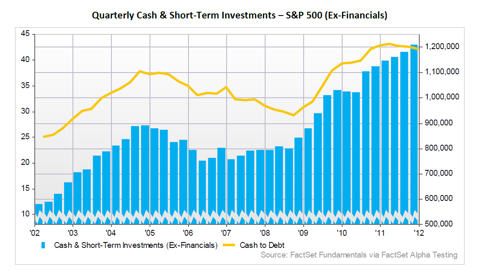 Click to enlarge
The risk is that corporations will continue to reduce costs while revenues languish, and the economy continues to sputter, and equity investors may be rewarded with a share buyback or a special dividend along the line. But the labor force will continue to suffer, and at some point, the situation will reach drastic proportions. Then, everyone will suffer gravely.
I believe the way to prosperity is through investment, and I'm hopeful that the CEOs controlling this pile of cash will eventually find opportunities to provide positive contributions to economic value. That, Mr. CEO, is the way to prosperity.
Disclosure: I am long IWM.