Market Recap: The market continues to wait for something to happen from Europe or the Fed this week, and while it waits, we continue to see some weakness in the marketplace. We did get a slate of positive data today that probably helped keep the market in check from dropping much as personal income, Consumer Confidence, and the Chicago PMI all came in better than expectations. All were slight beats, but the data was one of the best combinations of data points we have seen in some time for the market. Yet, all eyes are set on the ECB and the Fed for decisions to come over the next two days as the FOMC and ECB rate decisions are due out Wednesday and Thursday, respectively.
Tomorrow, we get the all-important FOMC rate decision. What will it bring? Not a lot of people believe QE3 is around the corner, but some plan to extend lower rates for longer periods. The market is staying pretty solid as reality sets in that action is going to still take some time, and if the Fed comments that it is looking more at more stimulus or another plan, the market will rally.
Two Trades
Two trades we like right now are shorting Under Armour (NYSE:UA) as well as a bull put spread in True Religion (NASDAQ:TRLG). UA looks like it has topped right now at 56, and it showed a triple top there for three days without breaking out further. We expect some consolidation from its current levels as the stock is very overvalued right now and should move lower from here. We have a Hold rating but $50 target for the stock, which was our aggressive model as well. While growth is strong here, the stock grew 20% in four days, and the stock is showing a top now. We like TRLG headed into earnings tonight, and we like adding the 24/23 bull put spread headed into earnings. Two quarters ago, the company took it on the chin, dropping 30%. That area of 24-30 has held since. The company has brought its value down, and we believe its a great Buy right now.
Trade #1: UA, Short
Trade #2: TRLG, Bull Put Spread, 24/23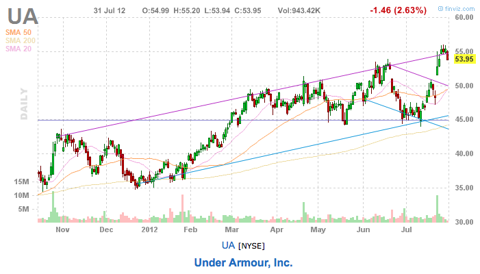 Tomorrow's Outlook
Tomorrow, we are looking at a big move for the market based on the Fed decision that is due out tomorrow. The decision to act or not act will provide some definite volatility to the market, but we are not sure if that will really provide as much movement as developments from the ECB. The Fed is probably not going to provide QE3, but we are looking for some conversation of a potential move. If it comments that it is planning to do something, it will provide a major catalyst. No conversation of that and more of the same will probably be a reason to see some more selling for the market. We think it would behoove the Fed to at least talk about doing something. Without it, this market could be in for a rough go in the mid-term. On top of that, we also have a slew of important economic data points tomorrow as well with the ISM Index leading the way. We also get Construction Spending, Auto/Truck Sales, and ADP Employment Change. Those reports will give us some definite movement as well tomorrow.
Oxen Group Moves
We had a pretty quiet day in the market today, but we did take the rest of our long in Dominos Pizza (NYSE:DPZ) off the table for a 1.5% gain. We also were able to get a 3% average gain for Basic Energy (NYSE:BAS) from Goldman Portfolio. We did stop out of Monster (NASDAQ:MNST) calls for a small loss. We added the above short in UA, added more to our Nike (NYSE:NKE) bull put spread, added the above bull put spread in True Religion, and added a bull put spread in Apple (NASDAQ:AAPL) to Options Portfolio.
We have the following positions:
In our Short-Term Equity Portfolio we are long Scripps Networks (NYSE:SNI), Southern (NYSE:SO), Dollar Tree (NASDAQ:DLTR), Wolverine Worldwide (NYSE:WWW). We are short Intel (NASDAQ:INTC), Agilent (NYSE:A), Pall (NYSE:PLL), Mosaic (NYSE:MOS), Under Armour .
In our Options Portfolio, we are long Apple , Nike , United States Oil (NYSEARCA:USO), Monsanto (NYSE:MON), Dollar General (NYSE:DG), Home Depot (NYSE:HD). We are short Tiffany (NYSE:TIF).
In our Earnings Alpha Portfolio, we are long VeriSign (NASDAQ:VRSN), Seagate Tech (NASDAQ:STX), Apple , Disney (NYSE:DIS), and American Eagle Outfitters (NYSE:AEO). We have a reverse iron butterfly in F5 (NASDAQ:FFIV). We have reverse iron condors in Coinstar (NASDAQ:CSTR) and Facebook (NASDAQ:FB).
In our Goldman Sachs Up/Down Paper Portfolio, we are long MDC (NYSE:MDC) and Noble (NYSE:NE).
Chart courtesy of finviz.com.
Disclosure:
I have no positions in any stocks mentioned, and no plans to initiate any positions within the next 72 hours.