Dry bulk shipping has come into its own in the past decade – spurred primarily by demand from China.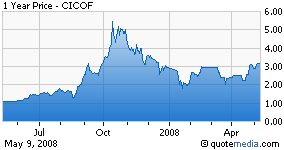 Dry bulkers transport everything from grain to coal to metals and one of the biggest players in the business is China COSCO Holdings Company Ltd (OTCPK:CICOF). This is the integrating platform of China Ocean Shipping Company or "COSCO" and its subsidiaries, the COSCO Group.
Not just a one-trick pony
In addition to dry bulk shipping (which accounts for about 52% of its revenue), the Group is into container shipping, integrated logistics services, and terminal and container leasing. One of their divisions even manufactures containers.
Dry bulk shipping services are predicted to grow in 2008 with increasing demand for iron ore and coal to India and China – not to mention grain shipments in an era of pressing food needs.
(For those interested, dry bulk rates are tracked by the London-based Baltic Exchange Dry Index [BDI]. Please note: You do have to become a member to take advantage of its services.)
Investing in the future
Last year, China COSCO, considered to be the second largest integrated shipping company in the world, spent over 17 billion yuan to increase the size of its fleet and expand its port interests. Yet it still managed to post almost135% net profit growth over 2006.
Management plans to up its capital expenditure to over 23 billion yuan in 2008 – that's an increase of 37%.
But in the first quarter, the company has already continued on the earnings path with a net profit increase yet again around 135% as compared to the year prior.
Don't let this ship sail by
But the best part…
This stock is priced under $4.
These guys have moxey and they can make you money. I expect the share price to reach $4.50 by September at the latest.
I recommend you buy shares of China COSCO Holdings Company Ltd. at or under $4. This stock trades as a pink sheet or you can purchase Hong Kong shares under [1919:HKG].
Disclosure: none