We visited Minefinders Corporation's (MFN) Dolores mine in Chihuahua, Mexico. It was an exciting opportunity and a privilege to visit such a significant project at a time when the very first ore was being placed on the leach pad. Minefinders' CEO Mark Bailey was part of the team that discovered the Dolores deposit in 1996. In twelve years he led the development of Dolores, drilling over 1,000 holes, 200,000 meters and completing several feasibility studies. (Note: This piece includes both photos and links to video clips captured by the author.)
The Dolores project is coming into production at a time when investors have been disappointed in an industry becoming known for shelved projects, delays, and/or cost overruns. It would appear to us that Minefinders' management is becoming more confident that reaching full commercial production is within reach. Given the significant amount of drilling and study being done to develop the reserve estimate and mine plan, we believe the project has been conceived in a manner that should allow it to move into production with the greatest opportunity for success, while minimizing the potential for negative surprises which are currently disappointing investors with other companies.
Minefinders has also purchased all new crushing and screening equipment, as well as rolling stock, to provide a longer working life with maximum uptime and operational efficiency while minimizing breakdowns. They have a fleet of 15 100-tonne mining trucks, two shovels, two water haulers, three loaders, as well as drills, tracked and wheeled dozers, graders and other ancillary equipment. In addition, Minefinders has contracted maintenance with Road Machinery, which is a Komatsu dealer. Road Machinery has dedicated 90 individuals to maintain all of the equipment, providing all parts and service. For this reason, we also have confidence that maintenance issues will be reduced and quickly resolved.
Figure 1 - Panorama of Dolores Mine, Chihuahua, Mexico

We found the Dolores project to be substantially complete except for construction of the truck maintenance building, assay lab, and other minor offices. To get to this point, the company completed a 92 km access road, a new village, medical facility and 300-person camp, plus substantial earthworks for solution ponds and leach pad and areas to assemble power generators, crushers/filters, and the Merrill Crowe plant. (Figure 1—Panorama of Dolores mine, upper left, north end of pit; lower center, primary, secondary, tertiary crushers and Merrill Crowe plant; to the right, fine ore pile, solution ponds, and truck shop; upper right, Leach Pad Phase 1).
The equipment is in the final stages of commissioning. The high angle conveyor [HAC] was in the process of being commissioned during our visit, and ore was being placed on the leach pad. The Merrill Crowe plant and other systems will be commissioned as they are brought into service. Minefinders anticipates leaching will begin shortly, with first gold-silver doré produced in late June of 2008. They appear confident that the project will achieve operating profitability by September of 2008, and full commercial production in 3Q08 at a sustained rate of production of 18,000 tpd. The Dolores mine is projected to produce 1.77 million ounces of gold and 64.3 million ounces of silver over a 16-year mine life.
Figure 2 – Mining Commences at North End of Pit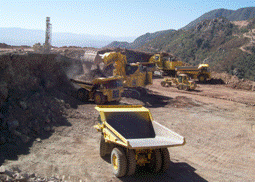 Minefinders is on course to become a mid-tier gold-silver producer in 2008. Mining commenced in October of 2007 at the north end of the pit with separation of waste and ore (Figure 2—Video Clip 1). Waste has been removed to build haul roads or moved to the waste pile. The mining rate has increased to 82,000 tonnes per day with over 700,000 tonnes of ore stockpiled for processing as the crushing circuit is commissioned (Figure 3—Video Clip 2). Some ore will remain in the exposed benches to conserve space and in order to avoid moving it twice. The combination of stockpiled ore and ore exposed in benches should reduce the potential for bottlenecks allowing operations to ramp up quickly to commercial production.
Figure 3 – Trucks Dumping Waste and Stockpiling Ore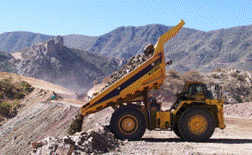 Ore will be trucked down from the north end of the pit to be processed through the primary and secondary crushers (Figure 4—Video Clip 3). The screens will separate the oversized ore to be reprocessed through the tertiary crusher. The primary, secondary, and tertiary crushers were in the process of being commissioned during our visit, and were operating at about one third capacity. Crushed ore ready for the leach pad was observed being moved by an overland conveyor to the dust reduction tower and fine ore stockpile.
Figure 4 – Crushing Circuit (primary, secondary and tertiary crushers)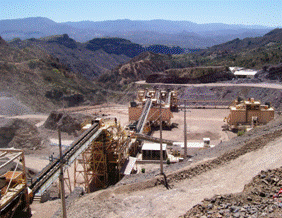 Ore will be transferred from the fine ore stockpile with a conveying system coming out of the escape tunnel to the HAC system (Figure 5—Video Clip 4). The HAC will transfer ore up to Leach Pad Phase 1 utilizing a dual tension conveyor belt system. While the HAC was in process of being commissioned during our visit, ore in the meanwhile was being temporarily trucked up to the leach pad and gently distributed onto the liner to build a platform for the grasshopper and stackers. They estimate that they will need to place about 50,000 tonnes of material on the leach pad over the liner before moving the stacker.
Figure 5 – Overland Conveyor to Fine Ore Stockpile and High Angle Conveyor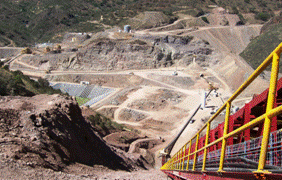 Leach Pad Phase 1, the first of five phases, is lined and is receiving ore. It is anticipated that this immense pad will be covered after the first two years of mine operation (Figure 6—Video Clip 5). The leach pad will be radial stacked to avoid compaction from trucking ore out onto the leach pads. This should allow fluids to pass through the pile and properly leach the ore.
Figure 6 – Leach Pad Phase 1, Solution Collection System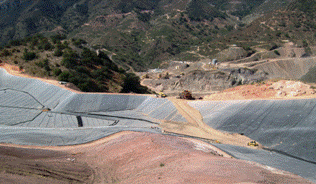 The primary pregnant solutions pond is fully lined and ready. The overflow pond provides back-up in anticipation of higher than expected rainfall. Water had been pumped to the pond and was available for initiation of leaching. Barron solution delivery and the Merrill Crowe plant should complete commissioning as they are needed by the operation.
In summary, critical path items, including the first phase of the leach pad, solutions ponds, power generation, main power transmission, primary and secondary crushing and conveying are now in operation. The operation is expected to produce gold-silver doré during the 2nd Quarter of 2008. Full production rates for mining are targeted for this quarter as well; steady-state leach recoveries at nominal average rates (72.5% gold, 51% silver) are now expected during the 3rd Quarter of 2008. They are working to complete a Scoping Study by December to make a construction decision in early 2009 for a 3,000 tpd mill and flotation plant to improve recoveries for higher grades beyond the third year of the mine plan.
Disclosure: The author is long MFN. An affiliate of the author's employer provides corporate advisory services to MFN.