This is a follow up to my previous article about Alloy Steel (OTCPK:AYSI), a maker of proprietary wear plates primarily serving the mining industry in Australia. In my previous article, I mentioned several reasons why AYSI appeared to be an excellent investment.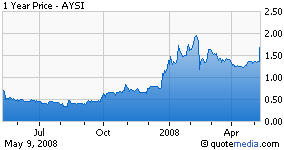 On Friday, AYSI pulled a rare trick. They exceeded my most optimistic scenario for their quarterly earnings, pulling down .068/share on revenues of 4.2 million dollars up a whopping 140% year over year. Earnings grew from a modest loss to their current levels. Margins came in at a very strong 58%. My best case scenarios had them at .06. The stock predictably surged to 2.03 a share at Friday's close. Still despite the strong gains Friday, I think there is opportunity for significant gains over the next 6-12 months.
Here is a short case for AYSI extending on my previous comments:
The revenue trends for AYSI are now getting reasonably well established for a small company. Looking at the last 8 quarters we saw consistent growth with the exception of a single quarter. That quarter had significant plant downtime due to vacations and maintenance.
Revenues (in thousands)
March 08: 4,200
December 07: 3,180
September 07: 3,434
June 07: 1,884
March 07: 1,754
December 06: 1,658
September 06: 929
June 06: 795
The company currently has plans to add a new mill to their production facilities that should presumably more than double capacity. The mill is scheduled to be on-line in August of this year and should contribute in the September quarter of 2008.
I expect the new mill will provide excellent earnings leverage given the companies history of prudent use of shareholder funds. If you look at the most recent quarter as an example, revenues grew the 140% I previously mentioned, but SGA expenses grew only 39%. Unlike many fast growers, AYSI has been able to leverage earnings growth into bottom line results without feeling the urge to gold plate the CEO's office.
Indulging in a bit of fantasy, it's easy to see what kind of numbers the plant expansion could lead to sometime in the next year or two. Assuming the company managed to run two shifts on both mills, as they are now with the first mill, here is some food for thought:
Revenues: 9,000,000
Gross profit: 5,000,000
SGA: 1,100,000
Pre-tax income: 3,900,000
Net Income: 2,652,000
------------------------------------
EPS: .156/share
This is, of course, hypothetical and is in no way a prediction. Heck, it's not even a SWAG. There is no guarantee they can run two mills at full capacity, but given the company's recent growth history, it isn't impossible. Imagining what that could do to the share price is the stuff of good daydreams. If it happened, say, this time next year, you would be looking at a company with 120% YOY earnings growth and a three year track record of accelerating numbers. Slap a reasonable 20 forward PE on that and you have a 12 dollar share price.
Will we get there? Who knows, but in the mean time I feel comforted owning a company with a competitive advantage, serving a growing industry whose management is still putting shareholders first.
All that said, margins of course still vary from quarter to quarter and there could be a disappointment ahead at some point, especially if shareholders expect them to top their recent gem. Given all the positives here, I'll take those what-ifs in stride.
Disclosure: Author has a long position in AYSI.OB